The reasons why Real Madrid are set to sell Achraf to Inter Milan
The Moroccan international is on the cusp of a move to Serie A giants Internazionale and AS explores the motives behind the decision.
Moroccan international Achraf Hakimi is close to being sold to Inter Milan with the Serie A side being one of three clubs interested in the services of the 21-year-old. Fighting off competition from Bayern Munich and Manchester United, the Milanese giants will secure the player in exchange for a fee of roughly 40 million euro (plus variables).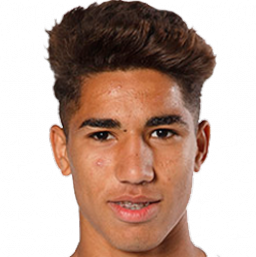 Negotiations are at an advanced stage and will accelerate after the right back plays his final game in the famous yellow shirt as the Bundesliga campaign draws to a close on Saturday with the game vs. Hoffenheim likely to be Achraf's game for Dortmund despite the efforts of the Signal Iduna Park side to retain the player on loan.
Motives for Milan move
There are a series of motives that have led to the current situation with key to the situation being the player telling Real Madrid that he was not prepared to be considered as an understudy for Dani Carvajal despite the Spanish club telling the player that he would play a 'key role' at the LaLiga side next season. With the player's insistence in his position, Real Madrid then started to pay attention to the offers for his signature from the three interested parties: Bayern, Inter and Manchester United. 
The role of Antonio Conte has also been a major factor in the player selecting Milan as his potential destination with the Inter head coach promising first team football for the 21-year-old next season with Achraf also considering Inter as a club with an ideal profile that suits his professional progression. Neither Real Madrid or Achraf have ruled out a reunion at some point later in the player's career, a possibility that would have been ruled out had he selected Bayern as an option

The contract length and economic factors have also played a major role in the decision making process with Inter offering the Moroccan a five year deal worth five million euro per season. The move also generates cash fluidity for the LaLiga side who have, as many suffered financially as a result of the Covid-19 pandemic. These various factors have combined to see the player poised for a move to Serie A with the move to Milan seemingly suiting all the various parties involved in the deal.