New rules in South Africa concerning employees contracting Covid-19 at work
Minister of Labour and Employment Thulas Nxesi issued a new directive concerning employees who contract Covid-19 while doing their jobs.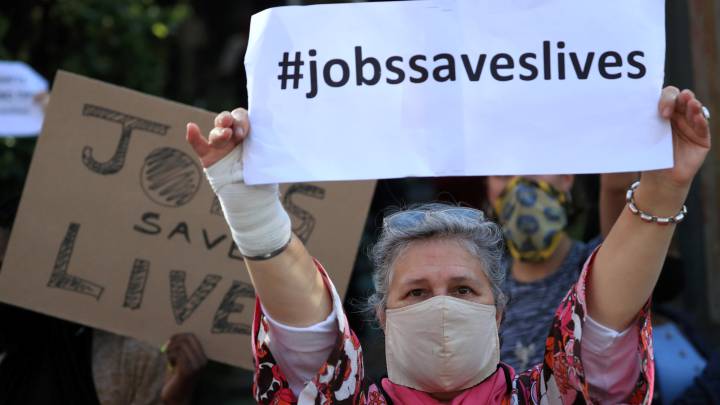 South Africa's Ministry of Labour and Employment has issued a new directive concerning workers who contract Covid-19 while doing their jobs. The directive regulates how a compensation fund for claims made by employees who contracted the virus in the line of duty functions, based on the levels of risk and exposure to Covid-19 they face in their work environment.
"In terms of Section 45 of the Coida, the Compensation Fund is obliged to consider all claims submitted for compensation and adjudicate all claims to determine liability. In carrying out this task, the fund peruses all information submitted to make an operative decision.
"In addition to exposure and clinical history, the fund also considers the inherent risk posed by various categories of work and occupations," the ministry stated.
Follow all the latest coronavirus-related news in Africa on our dedicated live blog
The criteria that will be taken into consideration when assessing claims of patients who believe they contracted Covid-19 while doing their jobs include:
Assessment of the inherent risk posed by various categories of work.
Exposure to a known source of Covid-19.
An approved official trip and travel history to countries and/or areas of high risk for Covid-19 on work assignment.
A reliable diagnosis of Covid-19 as per the WHO guidelines.
A chronological sequence between exposure at the workplace and the development of symptoms.
As per the new regulations, occupations are divided into three categories when it comes to exposure to risk:
Very high exposure: this includes healthcare employees like doctors, nurses, dentists, and laboratory employees along with employees conducting cardio-respiratory function testing and morgue employees.
High-risk exposure: this includes healthcare delivery employees and medical transport employees as well as mortuary employees involved in preparing bodies.
Medium risk exposure: this category includes occupations where employees need to be in close contact with patients who might have been infected with the virus.
Low-risk exposure: where close contact with patients is not required.
The directive said that a permanent impairment claim should be assessed three months after diagnosis. The degree of impairment will be evaluated and benefits will be paid out based on the level of disability - this applies also to cases where a person has died of Covid-19. The ministry stated the directive will remain in place until withdrawn by the minister or when the national state of emergency comes to an end.