Premier League: Fans' views on the race for Europe on the final day
We spoke to fans of Manchester United, Leicester City, Chelsea and Wolverhampton Wanderers ahead of two mouth-watering games that will decide European qualification.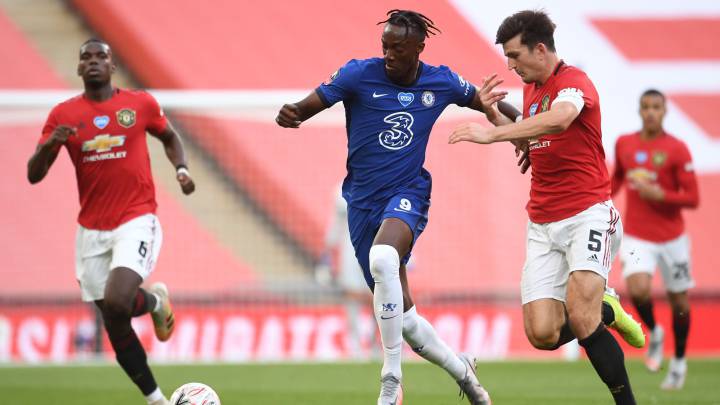 The race for European football in the Premier League will go down to the wire with four contenders playing each other on the final afternoon. Fifth-place Leicester City host Manchester United with a win for either side ensuring entry to the Champions League next season. Meanwhile at Stamford Bridge Chelsea know that a draw will be enough for them to confirm a top four finish. However they face an impressive Wolverhampton Wanderers side who need a win to guarantee a Europa League spot.
Ahead of a climactic afternoon of football we spoke to fans of each club about the highs and lows of their campaign so far.
"I don't think any other club would have done what we've done this year. I think we can be proud as a club with what we've achieved over the year."

💬📰

— Wolves (@Wolves) July 25, 2020
How and where to watch: Leicester vs Manchester United
How and where to watch: Chelsea vs Wolves
Has the 2019/20 season been a successful one for you?
Tom (Manchester United) – Considering the position the club were in on and off the pitch through the autumn and winter months, the season must be deemed a success. It wasn't too long ago that fans were outside Ed Woodward's house with flares and balaclavas. Along with improved performances from the team there have been many stand-out performers. We've finally found a replacement for Gary Neville in [Aaron] Wan-Bissaka who will undoubtedly fill that right-back spot for the next 10 years and although Harry Maguire has received some stick this season, he's definitely improved our defence.
Dylan (Chelsea) – I think the team has done well overall, if you would have given us this situation at the start of the season I think that most Chelsea fans would have taken it. It was always going to be a bit of a transitional season after losing our best player and not being able to spend to replace him last summer.
Krys (Leicester City) - This season truly can be split in two. We were firing on all cylinders for the first half and the second half has been woeful. If we manage to qualify for the Champions League we will have literally slumped over the line - just!
Alex (Wolverhampton Wanderers) – We've had some unforgettable performances and results this year, 2-0 win at the Etihad and then the 3-2 win in the return fixture are up there with my best memories. We've had some of the most convincing wins we've ever had in the Premier League, like the recent 3-0 win over Everton, which have taken us to our highest ever points tally. But a poorer than usual start to the season and a slight lack of consistency throughout has affected us and made it a season of 'what could have been'.
How has the coronavirus disruption and elongated season affected your form this year?
Tom (Manchester United) - Before lockdown Champions League football seemed like an impossible task, but with some fantastic football since the restart and a little help from a certain Portuguese midfielder we lie in third with one game to go. But with our success in the Premier League since the restart it was really disappointing to see us play the way we did against Norwich in the quarter-final of the FA cup and then falling short in the semi against Chelsea. It really was a perfect opportunity for us to win some silverware this season.
Dylan (Chelsea) - I don't think the extended season has changed the way we were going too much, the only thing it has done is help to keep players happy by giving more opportunities to rotate them. I feel like we have just been expecting to get knocked out of the Champions League so we've just concentrated on other competitions.
Krys (Leicester City) - The injuries have certainly affected us, whether or not we can blame this directly on the elongated season I'm not so sure. Certain sections of the fans will criticise Rodgers for rushing players back and make them be out for longer. Ultimately though, if any team loses three or four key players they will surely notice a drop-off in form. The loss of Ricardo [Pereira], for me, was the key loss and we have really felt his absence at right back.
Alex (Wolverhampton Wanderers) - I think early on in the season we were massively affected by the early stages of the Europa League and we didn't get a good pre-season against decent opposition before the start of the league season. This showed in our results, four draws and two losses before our first win in the league. But as the season went on and we progressed to the group stages and knockouts I wouldn't say our Premier League games were affected. With pretty much the same team as last year, and playing the most games out of any team in England, I think the elongated season has only made the team better.
How important is European qualification and how would it affect the club if you miss out on the final day?
Tom (Manchester United) – It's vital for Manchester United in every aspect. Competing in the Champions League will give us greater revenue and help keep and attract players to the club next season. Players like Paul Pogba won't stay long if you're constantly competing in second-tier competitions. It will also be difficult for Ole Gunnar Solskjaer to avoid criticism if United fail to qualify for the Champions League now. A successful season since the restart and a 19 game unbeaten run will stand for nothing if can't lead us into the Champions League.
Dylan (Chelsea) - Champions League qualification is huge for us and I don't think there will be as good of a buzz around the club without it. I think we will still be able to attract players though, with us having Lampard as manager and his track record of giving young players a chance.
Krys (Leicester City) - To qualify for the Champions League for only the second time in the club's history would be huge. In the modern day this is huge financially, especially coming off the back of the economic damage from the pandemic. It could be a major factor in how our squad shapes up for next year. Players will be more likely to stay and we could attract some real quality depth to our squad, something that has potentially been our downfall this season.
Alex (Wolverhampton Wanderers) – I think it's important for the club to remain in European competition next year to keep hold of our key assets; [Raul] Jimenez, [Adama] Traore and [Ruben] Neves. However we've shown we can bring in top quality players without European football before. If we didn't make Europe this season I'd fear we may lose some of our top players, but wouldn't doubt our ability to bring in a new crop of players to be able to challenge again next year.