América defeats Pachuca in the end of week 1 of 2020 Guardianes tournament
With this result Club América has six consecutive games without losing to Pachuca. The balance is four victories and two draws for the 'Águilas'.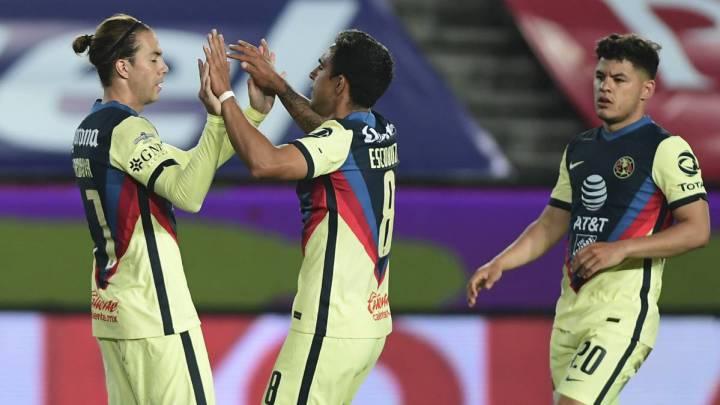 Pachuca hosted at the estadio Hidalgo Club América for the last match of week 1 of the 2020 Guardianes tournament. Prior to this game the home team hadn't defeated the visiting team in the last 5 games they had faced each other with 2 draws and 3 losses.
The first half was pretty even as both teams only had one clear shot on goal each before returning to their locker rooms. Pachuca was going to threaten Guillermo Ochoa first. At the 13th minute the home team captain Jorge Hernández shot from outside the box and América's goalkeeper made an amazing save.
Just before the first half ended, from a set piece Richard Sánchez put the ball inside the box and Sebastián Cordova header was barely blocked by Óscar Ustari. The second half started with the same tempo as the first 45 minutes.
It was not until the 55th minute that Jorge Hernández saw the second yellow card of the game and the captain left Pachuca with 10 men. América took advantage of having one more player because at the 63rd minute of the game, Federico Viñas was going to score the first goal of the match. The Uruguayan striker anticipated Ustari and his shot saw the back of the net.
Two minutes later Santiago Cáseres was going to make a foul in the middle of the field and the referee did not hesitate to show him the second yellow card, leaving América with 10 players as well. The game turned a bit slow with few occasions for both teams.
The action returned at the 90th minute when Pachuca tackled Cordova inside the box and the referee called the clear penalty. It was the same player who would score the second goal of the game for América.
The referee gave 6 more minutes of stoppage time and Pachuca would try to make a late comeback. Before the game ended they Colin Kazim scored from the penalty spot but they scored too late because shortly after the game ended with America taking the three points. América will host Xolos on the second week of the tournament and Pachuca visit Tigres UANL.