Coronavirus India news summary: Monday 3 August
Coronavirus India: live updates 3 August
India Covid-19 update: 05:10 IST on Tuesday 4 August (01:40 CEST)
According to the latest figures published by Johns Hopkins University, 18,178,736 cases have been detected worldwide, with 691,111 deaths and 10,835,789 people recovered.
In India, there have been 1,803,695 confirmed cases and 38,135 deaths, with 1,186,203 people recovered from the virus.
Scroll through some of the recent coronavirus-related articles:
A girl carries a coconut in a vessel on her head during a procession for Narali Purnima, or coconut festival, amidst the spread of the coronavirus in Mumbai on Monday.
(Photo: REUTERS/Francis Mascarenhas)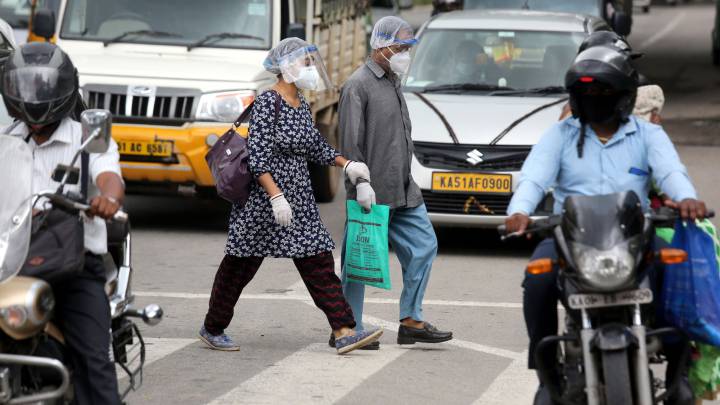 Closed shops during lockdown in Srinagar on Monday. The Indian authorities in Kashmir on Friday extended the lockdown in the region until 5 August.
(Photo: EFE/EPA/FAROOQ KHAN)
India's Wockhardt to supply millions of doses of Covid-19 vaccines to UK
(Reuters) Indian drugmaker Wockhardt Ltd will supply millions of doses of multiple Covid-19 vaccines to the UK, including the one being developed by AstraZeneca and Oxford University, it said on Monday.
The company has reserved fill-and-finish capacity - the final manufacturing step of putting vaccines into vials or syringes and packaging them - as part of an agreement with the UK government, it said.
Shares in Wockhardt jumped 10% after the news in a downcast Mumbai market.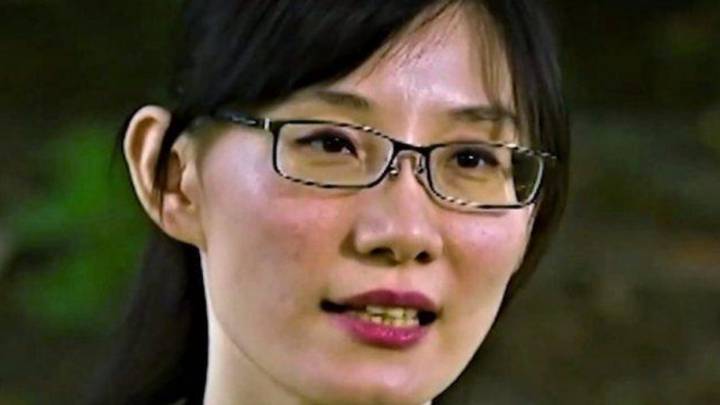 India playing leading role in development of vaccine - WHO
"So overall India is making a strong contribution on the international face", WHO official Dr Michael Ryan said during a media briefing on Covid-19.
The spurt in cases, according to Dr Ryan, owed to the massive country size and population. "India has very high number of cases. But I think we should obviously see the number of cases in India today against the backdrop of the country's size and massive population of 1.3 billion people", he said.
WHO says there may never be a 'silver bullet' for Covid-19
The World Health Organization warned on Monday that while there were strong hopes for a Covid-19 vaccine, there might never be a 'silver bullet' for the coronavirus that has infected millions around the world.
'There is no silver bullet at the moment and there might never be,' director-general Tedros Adhanom Ghebreyesus told a virtual news briefing from the U.N. body's headquarters in Geneva.
India daily case total tops the global list
A worrying graphic now shows how India's daily coronavirus cases have surged ahead of the US, and double that of third-placed Brazil.
How to plan parties with loved ones, while keeping them safe
A look into maintaining the special and fun factor in virtual meetings and get togethers during the current pandemic.
Three-time plasma donor among corona warriors felicitated by CM in Surat
"I was the second person to be tested positive in Surat, on March 19. I took treatment at NCH and recovered. Had I gone to a private hospital, my medical bill would have been anything around Rs 10 lakh.
"What I donated (Rs 2.21 lakh) is nothing against it. I would like to appeal to those patients who have recovered to come forward and donate plasma to save lives of others undergoing treatment."
West Bengal: infection growth slows as Covid count crosses 75,000
Despite the high number, the average weekly growth of infection slowed down from 5.18 per cent the week before (July 20-26) to 4.08 per cent.
The doubling rate of infection — calculated over seven-day average growth — slowed down further from 14 days to 17 days. The slowing of the spread of infection, coupled with the rise in recovery rate to 69.83 per cent, brought some relief for the state health authorities.
The weekly recovery rate was a massive 89 per cent, up from 79 per cent the week before.
Amid Covid spread, will remain away from bhoomi poojan site
BJP national vice-president Uma Bharti on Monday said that she did not wish to be present at the ceremony of Ram Tempple in Ayodhya slated for 5 August as she was concerned about the prime minister.
Nike cuts across 2020 themes
In case you haven't already seen it, the latest advert from the sports company captures many of the year's most impactful messages - including the pandemic - in a dream of an editing process.
Top Indian ministers in hospital as cases continue
India's interior minister and the chiefs of two big states have been hospitalised with Covid-19 as the country's daily cases topped 50,000 for a fifth straight day on Monday.
The country reported 52,972 new confirmed infections in the past 24 hours, taking the total to 1.8 million - the third highest in the world after the United States and Brazil - data from India's Ministry of Health and Family Welfare showed on Monday. With 771 new deaths, the Covid-19 disease has now killed 38,135 people in India, including that of a minister on Sunday in the most-populous state of Uttar Pradesh.
On Sunday, federal interior minister Amit Shah, one of Prime Minister Narendra Modi's closest aides, as well as the chief minister of the southern state of Karnataka, were hospitalised. The chief of the central state of Madhya Pradesh is also recovering in hospital. It was not immediately clear whether Shah's cabinet colleagues, including the finance minister, had isolated themselves.
As infections continue to surge in the country, having registered a record of 57,118 on Saturday, India has also stepped up efforts to test more people and search for a vaccine. The health ministry said on Twitter that the country's drugs authorities had allowed Serum Institute of India, the world's largest manufacturer of vaccines by volume, to conduct clinical trials of a vaccine candidate developed by Oxford University and AstraZeneca Plc.
Karti Chidambaram tests positive for Covid-19 and is in home quarantine
Lok Sabha MP from Tamil Nadu's Sivaganga Karti Chidambaram Monday tested positive for coronavirus. While making the announcement on Twitter, Karti, the son of former Union finance minister P Chidambaram, said he was in home quarantine with mild symptoms, and urged his recent contacts to follow medical protocol.
"I have just tested positive for #Covid. My symptoms are mild and as per medical advice I am under home quarantine. I would urge all those who have recently been in contact with me to follow medical protocol," the Congress leader posted on the micro-blogging site.
Update: India reports 52,972 new coronavirus infections
India reported 52,972 new coronavirus infections in the past 24 hours, taking the total to 1.8 million, data from the Ministry of Health and Family Welfare showed on Monday.
With 771 new deaths, the Covid-19 disease has now claimed 38,135 lives in the world's second-most populous country.
961 new Covid-19 cases in Delhi recorded on Sunday
Delhi registered 961 new Covid-19 cases on Sunday, taking the infection count in the capital to 1,37,677, while the death toll hit 4,004. On Sunday, 1,186 coronavirus patients recovered and were discharged from city hospitals. A total of 1,23,317 patients have recovered, migrated or been discharged while the number of active cases in the capital currently stand at 10,356.
2020 IPL: start & final date, venues confirmed for season in UAE
The delayed 2020 Indian Premier League (IPL) is to get underway on 19 September, pending clearance from the country's government, with games to be played in Dubai, Sharjah and Abu Dhabi.
This year's edition of the Twenty20 tournament was originally due to start in March, only to be postponed indefinitely amid the coronavirus pandemic. With Covid-19 cases continuing to rise in the country, the Board of Control for Cricket in India (BCCI) had already revealed plans to stage the entire competition in the United Arab Emirates later in the year.
The final is due to be played on 10 November and there will be 10 double-headers during the round-robin stage, though a full fixture list is yet to be released. The UAE has staged the IPL previously, co-hosting the 2014 season due to a clash with India's general election.
"The governing council also discussed the comprehensive standard operating procedures (SOPs), which will be finalised and published in due course, including the agencies to execute and deliver a bio-secure environment for safe and successful conduct of IPL 2020 Season," the statement read.
The IPL governing council plans to hold a meeting with all franchises in the near future, while the proposals must be ratified by the Indian government.
The Women's T20 Challenge will also take place in the UAE, with three teams playing four matches during the same week as the IPL play-offs.
Hyderabad airport gets thermal scanner
Hyderabad International Airport is now equipped with a state-of-the-art thermal scanner provided by the Union Ministry of Health and Family Welfare in coordination with the Asian Development Bank and funded by UNICEF. The ceiling-mounted mass fever screening system is capable of scanning, detecting and tracking fever in passengers with elevated skin temperatures.
International arrival passengers and airline crew undergo mandatory health screening by the airport health officers to identify symptomatic passengers to prevent the spread of Covid-19 and provide necessary medical assistance to such passengers.
Inmates break out of Covid-19 centre
Three inmates who had tested positive for Covid-19 have escaped from a temporary health centre in Pakur. The three prisoners, each hailing from Sahibganj, Dumka and Pakur, escaped from the fourth floor of the marketing complex by breaking open the window grill of the bathroom and using bedsheets as rope.
Welcome to our live India blog
Hello and welcome to our live coverage of the coronavirus in India. We launch our live blog this Monday morning, 3 August, as India's case numbers edged over 1.75 million.
We'll be bringing you the latest news and reaction from across the Indian states over the course of the day, as well as keeping you up to the date with latest figures.