Second stimulus check: will there be an additional payment in August?
After negotiations between Democrats and Republicans over a relief package broke down the prospect of a quick solution to a second stimulus check receded.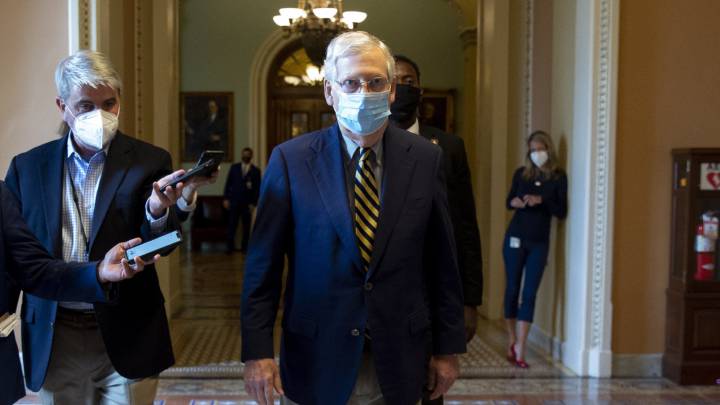 A second stimulus check for cash-strapped US citizens badly hit by the economic effects of the coronavirus pandemic has been broadly agreed upon by Democrats and Republicans, but the failure of both parties to reach consensus on a fresh stimulus package before a deadline of 7 August has left the issue of a second round of payments up in the air. Both the Republican HEALS Act proposal and the Democrat-led HEROES Act make provisions for a second tranche of individual $1,200 payments to be made but with a political impasse among senior officials ongoing, there is no set timeframe for another round of checks.
President Donald Trump has also backed another round of payments but did not include stimulus checks in the executive orders he signed last week. These included a continuation of the unemployment benefit agreed as part of the CARES Act that expired on 31 July (reduced by a third from $600 to $400, with individual states expected to pick up 25% of the cost); a payroll tax cut (unpopular with many on both sides of the aisle); protection for evictions and a freeze on student loan interest repayments.
Hopes for August stimulus package deal fading
Democrats have compromised. Repeatedly, we have made clear to the Trump Admin that we are willing to come down $1 trillion if they will come up $1 trillion. However, it is clear that the Admin still does not grasp the magnitude of the problems that American families are facing.

— Nancy Pelosi (@SpeakerPelosi) August 12, 2020
Treasury Secretary Steven Mnuchin hinted on Monday that a deal with Democrats could be reached this week but as yet there has been no resumption of talks with House Speaker Nancy Pelosi and Senate Democratic Leader Chuck Schumer despite both parties saying they are open to further negotiations. If these fail to materialize there is the possibility that Trump could sign another executive order although this if fraught with difficulty.
As personal finance expert Zack Friedman writes in Forbes: "He never mentioned including stimulus checks as part of his executive order plan. Why? The reason is separation of powers. Presidents can issue executive orders, but typically measures such as stimulus checks must be passed by Congress through legislative action. Congress controls federal spending, which likely would include stimulus payments."
The Senate delayed its recess from 7 August with Senate Majority Leader Mitch McConnell keeping the Chamber in session this week in a bid to allow the White House and Democrats to reach an agreement. Now though, senators have been given the green light to head off with little movement made on the stimulus package deal despite the extra hours put in. The Senate is due to reconvene in early September. However, senators will be required to make themselves available at 24 hours' notice in case there is a breakthrough and a vote is called.
Bipartisan support for second stimulus check
Both the Democrats and Trump have expressed their preference for a more generous package. The US president has one eye very much on the November elections and is keenly aware that his popularity has fallen even among his hardcore support base as a result of the coronavirus crisis, unrest across the country following the death of George Floyd in May and an economic downturn akin to the Great Depression. Trump has even suggested postponing the presidential elections, although the incumbent's concerns over the November poll are largely based on his mistrust of the US postal voting system.
Second stimulus check included in both proposals
Despite Republican desire to limit the size of the stimulus spend, a second round of stimulus checks has been included in the HEALS Act proposal, with likely similar conditions to the first round.
As with CARES, these will consist of $1,200 for individuals, with more support for families who have adult dependents. The CARES Act only allowed for $500 stimulus checks for dependents under the age of 18.
The same income criteria for the stimulus checks will be in place as was for the CARES Act ($1,200 per adult with adjusted gross income up to $75,000, tapering down to zero above $99,000. For married couples filing jointly the threshold is $150,000 tapering down to $198,000.)
The Democratic HEROES Act lays out similar provisions for a second round of checks.
When will I get my second stimulus check?
No family in middle America is saying: "Thank goodness the Democrats are blocking cash payments to me, money for my kids' schools, and money for vaccines until Manhattan millionaires get a tax cut!"

What American families everywhere want is an outcome. pic.twitter.com/wsoLaPKaH5

— Leader McConnell (@senatemajldr) August 13, 2020
Whether there will be a second round of stimulus check in August now rests on one of two scenarios: firstly, a deal being reached between Democrats and Republicans on Capitol Hill, which seems unlikely with the Senate in recess, or Trump wielding another executive order to speed the process along.
The first CARES Act was passed by the Senate on 25 March, it passed the House the next day and was signed by President Trump on 27 March. The very first stimulus checks arrived in people's bank accounts on the weekend of 11 and 12 of April, meaning there is a lag time of around two weeks from the bill becoming law to people receiving payments. The first big round of payments actually hit people's banks on 15 April.
Second stimulus check legislation delayed to September
With negotiations failing to produce a bill by the August recess, the whole process will likely now be delayed until September. The Senate is scheduled to reconvene on 8 September, Then, in a best case scenario, the bill would go through the Senate at the very earliest on 9 September (presuming negotiations continued over August even with lawmakers away from Washington and ready to press on as soon as they got back).
Live coverage of the coronavirus crisis
You can follow live, US-focused coverage of the coronavirus crisis with our dedicated live blog.