Figo: "Today, it would be almost impossible for Messi to join Real Madrid like I did"
The Portuguese ex-player spoke at an event in Santander and previewed Sunday's Champions League final. "In a PSG-Bayern, anything can happen," he said.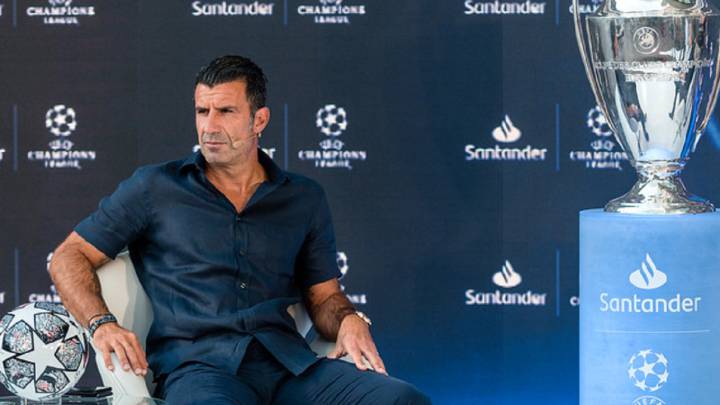 Luis Figo, together with compatriot Rui Costa ans former Real Madrid team mate Ronaldo, took questions from the media in Lisbon today to look forward to Sunday's Champions League final. During the event, organised by Banco Santander, he spoke about Barça's elimination and Messi's situation, among other topics.
Finishing the Champions League: "It's been an atypical year but it was very important to finish the competition, and that includes the domestic leagues too - for everyone involved in the football industry. What we have seen during the past weeks is that, apart from playing games without the fans, teams cannot make as many mistakes because one error and you're out of the quarter finals, the semis or the final. It's made results much harder to predict. It's also made games open up a little more and can be decided from early on".
Mood in the PSG camp: "They know that this is a chance for them to make history, after almost being knocked out by Atalanta, they've pulled together. PSG have never won the Champions League and they will know that this is their chance, they are one game away from doing it. It will be an authentic Champions League final because it is between two quality teams, both with individual talent… anything could happen".
Barça's elimination: " I don't think there was anything special about it. Those who are in the final are the teams who have shown their quality, an ability to overcome difficulties - occasionally with a lot of force. Those in charge have to draw their own conclusions at Barcelona, and decide what needs to be done about what has happened in the past".
Best club competition in the world
Special Champions League feeling: "You're born and grow up watching the European Cup, later called the Champions League. You dream that one day you might one day reach the final of the best club competition in the world. It's the most prestigious competition in the world and winning it gives you the chance to play for the Super Cup and Club World Cup. I think it's also the most watched tournament in the world. It's the most difficult to win and winning it is the objective of every professional footballer".
Relationship with Vanderlei Luxemburgo: "In life, all of us are responsible for the things we say and what we do, personally and professionally. That was the biggest disappointment for me".
Can you see Messi 'doing a Figo' and joining Madrid? "It'll be impossible for any club to pay up Messi's release clause this year. There's not much movement in the transfer market at the moment. I think it's very difficult or even impossible for any club to be able pay Messi's contract. For me, I think it's impossible we'll see anything similar to what happened with me 20 years ago".