Leo Messi set to leave Barcelona: Man City, PSG, Inter, contract: 30 August summary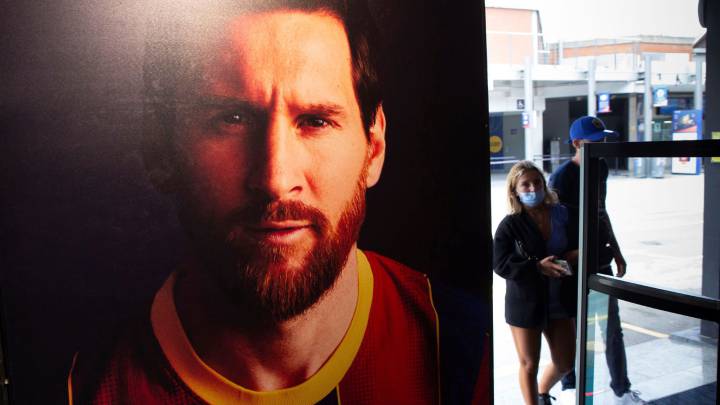 Messi requests Barcelona exit: live updates and reactions

Reactions in 3,2,1...
You can likely imagine many of the reactions to this tweet from Barcelona. Being Barça's social media manager right now must be... interesting.

Mundo Deportivo front cover Monday 31/08
MD focus on LaLiga's support for the Catalan club and focus on Koeman's first training session as new head coach scheduled for Monday evening at 17:30 (CEST)

Sport front cover Monday 31st
More of a mess is the front cover of Catalan sports daily as the Messi situation gets more complex with each passing day after the Argentine failed to attend protocol PCR testing at the FCB training centre on Sunday.
Is this young City fan's dream set to come true?
A few years ago the Manchester club released a promo video with a relaxed chat in a taxi between Pep Guardiola and this bubbly young fan who dreamt of having the Argentine play at the Etihad stadium in the sky blue shirt..... is this dream set to be fulfilled ?
10 days after the last game of the season ....
This is the reported wording of the Messi exit clause as reported by Onda Cero Radio. If this is the case, then one would deduct that Messi would be acting within the stipulated time frame
Messi scores or Bartomeu saves?
Spanish cartoonist Marselle summed up the Messi-Barcelona situation with another succinct illustration.

Young Messi fan in tears
One young Leo Messi was crestfallen after turning up at the Joan Gamper training centre this morning hoping to catch a glimpse of his idol as the bulk of the squad showed up for PCR tests.
"Barça need an overhaul, the club's DNA is being lost" so says Chilean Vidal
The midfielder spoke on the Daniel Habif You Tube channel and spoke on a wide ranging matter of issues from the situation at the Catalan side and his future as a player. Questions relating to a certain Argentine striker were notable by their absence !

Lautaro put off by Messi saga
Word from Italy is that Barça target Lautaro Martínez has got cold feet over a possible move to the Camp Nou having seen what's happening with Messi. He was lined up as a Luis Suárez replacement.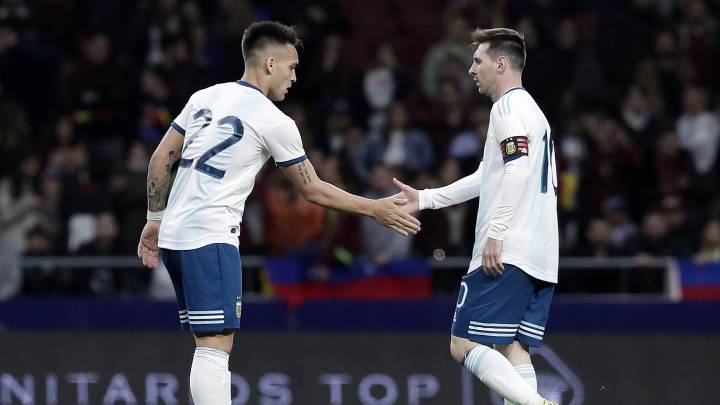 Bonanza ahead for Barcelona tattoo parlours?
If Messi does decide to leave Camp Nou, many fans bearing the Argentine maestro inked to their skin may decide on a tattoo removal with removal sessions ranging from several hundred to several thousand euro per session depending on the size.

Former Barcelona handball player sides with Messi
Enric Masip took to Twitter and criticised the Catalan club for their historical failure to give club legends a fitting farewell and exit from the club citing legends such as Cryuff and Maradona.
Messi summit on Wednesday
Spanish newspaper MD say that Messi's father is likely to meet Barça president Bartomeu on Wednesday to discuss the player's future. The two positions are pretty far apart though - Messi's camp wants him to be able to leave, while Barcelona are refusing to entertain that idea but are willing to discuss a new contract...

Alberto Fernandez makes 'Messi come home' plea
The Argentine president Alberto Fernández stated (with a degree of tounge-in-cheek, one would imagine) that Messi should return to his homeland and play for boyhood side Newell's Old Boys. "You're in everyones hearts and we never saw you play in your country of birth, make us all happy and come here to play, at Newell's, your club".

Messi in a sky blue shirt for five seasons?
According to Catalan daily Sport, the City Football Group are working on a five year plan for the Argentine that would see him play in England for Manchester City for three seasons and then finish his term in MLS with NYCFC for the final two campaigns of the deal.

Jorge Messi to meet with FCB officials on Wednesday
The player's father will meet with Bartomeu and other FC Barcelona officials on Wednesday next to try and unblock the stalemate that exists between both sides currently.

LaLiga get involved and things get (ahem) messy
Earlier LaLiga issued a statement claiming that Messi needs to pay his buyout clause before they will facilitate a departure. This contradicts information from Cadena Ser last night who stated that this year the 700 million clause would not be applicable in the season going into the player's final contracted season (2020/21). This situation has been ratified by Onda Cero Radio who claim too have had access to the Messi contract and indeed there is no buyout fee to be paid .... the plot thickens...

Camp Nou protest draws roughly 20 fans
There were calls from disgruntled Barcelona fans to protest on Sunday morning and block the doors of the Camp Nou FCB Megastore but only 20 or so supporters turned up to demand Bartomeu's resignation.
Messi's buy-out clause remains valid and must be paid, LaLiga confirm
LaLiga released a statement in which they defended Barcelona's stance on Messi's contract and said that a player cannot be released unless his buy-out is paid.
More information here: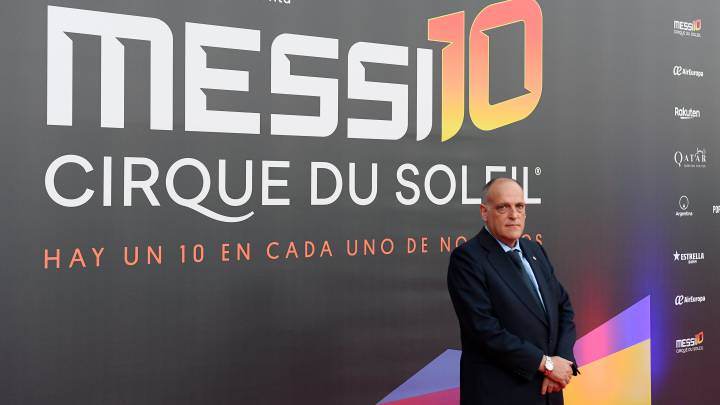 The Argentinean, who was due to report to the Ciutat Esportiva at 10:15 hours to undergo his test, did not turn up. It ups the stakes in his ongoing conflict with Barcelona.
Barcelona dig in their heels on Messi's contract
This was inevitable. Barça are not going to let their prized asset leave without at least flexing their legal muscles. According to a clause in Messi's deal he could have left on a free at the end of the season with the club's blessing but only if he cranked up the fax machine by 10 June. With the Covid-19 delay to the season that didn't happen so Barça's pen pushers have put a large red line under the bit on his contract where it states he has a minimum release clause of €700m still in effect.
This one could rumble on for a while.

Messi has not turned up at the Ciutat Esportiva for RT-PCR test
Leo Messi remained true to his word and has not shown up at the Ciutat Esportiva this morning as the Barcelona squad were due to undergo RT-PCR testing for coronavirus.
All members of the first team squad were given a time to turn up at their Ciutat Deportiva with testing staggered throughout the morning. Jordi Alba and Martin Braithwaite were the first to arrive, at just after 8:00 hours, they were followed by Marc-André ter Stegen and Rafinha
Messi was due to report at the training ground at 10:15 hours this morning but did not show up. As far as Barcelona are concerned, Messi remains under contract at the club and therefore must comply with all of his obligations - including this morning's PCR test. However, that viewpoint is not shared by the player or his lawyers, who feel that after informing the club by burofax that he wants to leave, he no longer has to follow club orders.
By failing to show up at the Ciutat Esportiva for his PCR test, Messi is automatically ruled out of taking part in Monday's training session which has been programmed for 17:30 hours. It also leaves Barcelona with two options - to serve Messi a fine for breaching the terms of his contract by failing to show up for work or begin the process of releasing the player.
Messi's get-out clause
(Reuters) Messi's lawyers earlier in the week referred to a clause in the four-year contract he signed in 2017 which would have allowed him to leave the club for free, but only if he requested it by June 10.
They will argue that that date - nominally the end of the season - is now irrelevant after the coronavirus delays that led to the season's extension and the team playing deep into August.
Messi to snub Barça training
(Reuters) As previously reported, Messi will not take a planned coronavirus test on Sunday and will therefore not attend training on Monday, Spanish media including La Vanguardia report.
La Vanguardia reported Messi will send another burofax, the method by which he told the club he wanted to leave, to inform them of his decision not to attend the first training session under new coach Ronald Koeman.
A burofax is a service used in Spain to urgently dispatch a document through a certified email, which issues a digital certificate with legal validity.
The paper reported the letter will be signed by Jorge Messi, the player's father and agent, and Messi has already told Barcelona president Josep Maria Bartomeu of his decision.

Messi "in the labyrinth"
Today's front lays out the various legal issues surrounding Messi's transfer request. Is he free to leave, as has been touted for some time, or have Barça got all the cards? And if it goes to the courts who will come out on top. Wasn't it all just easier when you could chuck a manager a case of booze and the player a Ford Fiesta to get it sorted?

'Hasta Siempre Comandante'
There have been many visits and many selfies taken on the spot where street artist TVBoy pays tribute to departing Messi with 'Hasta Siempre Comandante' farewell graffiti mural in the Catalan capital.
Expected but still a major escalation
Meanwhile, Messi is refusing to have his Covid-19 test on Sunday with the rest of the Barcelona squad. And that means he won't be able to attend training. And that also means he is now a "contract rebel."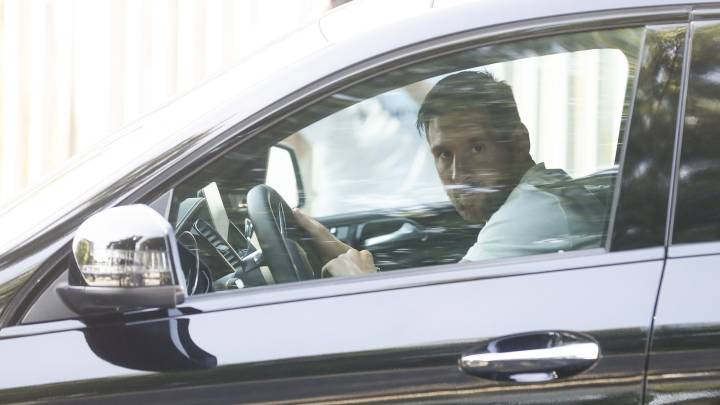 Messi's buy-out clause
Yesterday's top story revealed that Messi's famous buy-out clause / get out of his contract for free clause could be activated if his contract has been renewed for 2020-21... the effects of that are not so clear.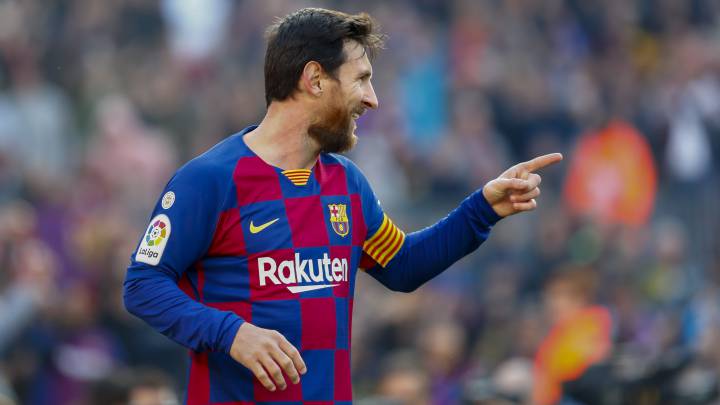 Messi tells Barcelona he wants to leave
On Tuesday the news broke that Lionel Messi had told his club FC Barcelona that he wanted to leave. It appeared then that the player's mind was already made up and that he would not play again for the club that he has served for so long.
That position has not changed over the past few days...but there has been plenty of news surrounding it.
.