Club América defeats Mazatlán on matchday 8 of 2020 Guardianes tournament
The team from the capital of Mexico cruised by Mazatlán at the Aztec stadium and after 90 minutes the final score was 3-1 to add their second victory in a row.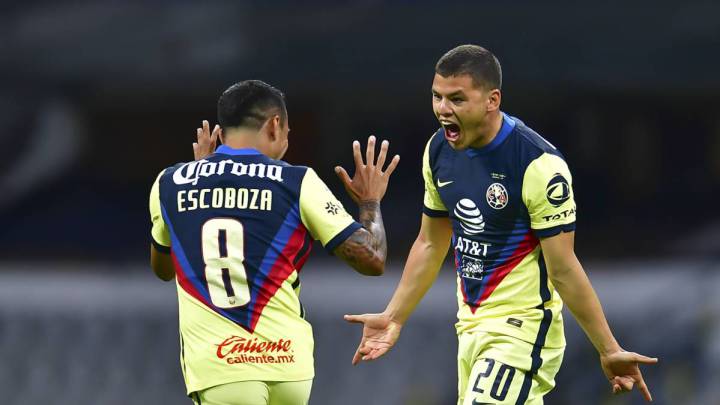 Club América has shown two strong performances in their last two games and defeated Mazatlán 3-1 at the Aztec stadium on Wednesday night. Prior to these two victories, the team managed by Miguel Herrera, had suffered two losses in a row against Querétaro and Monterrey respectively.
In a hectic week, América have turned it around, when on Saturday they defeated Atlético San Luis 2-1 and four days later they demolished Mazatlán. Even though the numbers show the visiting team being more dangerous with five shots on target and 64% of the possession, América was clinical in front of goal.
Efficient night in front of goal
América had only two shots on target, but scored three goals, with one coming from an own goal from Aldo Rocha, the second of the night for the home team. It all started with Henry Martín, who opened up the scoring in the 47th minute, scoring in two consecutive games.
Big mistake from Mazatlán
The visiting team was playing better but all went downhill at the beginning of the second half. In the 54th minute of the contrest, Mazatlán attempted to come out from the back, Aldo Rocha passed the ball to the goalkeeper, but his pass was too strong and he ended up putting it into his own net. Just like that, América was up 2-0 and cruising at the Aztec stadium.
Four minutes later Ricahrd Sánchez would score the goal of the game and possibly of the week. The midfielder buried a perfect free-kick to score the third and final goal for Club América. Mazatlán pulled one back in the 72nd minute through Camilio Sanvezzo, but it wasn't enough.
América climbs up to second place with 10 games to go in the 2020 Guardianes tournament. So far they have a total of 16 points. Their next game is on Saturday at the Aztec stadium against Toluca.