Luka Modric, Real Madrid's evergreen midfielder turns 35
The Croatian midfielder is 35 today and about to start his ninth season in Madrid. Zidane considers him a key piece in the team. His contract will expire in 2021.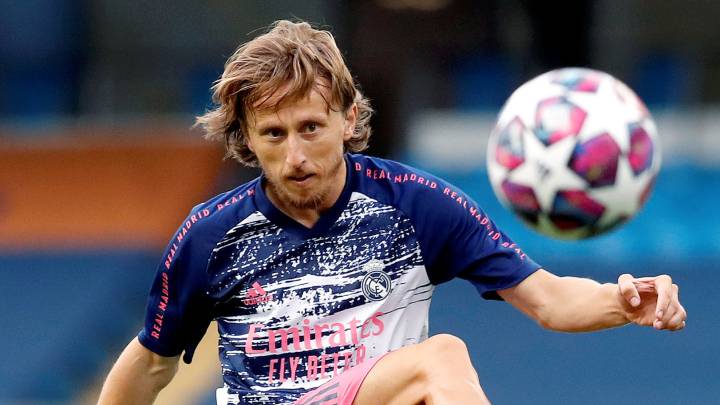 Luka Modric is still going strong and showing no signs of slowing down. The Croatian midfielder celebrates his 35th birthday today, just as he is about to commence his ninth season at Real Madrid (he has made 343 appearances for the club). This will be a significant season for Modric, who is set to play a key role once again for Zidane's team. Last season, was his most productive since he arrived in the Spanish capital in 2012.
Modric ended the 2019-20 season with five goals - including decisive strikes like his goal against Real Sociedad at the Bernabéu in LaLiga, or against Valencia in the semi-final of the Spanish Super Cup in Saudi Arabia. Despite possessing a good shot from outside of the area and his constant presence in and around the box, Modric has never been a great goal scorer during his time in Madrid - he only managed four goals in both of the two previous seasons.
Modric - goals and assists
The poor 2018-19 season left several players with a black mark against their name - including Modric but the midfielder responded with goals and eight assists to post his second-best figures in Madrid, only bettered by the nine assists he dished out in 2013-14, when the team won La Décima. And he has managed to improve his figures during the seasons he has played the fewest minutes - 2,628 (apart from the 2014-15 season when he totalled 2,002 due to long absences through injury).
Whenever he was fit, Ancelotti used him. Under Zidane, he has almost always surpassed 3,000 minutes, but last season, the coach spotted an opportunity to bring Fede Valverde into the side and reserve Modric for moments when he would be most needed. Modric played a key part in the team clinching LaLiga (he started eight of the last 11 games), although Madrid showed that they are able to cope without him - he didn't start either of the two Clásicos for instance.
And rather than looking like he might be starting to feel the strain at the top level, Modric ended 2019-20 looking stronger than ever and that is how he has started the 2020-21 season, in which he gave up the chance to star for Croatia in the Nations League (against Portugal and France) to work out in Valdebebas under Zidane's orders. At 35, he has made Madrid his priority, knowing that he will be needed with the national team at a later date, in next summer's Euros and Qatar World Cup in 2022.
Modric's future
As for what lies further ahead for Modric, nothing has been settled. His contract was due to expire in 2020 but after winning the Ballon d'Or in January 2019, a clause was activated to extend his working relationship with Madrid by another year, until 2021. In August 2018, Inter Milan tried to sign him on a free transfer but the move was blocked by Florentino Pérez.
When the current season concludes, there could be the possibility of an extra year if both parties agree. Modric knows that both Zidane and the president value him. Eight years and 17 trophies after arriving, Modric is looking as youthful as ever.