Gonzalo Higuaín arrives in Florida to sign Inter Miami deal
The Argentine striker was welcomed by one of Inter Miami's bosses at the airport, who even took a picture with him to confirm his arrival to MLS.
A few weeks ago Juventus terminated Gonzalo Higuaín's contract with the striker not featuring in the club's future plans. The Serie A team had to pay the Argentine striker about $2 million due to the one year left of his contract which allowed an exit from Turin as a free agent. This opened the door for the new Major League Franchise to make a bid for Higuaín this summer.
Inter Miami are set to sign Higuaín in the next few hours after club official Jorge Mas welcomed the striker the airport and was pictured with the Argentine upon his arrival in the US.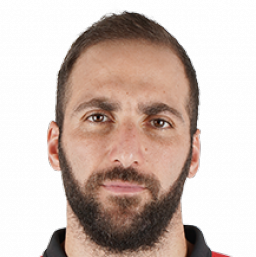 Higuaín will rejoin his former teammate
As Inter Miami awaits to make his signing official, it appears that Gonzalo Higuaín will rejoin his former Juventus teammate Blaise Matuidi who already made his debut in MLS last weekend. "I want to welcome Gonzalo Higuaín, a world-class striker," wrote Mas on his twitter account.
It is expected that Higuaín will pen a deal through to 2022 with the new MLS side but he will not be one of the three Designated Players of the team as those spots were already filled up. Everything points to the player being signed as franchise players in his first year, just like LA Galaxy did when they first signed Zlatan Ibrahimovic.
The 32-year-old striker will be playing in the same league as his brother Federico, who plays for D.C. United. His debut could take several weeks however as the forward needs to wait for his working visa to be approved, in the meantime the former Juve player will be train with his new Inter squad mates.