Real Sociedad 0-0 Real Madrid: no goals at the Reale Arena
Real Sociedad vs Real Madrid, 20/9/20
Rusty Real Madrid draw La Liga opener with Sociedad
Richard Martin's on-the-whistle view:
Real Madrid had an underwhelming return to La Liga as they could only draw 0-0 away to Real Sociedad on Sunday in the first game of their title defence.
The champions looked rusty and particularly toothless up front, barely creating any chances of note in either half as Karim Benzema found little support in Brazilian teenage forwards Vinicius Jr. and Rodrygo.
Benzema missed Real's best chance of the first half when he lost his footing as he rounded goalkeeper Alex Remiro and later saw a goal-bound shot blocked by a dive from Sociedad defender Aritz Elustondo.
Substitute Marvin, 20, could have had a dream Madrid debut when a chance fell his way after coming on but failed to keep his composure. Sociedad's David Silva made his first La Liga appearance in a decade when he came on as a substitute in the second half.
LaLiga after matchday 2... remember some clubs (Barcelona, Atlético Madrid...) haven't played yet...
Oyarzabal says the point was probably fair, but you're always left with the feeling you could have taken more from the game.
Odegaard says he was happy to play with Real Madrid again, but he's desperately disappointed not to start with a win. Also says it was hard playing against his friends from last season.
Courtois says he reckons Real Madrid created danger, but failed to produce the final ball. Fair point.
Asked if scoring goals is a problem for Madrid, Courtois admits that keeping the scoresheet to zero is important but then quickly notes that they have world class players up front, in particular Benzema, who he says was just "unlucky" today.
Real Madrid will be unhappy they failed to make more of their sparkling first half. Real Sociedad were better in the second 45, but failed to create many real moments of danger. A draw is probably a fair result.
Full time! Spoils shared as neither side can break the deadlock.
Marvin into the box down the right and his cross is cleared away for a corner, which is cleared upfield. Likely last chance of the match...
Three minutes of time added on.
Arribas on for Vinicius, who was extremely lively again but also failed to find the killer ball again.
Guevara makes way for Urko González for Real Sociedad.
Varane needs looked at after that block. He trudges off to the corner flag with the team doctor.
Silva with a chance from the top of the box, makes space to shoot and gets his effort away but it's superbly blocked by Varane. As you were.
This game needs a moment of inspired genius to win it at the death. Nobody out there looks like they have a moment of inspired genius lurking up their sleeve though.
Carvajal crashes through Merino and straight into the book. A tired challenge really, rather than a spiteful one.
Mendy penalised as the ball breaks into the Real Sociedad box and a ruck of players give chase. Remiro gets out in any event, but the Real Madrid player fouled someone in his desperation to get to the ball.
Vinicius drives forward and lays off to Marvin on the right, but his first touch isn't quite good enough and a defender gets across to deny him his chance at glory.
Silva waltzes into the Real Madrid box and clips one to a waiting Januzaj at the back post, but it's cut out mid-flight.
Couple of chances for Real Sociedad. Oyarzabal replaced by Januzaj and Barrenetxea by Bautista.
Real Madrid spend two minutes trying to get out of their own half. That first-minutes-of-the-season freshness has gone. And Real Sociedad were pressing well.
Kroos! He makes space on the edge of the box and unleashes one. But it's well over.
Rodrygo, Modric and Odegaard are gathered up in Zidane's hook and replaced by Casemiro, Marvin and Valverde.
Corner for Real Madrid. Oyarzabal heads it out for another one. Which ends up at the feet of Kroos and he hits a sharp curler, which Remiro does well to punch clear.
Zidane is readying his first changes... Casemiro, Valverde and Marvin are ready to come on.
Real Sociedad gift the ball in the midfield and Benzema starts a dangerous attack, which goes through Vinicius and is close to ending with Rodrygo, but he's too wide and his only option is a backheel that Remiro is unbothered by.
Isak off for none other than David Silva.
Remiro saves from Benzema! The Frenchman got a hold of that one.
Real Sociedad so close to a 2 on 2 situation, but Portu just couldn't control the ball to break at speed from the half-way line.
David Silva is ready to come on...
Real Sociedad having a bit of a moment in the sun right now, getting up to and even occasionally into the Real Madrid box. No super chances, but Ramos is getting shoutier, so you know he wants his midfield to do a bit more.
Carvajal has a ping, but Remiro is up to it.
Another bit of lovely play from Vinicius, linking up with Benzema, and getting a ball across the box down the corridor of uncertainty. It nearly gets to Rodrygo before it's scrambled behind for a corner.
Mendy in late on Portu who's in pain after that. Ref not interested in the home side's claims for a card.
Benzema played in by Odegaard (fine ball) and that's great covering from Elustondo to deny him the chance AND not even give away the corner. (It probably was a corner)
Varane is in some discomfort after that challenge from Barrenetxea. He's hobbling.
Barrenetxea goes through Varane and that's daft because he's on a yellow already. Ref decides a stern talking to is enough, but he's a lucky lad.
Real Madrid with a sustained spell of possession, knocking it around the midfield, with no real urgency to find an outlet.
Volley at the back post from Barrenetxea goes just wide. Lovely move from Real Sociedad!
No changes at half-time, but Silva looks very active in the stands. And doesn't have his mask on...
Carvajal levitating. He got absolutely battered by Barrenetxea in that first half, you could hear the crunch half-way to Bilbao. Was a booking for the Real Sociedad man.
Courtois gets his peg out and denies Isak. That was a fine late chance.
Zidane will be the happier of the two coaches, with lots of lovely movement in the final third, though the actual chances were harder to come by. Vinicius as usual was a handful, and Benzema had a number of silky touches. The pressure from Madrid was also notable, with Real Sociedad constantly harried at the back and forced into errors.
The home side though are are clearly a danger coming forward and had a couple of decent chances late on, the best of them falling to Isak, who was denied by the keeper and his own accuracy.
No time added on whatsover and it's half-time with the scoreboard as it was 45 minutes ago.
Intense pressure from Real Madrid, three players harrying the Real Sociedad defenders and forcing them back into their own left-hand corner. A desperate clearance goes straight to a Real Madrid shirt and Zidane smiles softly.
Corner onto the back post and Courtois was in no man's land, but no Real Sociedad player could get a solid head on it.
And then Isak has two chances, the first blocked by Courtois' foot, the second curled wide.
Portu with after-burners down the right and he wins a corner as Ramos is forced to peg it back and put the danger to bed.
Benzema! Slips as he hits it and it goes just past the top corner. Odegaard had a lovely bit of skill in the build up to that effort.
Real Madrid unpick the Real Sociedad defence, after a poor clearance from Remiro. Benzema gets the ball out on the left and just has to slot home... but he can't, the ball sliding across the face of the goal.
Ramos wants a penalty. He smacks a volley directly at Barrenetxea on the deck in the box, the ball hits his thigh and flies onto his arm. Not a penalty.
Fine move from the home side, starting with a simply wonderful feint from Elustondo to beat his man, ends with a final ball to Isak that so NEARLY sends the striker in, but is cut out. Real Sociedad can be pretty incisive on the break.
Muñoz into the book now for Real Sociedad, pulling back Rodrygo.
Benzema sprints back to nick a square ball between two Real Sociedad players. Intelligent work from the Frenchman who then beats a player and sends a neat pass out to Rodrygo to start a move. Great stuff from Benzema.
Vinicius again causing all sorts of bother down the left, but he's eventually muscled off the ball. Tough night for Elustondo and Gorosabel though.
Mendy knocks Portu, breaking up the right, over and he's into the book. The Real Madrid player is entirely unconvinced by the booking, but it seems fair enough.
Mendy gets into the box and wins a corner, but he takes a knock as he tumbles. He'll be ok though. The corner comes to nothing.
Aritz cuts out a ball through, sending it out for a corner, and gets up straight away to try and get some organisation at the back. If Madrid keep this up they'll end up threading one through.
Carvajal is fine after that challenge, by the way. Was a cruncher though.
Ouch! Barrenetxea slams Carvajal who goes down in some pain. Yellow for the Real Sociedad man, and he has no complaints.
Ramos comes charging up for a corner, all-fired up, he knocks Elustondo flying onto the turf, ref gives the foul, Ramos complains, and then trundles back to his defensive duties.
Vinicius has been his usual live-wire self so far this evening.
Real Sociedad finally get their collective feet on the ball for a spell of play, which ends with Muguruza doing well down the left and getting a cross over, but it's just cleared before it can cause the Madrid defence problems.
Our possesion-o-meter scores it 27.4% to Real Sociedad and 72.6% to Real Madrid. The visitors well on top here.
More nice play from Real Madrid. Some of their link-up play is very tasty. They force a corner which is sent miles out to Modric for presumably a Scholes-style spanked volley into the top corner, but it doesn't quite work as it did on the training ground.
Modric knocked over again in the midfield. Looks like he made a plaintive protest to the ref for some protection. Nothing coming yet.
Benzema! Neat play to free up the Frenchman at the top of the box and he gets a curling shot off along the deck... but the connection isn't great and Remiro gathers comfortably.
Real Madrid dominating this right now. Solid possession, probing attacks, and suffocating pressure when Real Sociedad have the ball.
Vinicius knocked over out on the left as looked to nip into the box. Kroos sends the cross in, but it's headed clear first time.
Really high press from Real Madrid up their right hand side and Real Sociedad keep trying to pass it out. Guardiola would approve but it was beginning to feel extremely risky for the Basque side there... one tiny mistake and Madrid were in.
Merino batters Kroos to the ground to let the Madrid man know he's there.
Benzema and Elustondo clash going for a header. They're both a bit sore, but will be fine to carry on.
Rodrygo with a neat exchange with Odegaard... such a shame we don't get to see the reaction from the Real Sociedad fans to the returning Norwegian. They were delighted with him last season and wanted him to stay, but understood he had to go back to the Bernabéu.
Another neat bit of play involving Vinicius, then to Benzema and out to Rodrygo, but his cross doesn't find its target, or any target.
Vinicius nicks the ball and sprints down the left, so dangerous, lays off to Benzema, but the Frenchman's control lets him down and it comes to nothing. But you can see the Real Sociedad defenders thinking about Vinicius' pace...
Real Sociedad keen to attack from the off, but Real Madrid deal easily with their frenetic assault.
Your referee tonight is Juan Martinez Munuera.
Off we go! Real Sociedad vs Real Madrid...
All set! Real Sociedad will get the match underway...
Teams coming out at the Reale Arena!
Warm-ups over, about five minutes to go...
Odegaard starts
Odegaard is back at Anoeta, having been there on loan last season. He had a fine year up in the north and Real Sociedad were keen to keep him for another season... but Zidane decided he wanted the 21-year-old back at the Bernabéu... and he starts tonight.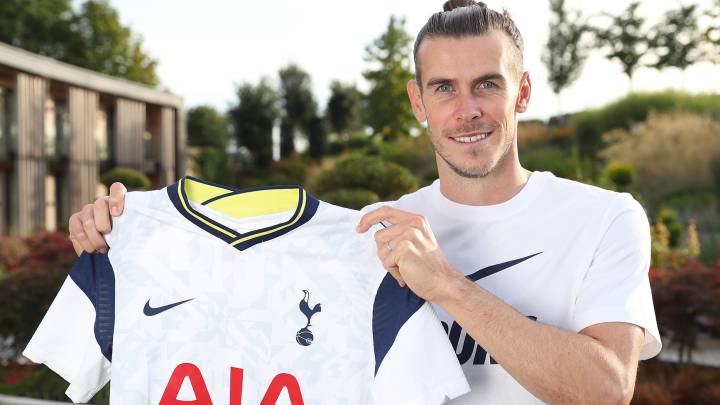 Real Madrid warm-up
It's 21 degrees up in San Sebastian, a pretty pleasant evening for some top-flight football.
Real Sociedad with the love for their fans
Real Sociedad are missing their fans: We want to feel you close to us again. We want to shout again. Dream again. Celebrate again. For you. We'll see each other soon. AUPA REAL!!
Real Madrid leaving their hotel
Here's how Real Madrid headed out of their hotel, looking mostly pretty serious behind their masks.
Real Sociedad XI
Remiro, Aihen, Guevara, Le Normand, Gorosabel, Barrenetxea, Aritz, Merino, Portu, Oyarzábal and Isak.
Real Madrid XI
Courtois; Carvajal, Varane, Ramos, Mendy; Kroos, Modric, Odegaard; Vinicius, Rodrygo and Benzema.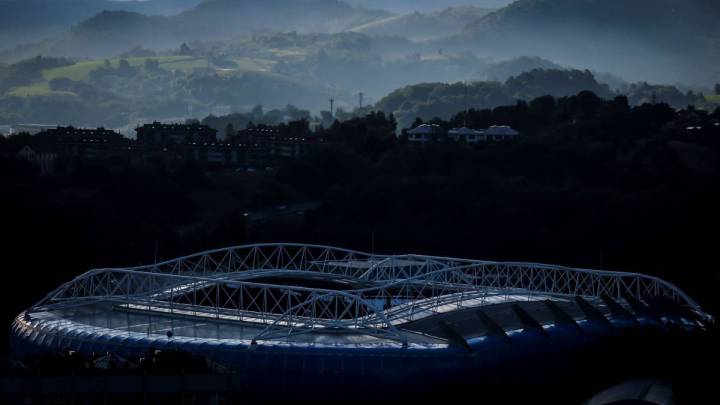 Real Sociedad vs Real Madrid
Hello and welcome to our live coverage of Real Sociedad vs Real Madrid, with the action kicking off at 21:00 CEST at the Reale Arena.