Coronavirus USA live updates: Trump, cases and stimulus checks | Columbus Day, latest news

US coronavirus / Trump updates: live
Trump, coronavirus latest: headlines
- Fauci says Trump campaign took his words out of context in new ad, and never gave campaign consent to use clip
- Twitter again flags Donald Trump's tweets as 'misleading' after president claims he is 'immune' from coronavirus
- Pelosi says White House $1.8tn stimulus offer is "one step forward, two steps back"
US covid-19 latest: 14:30 PT / 17:30 ET on Monday 12 October (23:30 CEST)
Latest figures published by Johns Hopkins University.
Worldwide
Cases: 37.693.968
Deaths: 1.078.861
Recoveries: 26.130.521
US
Cases: 7.796.525
Deaths: 215.022
Recoveries: 3.075.077
Related coronavirus articles that may be of interest:
Donald Trump tests negative for Covid-19
Dr. Sean Conley has issued a statement confirming that president Donald Trump has tested negative for Covid-19 on consecutive days.
North Dakota has less than 20 hosptial beds available
As coronavirus cases continue to rise in North Dakota, concerns have been raised about the health system's ability to handle the influx of patients, with one official claiming there are now less than 20 beds available in the state.
"Right now, the hospitals have less than 20 beds available across the state," said Renae Mock, director of Bismark-Burleigh Public Health (via CNN).
"We have some hospitals in very rural areas that are having difficulty meeting the demand, and having to send patients to different areas across the state of North Dakota, and even had to send out of state at some point to Sioux Falls [South Dakota] and also Billings, Montana."
Dr. Fauci speaks to CNBC at 7pm (ET)
Infectious disease expert and former head of the White House coronavirus task force, Dr. Anthony Fauci, joins Shephard Smith on CNBC at 7pm (ET) tonight....
Biden negative for Covid-19 - campaign
Democratic presidential nominee Joe Biden on Monday tested negative for Covid-19, his campaign said in a brief statement.
The former vice president was campaigning in Ohio ahead of the 3 November election.
President Donald Trump, who announced 10 days ago that he had tested positive for coronavirus, was set to hold his first rally since his diagnosis on Monday after saying he was no longer infectious.
Spain adds nearly 28,000 COVID-19 cases since Friday, 195 deaths
Spain has reported nearly 28,000 coronavirus cases since Friday, bringing the cumulative total to 888,968, health ministry data showed on Monday.
The death toll from the virus rose by 195 from Friday to a total of 33,124. Spain does not report its coronavirus data during the weekend.
Doctors fear US has entered "dreaded second wave"
WIth more than half of US states witnessing an uptick in coronavirus cases, doctors fear that country is at the start of the "dreaded second wave".
"We are all seeing increasing numbers of Covid-19 patients who are coming into our ERs, who are getting really sick, requiring hospitalization and even intensive care," Dr. Megan Ranney, an emergency room physician and Brown University associate professor, told CNN's Erica Hill.
"We are all deeply afraid that this is the beginning of that dreaded second wave."
Carnival Cruise cancels November cruises
Carnival Cruise Line has announced that it is canceling the remaining cruises for its six ships operating from Port Miami and Port Canaveral in Florida for November.
The decision follows those made by Norwegian Cruise Line and Royal Caribbean earlier this month...
English pubs can open in highest Covid areas if they serve meals, says government
Pubs and bars can only remain open in the highest coronavirus alert areas of England if they operate as if they were a restaurant and serve substantial meals, the government said on Monday.
After Prime Minister Boris Johnson set out a new three-tier system, the government said of those areas in the "very high" alert level:
"Pubs and bars must close, and can only remain open where they operate as if they were a restaurant - which means serving substantial meals, like a main lunchtime or evening meal. They may only serve alcohol as part of such a meal." (Reuters)
WHO says 180-plus countries including China committed to vaccine effort
More than 180 countries have committed to participate in the World Health Organization's (WHO) effort to finance Covid-19 vaccines to be distributed fairly to both rich and poor countries, the group's chief scientist said on Monday.
That figure, which WHO chief scientist Soumya Swaminathan updated during a media call, is an increase from the 170 countries including China that were announced on Friday by the GAVI vaccine alliance, which is working with the WHO on the COVAX financing facility. (Reuters)

UAE will host second human trial of Russia's Covid-19 vaccine
Human trials of Russia's Covid-19 vaccine, named Sputnik V, will be held in the United Arab Emirates, the second country after Belarus to take part in the programme of which results are expected before the end of November, Moscow said on Monday.
The vaccine, first licensed by Russian authorities for domestic use in August, is currently being tested on 40,000 volunteers in Moscow as part of a late-stage trial known as Phase III. The trial in the UAE has received regulatory approval from the Gulf state's health ministry, and the process will be supported by local laboratory provider PureHealth, Russia's sovereign wealth fund, responsible for marketing the vaccine abroad, said in a statement.
'The results of the UAE trial will be combined with the results of the of the trial in Russia and other countries,' Kirill Dmitriev, head of the Russian Direct Investment Fund (RDIF) said in the statement, adding that interim results will be published before the end of November. RDIF declined to comment on how many people will receive the jab in the UAE as part of the trial or when it is due to begin.
Mike Lee attends Judge Barrett's confirmation hearing - without a mask
Senator Mike Lee attended today's hearing for Amy Coney Barrett's Senate confirmation without wearing a face mask. Lee tested positive for Covid-19 on 2 October - 10 days ago. He submitted a letter from his physician, Brian Monahan which stated that Lee "has met criteria to end Covid-19 isolation for those with mild to moderate disease".
Crime on the rise as subway numbers fall
Commuter numbers have continued to fall in New York City since the Covid-19 crisis started but that has led to a rise in violent crime on the city's subway network, The New York Times reports. In March, 16 commuters were injured and the train operator died when a fire was lit in one of the carriages. There have been other reports of sexual assaults, vandalism and physical attacks. Six people have been killed in the subway, compared with two during 2019, one in 2018 and none in 2017. Robberies have risen 16 percent, to at least 457 so this year, compared with 394 during the same period last year.
OSHA inundated with complaints before Covid-19 pandemic started
The Occupational Safety and Health Administration (OSHA) was flooded with complaints from concerned workers who were worried that their employers weren't doing enough to protect them from the health threat. The Harvard Center for Population and Development Studies has publish a report detailing Federal accountability for entry, spread, and inequities during the Covid-19 crisis.
The paper looked at events which contributed to the initial spread of Covid-19 in the United States and found a lack of occupational health protection including provision of PPE. In most states little regulatory or enforcement action was been taken by either the federal government or the state to address workplace exposures to the virus.

Senate Republicans will go with Trump on coronavirus stimulus - White House spokeswoman
Republicans in the U.S. Senate will go along with what President Donald Trump wants in coronavirus relief legislation, a White House spokeswoman said on Monday, as the White House pursues a deal with Democratic lawmakers. "I believe Senate Republicans will ultimately come along with what the president wants - the president noted that yesterday," White House press secretary Kayleigh McEnany told Fox News. "We believe Senate Republicans are not what's blocking this. It is Democrats."
Nursery school children can spread Covid-19
Nearly 30 people are believed to have caught Covid-19 through links to a children's nursery in Poland, which has prompted questions about how easily the virus can spread among children aged between one and two years old, Newsweek reports. In a research letter published by the University of Warsaw, analysts looked at the case of a nursery which was reopened after a nationwide lockdown on 18 May.
On May 31, a nursery worker reported family contact with a symptomatic Covid-19–infected person, and the nursery was closed. During the 14 days the nursery was open, a mean of 25 children attended the nursery daily. Children spent eight hours there, divided into three groups, each cared for by two caregivers. Neither children nor caregivers moved across multiple classes. Caregivers wore facemasks when in contact with children. Parents did not enter the building when dropping off and picking up children. Contacts between parents and nursery workers lasted 15 minutes, with facemasks on. Family members of different children did not mix.
A nursery worker was confirmed Covid-19 positive on 4 June. Subsequent PCR testing of nursery staff, children attending the facility, and family members (2 initial case-patients plus 104 other persons) revealed positive results in an additional 4 nursery workers (of whom 1 was also a parent of a child attending the facility), 3 children of the nursery workers, 8 children attending the facility, 3 siblings of those children, 8 parents, and 1 grandparent. The cluster involved a total of 29 persons; 8 were children attending the nursery, and 12 were children's family members who did not enter the facility. One child with a negative result had 2 parents with positive results. One child's parent tested negative in this cluster but had tested positive within the previous 2 weeks, involved in another cluster. The overall positivity rate in the cluster was 27% and children seemed to be effective mediators of infection between adults.
Stimulus check: Can I receive more than $1200 if I change my eligibility?
Congress could approve a second round of stimulus checks before next month's elections. Here is all you need to know about whether you will qualify whether you personal circumstances remain the same or have changed.
Read more: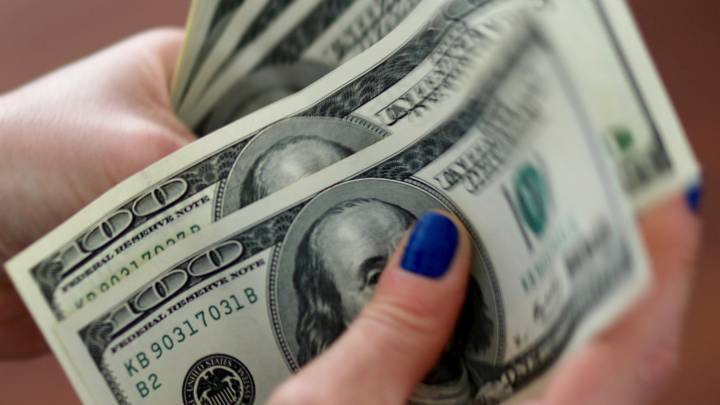 'Uninhabitable hell': Climate change and disease threaten millions, UN warns
A jump in climate-related disasters this century, along with the global coronavirus pandemic, show political and business leaders are failing to stop the planet turning into "an uninhabitable hell" for millions, the United Nations said on Monday.
The last two decades saw the number of disasters caused by extreme weather nearly double to 6,681, up from 3,656 between 1980 and 1999, according to a report issued ahead of the International Day for Disaster Risk Reduction on 13 October.
Worsening floods and storms accounted for about four-fifths of the total from 2000-2019 but major increases were also recorded for droughts, wildfires and heatwaves.
"We are wilfully destructive. That is the only conclusion one can come to", with action on climate change and other major threats lagging, said Mami Mizutori, the UN Secretary-General's special representative for disaster risk deduction.
"Covid-19 is but the latest proof that political and business leaders are yet to tune into the world around them," she added in a statement.
In the past 20 years, there were nearly 7,350 major recorded disasters, including earthquakes and tsunamis, which claimed more than 1.2 million lives and affected 4.2 billion people.
As Covid-19 infections and deaths rose, research found it activated 2 groups of voters posing a threat to Trump's presidency: Republicans for whom the virus was the last drop, and Democratic and independents who say the pandemic summoned them to vote

Los Angeles Lakers fans react while watching on a TV at an outdoor restaurant during the 2020 NBA Finals between Los Angeles Lakers and Miami Heat amid the coronavirus outbreak, in Los Angeles, California 2020. REUTERS/Ringo Chiu TPX IMAGES OF THE DAY
Trump tries to put covid-19 behind him with campaign rally in Florida
President Donald Trump will try to put his bout with covid-19 behind him when he returns to the campaign trail on Monday, beginning a three-week sprint to the 3 November election with a rally in the vital battleground state of Florida.
The event at an airport in Sanford, Florida, will be Trump's first campaign rally since he disclosed on 2 October that he tested positive for covid-19. Trump, who spent three days in the hospital for treatment, said on Sunday he was fully recovered and no longer infectious, but did not say directly whether he had tested negative for the virus.
The Republican president is seeking to change the dynamics of a race that opinion polls show he is losing to Democratic rival Joe Biden just 21 days before Election Day.
For months, Trump had worked furiously to shift public attention away from the virus and his handling of the pandemic, which has infected nearly 7.7 million people in the United States, killed more than 214,000 and put millions out of work.
But his own illness has put the spotlight squarely on his coronavirus response during the closing stretch of the race.
Biden, in a sign of fresh optimism as he leads Trump in national and many key state polls, heads on Monday to Ohio, a state Trump won by 8 percentage points in 2016. It is Biden's second campaign trip in as many weeks to Ohio, which was once thought out of reach but where polls now show a tight race.
Is it true that Trump's considering resigning and who said it?
As the election battle heats up, a controversial report claimed Trump is considering resigning in return for pardon on criminal charges. What's the truth?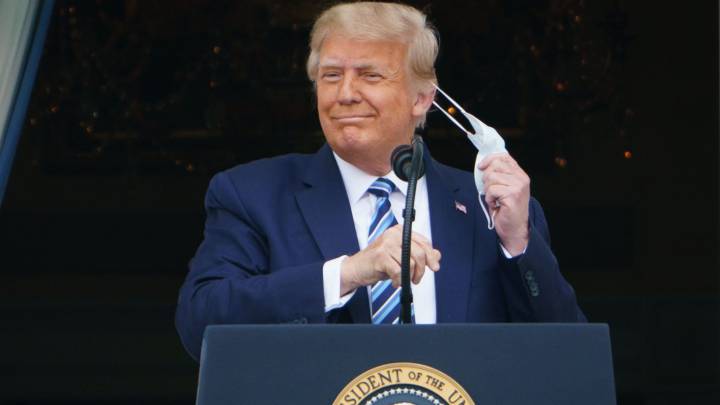 Columbus Day USA: are banks, schools and post offices open?
Will your bank, school or town hall be open on Columbus Day? The history of the day, controversy and is it celebrated everywhere in the country?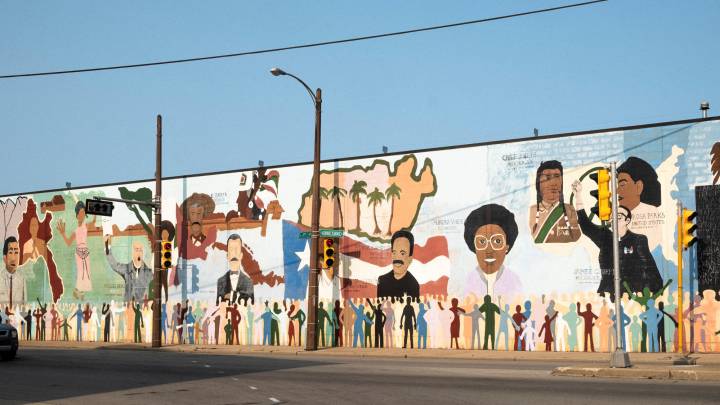 Fauci says his remarks were taken out of context in Trump ad
Top U.S. infectious diseases expert Dr. Anthony Fauci said on Sunday he had not agreed to be featured in an ad by President Donald Trump's re-election campaign and that his comments were taken out of context.
The ad, released last week, discusses Trump's effort to recover from the coronavirus personally, as well as his administration's work to address the pandemic. The 30-second spot uses older remarks from Fauci in a way that suggests he was praising the president.
"I can't imagine that anybody could be doing more," the ad shows Fauci saying. But those remarks are from a March interview, where Fauci, who has been director of the National Institute of Allergy and Infectious Diseases (NIAID) since 1984, was discussing the broader effort, including by the White House coronavirus task force.

People participate in a pro-Trump rally in front of Trump Tower on October 11, 2020 in New York, New York
(photo Stephanie Keith/Getty Images/AFP)

Twitter flags Trump tweet for violating its rules on covid-19
Twitter on Sunday flagged a tweet by Donald Trump in which the U.S. President claimed he was immune to the coronavirus, saying it violated the social media platform's rules about misleading information related to covid-19.
"A total and complete sign off from White House Doctors yesterday. That means I can't get it (immune), and can't give it. Very nice to know," Trump said in the tweet.
The post was flagged by Twitter with a disclaimer.
"This Tweet violated the Twitter Rules about spreading misleading and potentially harmful information related to covid-19," Twitter's disclaimer read, adding that it had determined that it may be in the public's interest for the tweet to remain accessible.

Patriots v Broncos postponed after covid-19 positive
The New England Patriots' Week 5 game against the Denver Broncos has been postponed after their training facility was shut down in the wake of a new positive coronavirus test.
Patriots cornerback Stephon Gilmore tested positive for covid, it emerged on Wednesday, becoming the team's second high-profile case after Cam Newton.
Quarterback Newton missed the Week 4 trip to the Kansas City Chiefs, with that game pushed back a day as a result of isolated cases for both teams.
The NFL's official website reported that a further positive test occurred on Saturday, causing the training base to be closed. It did not name the Patriots player involved.
In a short statement, the NFL confirmed the Patriots and the Broncos would now have a bye week in light of a COVID-19 positive, with a new date for the game to be announced in due course.

White House pushes for limited coronavirus relief bill as broader effort meets resistance
U.S. Treasury Secretary Steve Mnuchin and White House Chief of Staff Mark Meadows on Sunday called on Congress to pass a coronavirus relief bill using leftover funds from the small business loan program as negotiations on a more comprehensive package face resistance.
Their proposal was the latest twist in the on-again, off-again talks to try to secure more stimulus for the economy. In a letter to House and Senate members, Mnuchin and Meadows said the White House would continue to talk to Senate Democratic Leader Chuck Schumer and House Speaker Nancy Pelosi, but that Congress should "immediately vote on a bill" that would enable the use of unused Paycheck Protection Program funds.
"The all or nothing approach is an unacceptable response to the American people," they wrote.
WHO warns against covid-19 lockdowns due to economic damage
The World Health Organization has warned leaders against relying on covid-19 lockdowns to tackle outbreaks, after previously saying countries should be careful how quickly they re-open.
Dr. David Nabarro said in a video interview with the British magazine The Spectator, that such restrictive measures should only be treated as a last resort.
"We in the World Health Organization do not advocate lockdowns as the primary means of control of this virus," Nabarro said.
"The only time we believe a lockdown is justified is to buy you time to reorganize, regroup, rebalance your resources, protect your health workers who are exhausted, but by and large, we'd rather not do it. Lockdowns just have one consequence that you must never ever belittle, and that is making poor people an awful lot poorer," he added.
Regeneron's CEO says its promising covid-19 treatment must be rationed
There is not nearly enough of the experimental covid-19 drug that President Trump called a "cure" after receiving it and promised to distribute for free to treat the many Americans who may need it, the chief executive of Regeneron, the drug's maker, said on Sunday.
Currently, there are enough doses of the drug to treat 50,000 patients, the company has said. There were more than 51,000 new infections reported in the United States on Saturday alone, according to a New York Times database.
"We have to figure out ways to ration this," said Dr. Leonard S. Schleifer, the co-founder and CEO of Regeneron.
Coronavirus live US updates: welcome
Hello and welcome to our live, US-focused coverage of the coronavirus pandemic, which as of 19:30 ET on Sunday had registered over 37 million cases and 1.07 million deaths worldwide.
In the US, the world's worst-affected country, there have been more than 7.7 million confirmed cases, leading to approximately 214,000 fatalities
.