Atletico Madrid's Llorente: If you make mistakes against Bayern Munich, they crush you
Atlético Madrid midfielder Marcos Llorente has spoken to reporters ahead of Los Rojiblancos' Champions League clash with current champions Bayern Munich.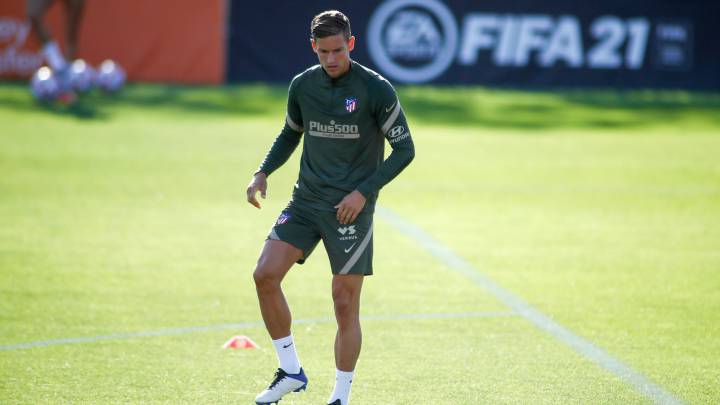 What does the Champions League mean for Atlético?
It is an opportunity to compete. It's a very beautiful competition and we would all like to win it. But only a few players are lucky enough to do so. Every year, we go out to compete in each game and try to go as far as possible.
With the arrival of Luis Suárez, are you aspiring towards winning the Champions League?
Yes, it is clear that we are going to take a leap forward. Luis is a great player who has been at a very high level for many years. We are delighted to have him with us. I am sure that it will help us a lot and it will give us a quality leap forward, which always helps in competitions like this.
Do you see yourself as an attacking player or as a midfielder?
I see myself as a player. As long as I'm playing, I don't care where I play. Normally I play in attack, on the wing or as a forward, but there are times when I have to play as a midfielder. I adapt to any position and, in order to help the team, I don't mind playing one way or the other.
What are your thoughts on Bayern Munich?
We have respect for all opponents. They are currently the best club in the world. They have shown that by winning the previous edition and the Super Cup. They are a very tough opponent that we obviously respect, but we have our weapons. We have already shown that we can beat any team and this Wednesday we will work to do so again.
Can defensive imbalances cost you against Bayern?
Yes. These matches are decided in situations like this. You don't get so many chances and, therefore, both in attack and defense you have to be very effective. You have to try to make sure they have fewer chances, while you create chances and try to score a goal. It's going to be a very tough game, very difficult, and you have to try to concede as little as possible because Bayern Munich have already shown that if you leave spaces or make mistakes, they crush you.
How do you carry the role of giant killers?
It is clear that all players like to play against big teams. The higher the level and the higher expectations they have, the more motivated we are. This is what happened with Liverpool, both at home and away. We played two great games and ended up defeating the champions. Bayern Munich is a very tough opponent, they are currently the best team in the world, and it will be up to us turn to row all together and fight to win.
What presence has the European Cup had in your family?
When my gran-uncle (Gento) won those cups, I wasn't even born. That is a little before my time. It's source of pride that he lifted so many titles. It would be incredible if I could do the same.
How are you taking not being a starter?
Everybody wants to be a starter and if you think you deserve it and you are not, it is frustrating. The coach is the one who decides what is best for the team. If at that moment he is doesn't have you in mind as a starter, you have no choice but to respect him and wait for him to give you the opportunity to take advantage of it, as I have always done throughout my life.
What would it mean for you to score the winning goal in the Champions League final?
I'm not even thinking about that yet. For that, you first have to reach the final and pass all the qualifying rounds and that is very difficult. But it would be my biggest dream to achieve and hopefully it can be fulfilled.
Which Bayern player would you highlight?
Lewandowski. He is the team's top scorer and he doesn't stop scoring goals – this season the same as last. He is – if not the best – one of their best players and will have to be taken into account on Wednesday.
Was it difficult to adapt to Simeone's ways?
Yes. When you change clubs it is always difficult to adapt. The coach is also a special coach, very methodical, who has things very clear. At the beginning it is difficult to adapt to your new teammates, to the new ideas of the coach, but between the coaching staff and the players they make it very easy for you and you quickly learn a bit about what Atlético Madrid is. The coach always gives you many ideas about mental strength, about attitude. Both the coach and his coaching staff are very energetic, very aggressive. They don't let us relax for a moment and that is reflected on the field.
Can this Atlético team be a candidate for the league title?
If a team does not go for the league or Champions title, it doesn't make sense. We go out to compete for all the titles and, depending a bit on the situation, some will be achieved and others will not, but we always go for all the titles.