USA Elections 2020 results in Michigan: who has won the popular and college vote?
The presidential election results for the Great Lake State, as Donald Trump and Joe Biden battle for the 16 electoral college votes.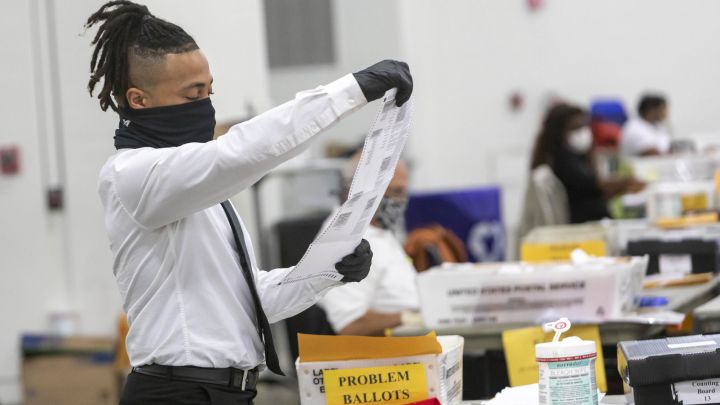 US Election 2020 live: Trump and Biden results | Nevada, Arizona, Pennsylvania, Georgia...
Good morning! We may know today who wins Michigan, plus races up and down the ballot. Follow our live Election 2020 updates now https://t.co/77oFBscS4n

— Detroit Free Press (@freep) November 4, 2020
The results in the presidential election for the state of Michigan are in, with it being called by many outlets for Joe Biden on Wednesday afternoon.
Michigan called for Biden
As of 6 p.m. ET, with 99% of the votes counted, here is how things stand in Michigan based on AP information:
Donald Trump: 48.6% - 2,618,093
Joe Biden: 49.9% - 2,688,604
AP call Biden winner in the state of Michigan
Michigan 2016 electoral college result
In 2016, the state of Michigan was fiercely contested with Donald Trump ultimately victorious with the narrowest margin of any state in the 2016 election. Trump overcame Hilary Clinton with 47.50% against 47.27%.
The popular vote tallies were: Trump: 2,279,543 - Clinton: 2,268,839
Michigan early voting
In a pattern seen across many other states in the United States, Michigan reported impressive early voting numbers, with almost 3 million ballots being cast.
According to early voting data from the Michigan Secretary of State, 2.9 million residents have already submitted their vote for the general election day.
While estimates from Secretary Jocelyn Benson put Michigan's forecasted total vote at around 5 million, residents won't know for several days just how many people will cast their ballot.
Importance of Michigan for both candidates
The country will pay close attention to what happens on Election Day in Michigan, where voters in this battleground state along with other key states such as Pennsylvania and Wisconsin could determine the outcome of the presidential race and who represents them in the U.S. Senate.