US Elections results | who is winning the popular vote: Biden or Trump?
Hillary Clinton lost out in 2016 despite winning the popular vote. With 96 percent of the ballots counted, Joe Biden holds a solid lead in the 2020 race.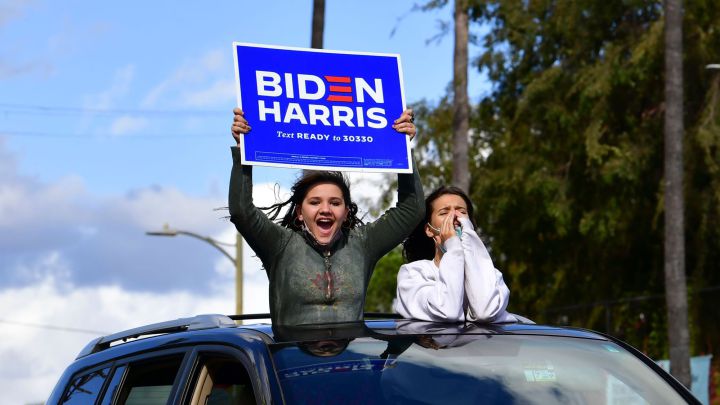 Joe Biden has been chosen by the US electorate to hold office as the 46th President of the United States despite incumbent Donald Trump initially claiming that he had carried the 2020 election. With the mathematics now against the 45th President, the Republican camp are planning to appeal in the courts for recounts in some of the tighter states ahead of an anticipated slew of legal challenges in a bid to keep Trump installed in the White House.
US election news:
Biden has proven magnanimous in victory and has spoken of healing a country riven along partisan lines after four tempestuous years and the Democratic president-elect has also urged Americans to trust in the process - that is, to wait until every vote has been counted. As it stands on 11 November, election officials across the United States have tallied 96 percent of all ballots cast with only Georgia, North Carolina, Alaska and Arizona yet to declare.
Popular vote: Trump vs Biden 2020

As of 07:00 ET on Wednesday 11 November, this was the count of the popular vote for each candidate according to ABC News:
Donald Trump: 72,159,215
Joe Biden: 77,083,679
Biden has 4,924,464 more votes than Trump
With this relatively large win for the Democratic candidate in mind, some may ask why there had been so much uncertainty over who the next president should be. Clearly the majority of Americans have spoken. Again, an understanding of the electoral college helps here, as the popular vote is not what wins the election.
How is the US election won?

With record numbers of people exercising their constitutional right in this election, and a huge political engagement over recent months, most people have become very aware of how the American system works.
Very simply, there are two tallies that are collated: the popular vote and the electoral college vote. The popular vote is a count of every legitimate ballot that was submitted. The electoral college vote is a representative count relative to the size of each state's congressional delegation.
Read more about how the electoral college works
Trump vs Clinton 2016

This differential was seen four years ago. When the final vote count was returned in 2016, Trump had received a total of 62,980,160 votes (46.1%), while polling favourite, Hilary Clinton, had amassed 65,845,063 (48.2%).
The Democratic nominee therefore received roughly 2.9 million more votes, giving her a margin of 2.1% over her opponent. However a series of narrow wins for Trump in valuable states like Florida gave him enough electoral college votes to secure a place in the White House.
So what does it all mean? Well, as we have seen, the most popular candidate is not always the one who wins. And when it comes to election campaigning, it's the battleground states - those that could be swung either way - that get most of the attention.
Some people have called for the process to be changed, but we're unlikely to see that any time soon.