Trump is going to Court: can the Supreme Court decide an election and pick the president?
Americans have finished voting in the 2020 US election but there is a record number of ballots to be counted yet. Trump wants the Supreme Court to decide.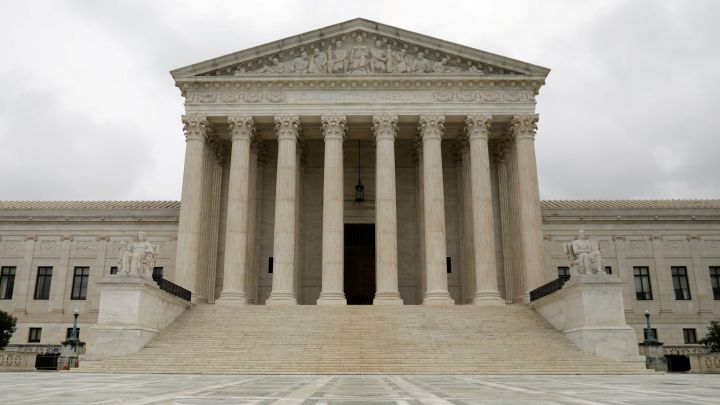 US Election 2020 live: Trump and Biden results | Nevada, Arizona, Pennsylvania, Georgia...
Trump has been making threats about the validity of ballots cast through expanded mail-in voting throughout the US and has stated that the Supreme Court will decide. This overt broadcasting of his intentions has put a shadow over his most recent appointment Amy Coney Barret.
In his post-election remarks in the wee-hours Wednesday morning Trump inferred that the Democrat party was trying to "disenfranchise" a group of American voters. There is no better way to do so than to claim that ballots cast on-time shouldn't count as Trump is proposing. He also said "It's a sad moment," and again he's right, but it's sad that the President of the United States and Leader of the Free World would claim victory before the ballot count is clear on that point and imply that the vote count should stop. There are still votes to tally and there is plenty of time, as Joe Biden has said, "Patience."
Does Trump have a case?
We so often hear about state's rights and in this case, it is just that. Each state choses how their citizens can cast their ballot, when absentee ballots have to be received and how they will be counted. It is routine for votes to be tallied well after election day. Once the vote is tallied the electors can be chosen and then they must cast their ballot the first Monday after the second Wednesday of December or 14 December this year, that is the deadline for the votes to be counted.
Here comes the crux though too, as several states made modifications to how their citizens could vote not through the legislature but the decisions were made by state officials. Republicans have filed more than 40 pre-election cases against measures put in place to make voting easier and safer due to the covid-19 pandemic according to reporting in The Guardian. Trump has consistently made false accusations that mail-in ballots are prone to fraud.
Will it go to the Supreme Court?
All legal challenges to the legitimacy of the mail-in ballots must first start at the state level. The Supreme Court is the final appeals court but it chooses which cases it will hear. If the court turns down a case or there is a tie on the decision the lower court's ruling stands.
As trump began his slide in the polls due to toll the covid-19 pandemic has taken on the economy and human life, he has begun to sow doubt in the election process with disinformation and proclaimed the election would be decided by the courts. This could put Trump latest appointment in a bind and force her to recuse herself from any cases on elections that come before the court.
In recent weeks some of those cases have made it to the Supreme Court like Wisconsin's and Pennsylvania's decision to accept ballots that arrive after election day but were postmarked prior to it. The court decided not to let Wisconsin accept those ballots but in the case of Pennsylvania the court deferred but the case could come back before the court.
The most famous case of an election case going to the Supreme Court would be the 2000 Bush v. Gore which resulted in the recount being stopped thus handing the victory to George W. Bush. The Supreme Court cannot name the winner of an election but its decisions can change the outcome.
After a statement issued by President Trump's 2020 campaign manager hinting at the possibility of a lawsuit being filed in Michigan challenging the state's ballot-counting process, Attorney General Dana Nessel's Press Secretary Ryan Jarvi issued the following response: pic.twitter.com/qPANSEGynn

— Michigan Attorney General Dana Nessel (@MIAttyGen) November 4, 2020
As the count stands Wisconsin may be the new Florida this year with a recount almost assured, but Pennsylvania, Michigan and North Carolina could be in the spotlight too.
Why do states allow for absentee ballots to arrive late?
Our service members who serve overseas or away from home and citizens that live abroad furthering America's soft-power in the world are given extra time for their ballots to arrive in several states.
This year due to the coronavirus pandemic states sought to make voting safer for their communities at large and many expanded mail-in voting options. The US Postal Service does a wonderful job but snail mail takes time so some states tried to allow for those delays. Mail delivery has experienced even greater delays recently brought on by changes at the USPS by a Trump appointee Postmaster General Louis DeJoy.
Also states allow for people who can't physically come to a polling site to cast absentee ballots. All of these people are eligible voters who without mail-in voting would be disenfranchised from electing who should represent them.
So hopefully in Trump's own words "We want the law to be used in a proper manner." However, it appears he meant it in a different way.