Unemployment benefits: why could Biden sacrifice them for a covid-19 stimulus bill?
In order to get a fresh round of coronavirus stimulus before the end of the year Biden may need to trade extending unemployment benefits in the short-term.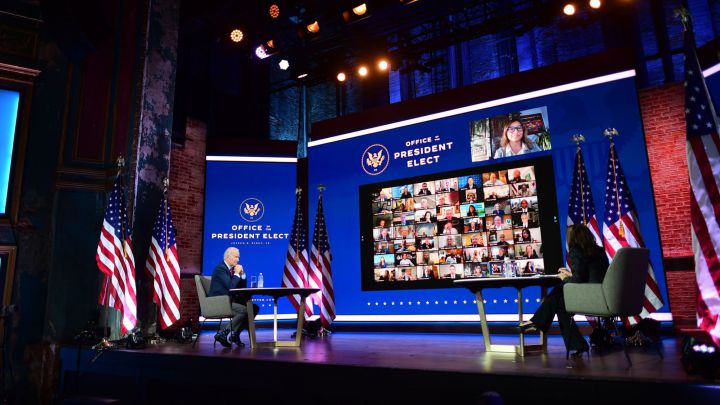 Getting a fresh round of stimulus funding through Congress before the end of the year will be a hard slog in a lame-duck session. President-elect Joe Biden and his team are considering their options to get covid-19 relief funding negotiations moving again and hopefully pass some relief funding before the year is out.
Biden, who has been pressing Congress and the current administration to pass new coronavirus stimulus before he is sworn in on 20 January, met with the two top Democrats in Congress on Friday to take a more active role. He discussed options on how to get a relief package through Congress in the lame-duck session. There is hope that the negotiations over the spending bill that needs to be passed before 11 December to avoid a government shutdown can be used to insert stimulus spending too.
What does Biden want?
In a statement after the meeting with House Speaker Nancy Pelosi and Senate Minority Leader Chuck Schumer, Biden's transition team said they "agreed that Congress needed to pass a bipartisan emergency aid package in the lame duck session." There was agreement that any such package should include priorities like support for small businesses, money for state and local governments, aid to struggling families and tackling the coronavirus.
Normally a President-elect would wait until after inauguration to get their hands dirty rather than run the risk of a failure before taking office. However, like Obama, he will be coming into the office during an economic crisis and at that time Obama worked with the Bush administration to look at ways to get the American economy back on its feet. According to Rahm Emanuel "One less thing to worry about is one less thing to worry about." Additionally, getting a deal now could help secure other priorities once sworn in according to reporting at Politico.
It's time to rebuild our economy better than before—so that this time everyone is in on the deal.

President-elect Biden has a plan to ensure every American has an equal chance to get ahead.https://t.co/zVjm3uVCPe

— Biden-Harris Presidential Transition (@Transition46) November 21, 2020
What kind of deals can be reached?
In order to get any stimulus done the Democrats will have to go through Senate Majority Leader Mitch McConnell and he has been pretty consistent about what he is willing to do and not do. With his Leadership fairly certain, but dependent upon the Senate run-off races in Georgia, he will want to focus any stimulus funds getting passed. There is a lot of pressure to prop-up small businesses with the money left over from the Paycheck Protection Program along with other funds that were part of the original CARES Act but that never got spent.
These types of bills have found their way to the Senate floor but as of yet have not passed. Here there may be a chance to target the spending where Biden wants to. Biden's team wants to make sure that the next package has language focusing those funds toward businesses that had difficulty securing loans in the first round, primarily black-owned businesses. These businesses have seen a much higher failure rate in the crisis and blacks were one of the key groups that help sweep Biden to victory.
Unemployment benefits may be sacrificed in the short-term
Democrats have been holding out for a larger stimulus package, in excess of $2 trillion, and there is the idea that waiting until after the inauguration there would be better chance of that happening. However, that is not what Biden is focused on right now a source told Politico, that the transition team "care more about governing than they care about politics on this one." For a deal to happen, extending unemployment benefits may have to be abandoned for the time being just as they are set to expire.
Another likely fatality would be a new round of $1200 stimulus checks. McConnell mentions the good news on the vaccine front as one of the reasons he feels that there is not as much pressure to do another round of Economic Impact Payments. But as Biden says there is still a "dark winter" ahead. The coronavirus continues to surge and the nation is waiting to see what the consequences of so many people traveling for the Thanksgiving holiday will be. With the majority of Americans not expected to be vaccinated until sometime in the spring more may have to be done.
But there will be one less thing to worry about.