What did Trump say in Georgia at his first campaign rally after losing the election?
Trump went to Georgia to support the two Republican Senators up for reelection in what was another episode of him railing against the election results.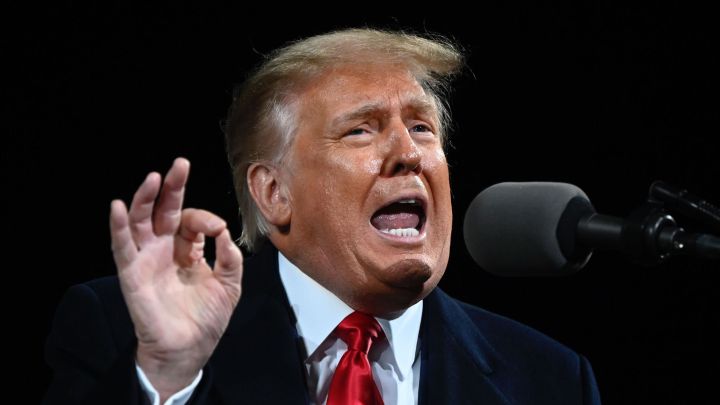 President Trump in the waning days of his presidency and balance of the Senate up for grabs held a rally in Georgia on Saturday to support the State's two Republican Senators who face runoff elections in one month. The rally was instead focused on his grievances about the election results the prior month putting forth his baseless allegations of a rigged election even as he asked his supporters to go to the polls again.
On 5 January, David Perdue and Kelly Loeffler will try to hold off challenges from Democrats Jon Ossoff and Raphael Warnock, respectively, to keep control of the Senate in Republican hands. Republicans need one victory to maintain their Senate majority. Democrats need to pick up both seats to force a 50-50 Senate and give Vice President-elect Kamala Harris the tiebreaking majority vote.
Trump needs to rally support for Senators
The rally at the airport in Valdosta drew thousands of mostly maskless supporters in what GOP party officials hoped would be a drive to get his supporters to the polls on 5 January. Trump pushed the party line that the races were "the most important congressional runoff, probably in American history." But he spent the majority of his time repeating unfounded and unproven claims of how the election was stolen from him.
Trump has repeated his lie about winning Georgia so many times during this rally that he's now mentioning it in passing like it's a settled truth pic.twitter.com/Ql4Rm2ipFk

— Aaron Rupar (@atrupar) December 6, 2020
Trump falsely claimed that he actually won Georgia even though the state's vote has been certified for President-elect Joe Biden. The state performed a full hand recount of the vote initiated by Secretary of State Brad Raffensperger who has been under attack by the President going so far as to call Raffensperger an "enemy of the people." This language and the repeated false accusations of voter fraud brought the rebuke of Gabriel Sterling, one of the state's top elections officials, after an elections employee received threats.
The dangers of Trumps baseless allegations of voter fraud
There is serious concern in the Republican party that Trump is creating too much suspicion about the validity of Georgia's election that voters will not bother to vote in the two races. This past week two pro-Trump lawyers who have been filing lawsuits on his behalf told voters that they shouldn't vote in the upcoming runoffs because the two candidates haven't done enough to support the President's claims. Even RNC chairwoman Ronna McDaniel last week had to try to convince voters why they should vote in the runoffs if the election is rigged.
"I want to stay on presidential, but I got to get to these two," Trump said minutes into his speech appearing to indicate that he would have the two Senators come up to speak. But the audience would have to wait. So much so that by the time they did come on stage there was little enthusiasm and their brief remarks were drowned out by "fight for Trump!" in an indication that they weren't doing enough to support him in his cause. Trump did praise the two Senators at times for their votes in the Senate but quickly returned to his accusations and recriminations.
Woah. Georgia rally crowd won't even let Loeffler and Perdue speak, yelling "Fight for Trump" the whole time the 2 senators try to make their pitches.
Now they are booing Gov Kemp. pic.twitter.com/sD2RoCOLsj

— Julie Cohen (@FilmmakerJulie) December 6, 2020
What did Trump say in his speech?
In the end Trump's speech was just a continuation of his claims that he has been making ever since it became clear that he had lost the elections, some even predate the election. He tried to use pseudo-facts about why he must have won the election like that no Republican presidential candidate has lost an election having won Florida and Ohio. He ramped up his language on the socialist takeover if Democrats win the two Senate seats saying it would be "communistic."
He also took the opportunity to go after the Governor Brian Kemp who he had called earlier in the day to request that he get the state legislature to overturn the state vote. Also he wanted the Governor to order an audit of all absentee signatures. The Governor cannot do either of these things and rightly demurred Trump. However in a tweet the Governor tried to reassure the President that he has been advocating the President's position.