Zinedine Zidane says Atlético Madrid are favourites
As well as pointing to Diego Simeone's side as the ones to catch this season, Los Blancos' manager praised Marcos Llorente who has swapped white for rojiblanco.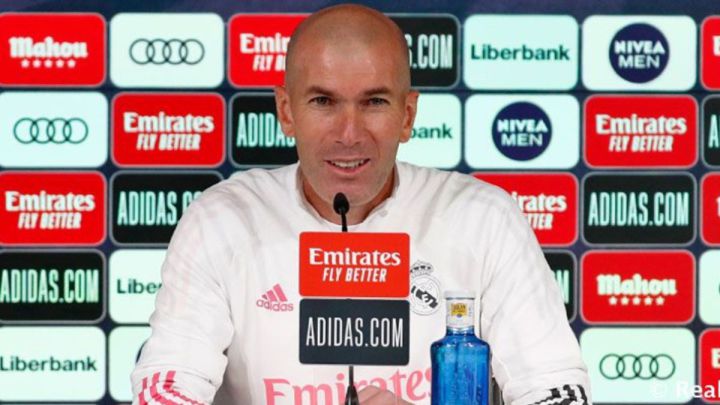 Real Madrid boss Zinedine Zidane admitted to those gathered for his pre-match press conference ahead of Saturday's clash at the Alfredo di Stefano stadium, that city rivals Atlético Madrid are favourites to win the LaLiga title. For El Derbi itself, the French coach is looking to counter Diego Simeone's tactics and build on the back of the midweek Champions League win.
Zidane on Madrid derby
"Yes, I'm sure they're favourites, and they're showing why," Zidane replied rather bluntly to the unsurprising question posed to him about the current league leaders.
"They're doing well, winning. They have always been a competitive team, and they're top of the table. What interests us, though, is what we are going to do tomorrow.
"We want to win every match and especially this one because it's a big game. We won the league last year and we want to defend our title. We'll keep doing that until the very end."
Despite his praise for the weekend's opponents, the French coach sees this game as a great opportunity to show the improvement in his side that was seen in the Champions League against Borussia Monchengladbach on Wednesday.
"We played well the other day. This is a good game for us, a derby. It's a match that every player wants to play in."
"It will be a game to enjoy and give everything we've got, without thinking about the result. I have players that are capable of doing truly extraordinary things," he stressed.
As well as positive words for his own stars, Zidane was also quick to highlight Atlético's in-form Marcos Llorente, a player who came through Los Blancos' youth system.

"He's not surprising me with his performances," Zidane stated. "Llorente's a top-class player and he's now showing another facet of his game that he didn't have when he was at Real Madrid.
"We always knew he was a quality player and I'm pleased to see him doing well."
Zinedine Zidane may have qualified in top spot from their Champions League group, but he is very aware that an up and down start to this season has his position being questioned once again. The good news for this latest test is that after seeing captain Sergio Ramos return for the European win over Gladbach, his is also likely to have midfielder Federico Valverde and full-back Dani Carvajal back.
Still out remain Martin Odegaard, Eden Hazard, Luka Jovic and Mariano Díaz.
You'll be able to follow all the action live with AS English from around 19:00 CET on Saturday (KO 21:00).