Canelo Alvarez vs Callum Smith: times, TV, price & how to watch online
With just a day to go before the Super Middleweight world title fight here's everything you need to know to know to watch Alvarez vs Smith live.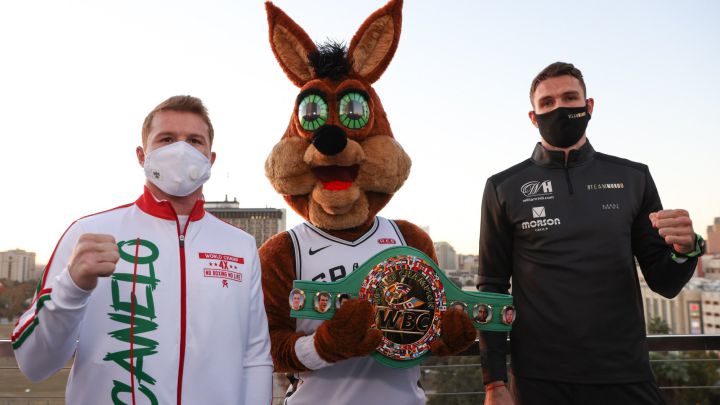 One of the biggest fights of the year takes place in San Antonio, Texas on Saturday night as Saul 'Canelo' Alvarez takes on Callum Smith for the WBA and The Ring Super Middleweight world titles. For both men this is their first fight of the year after a severely disrupted 2020 boxing calendar but experts are predicting a fight of real quality.
Canelo Álvarez vs Callum Smith: live online Super Middleweight fight
Alvarez's last fight came in November 2019 when he defeated Sergey Kovalev to secure the WBO Light Heavyweight title with an 11th-round knockout. The Mexican has a stellar record of 53 wins from 56 professional fights, with his sole defeat coming at the hands of Floyd Mayweather Jr.
Alvarez comes into the fight as the favourite but it is Smith who holds the WBA and The Ring Super Middleweight belts and he boasts a highly impressive record of his own. Liverpool-born Smith has won all of his 27 fights to date and has a considerable height and reach advantage over Alvarez. He will also be desperate to defeat the man who stopped his brother, Liam Smith, in 2016 with a ninth-round knockout.
Speaking to CBS Sports ahead of the fight, Smith claimed: "At the highest level, a lot of it can change as the fight goes on. Some of it will be at close quarters and some of it will be at distance. I just have to be prepared for whatever Canelo Alvarez turns up. I have to have a good game plan and pull it off at the night. I believe that Dec. 20 I will wake up still a champion."
What time is Canelo Alvarez vs Callum Smith?
The main draw on Saturday is Alveraz vs Smith but there are a number of undercard fights to get the action started. Kicking off the action at 8pm Eastern Time (ET) is Alexis Eduardo Molina vs. Robert Greenwod in the featherweight division, with another five undercard fights before Alvarez vs Smith.
Those fights, in order of appearance, are:
Marc Castro vs. Luis Javier Valdes at featherweight
Austin Williams vs. Isaiah Jones at middleweight
Christian Gomez Duran vs. Miguel Angel Hernandez at welterweight
Alexis Espino vs. Ashton Sykes at super middleweight
Diego Pacheco vs. Rodolfo Gomez Jr at super middleweight
Finally ring walks for the main event, Canelo Alvarez vs Callum Smith, are expected at around 11pm ET.
How to watch Canelo Alvarez vs Callum Smith on TV
In other circumstances this could have drawn a mammoth stadium crowd but covid-19 restrictions mean that the attendance in the Alamodome, San Antonio has been limited to 10,000. For everyone not lucky enough to be there in person the fight is available to stream and to watch on television in the United States, although this is not a normal pay-per-view fight.
As the biggest draw in boxing Alvarez signed a record-breaking $365 million 11-fight deal with fledgling streaming service DAZN in 2018, but that agreement was cancelled after just three bouts due to disputes over payment. However DAZN has still secured the rights for Alvarez vs Smith and is making it available on cable TV as well as its own streaming platform.
In the US DAZN are working with major cable providers like Comcast, Charter, Cox and more to make the fight available on traditional cable view, for the price of $69.99. However for this inflated price you also get a four-month subscription to DAZN's streaming service.
Canelo always enjoys huge support from his compatriots and Saturday's fight will also be shown live on TV in Mexico, where it will be broadcast on TV Azteca.
How to watch an online stream of Canelo Alvarez vs Callum Smith
🇲🇽Este 19 de dic planeo derrotar a Callum Smith en el Alamodome de San Antonio. Gracias a mis amigos de Crush por su apoyo.

🇺🇸On Dec 19th I plan to Crush Callum Smith at the Alamodome in San Antonio, Tx. Thanks to my friends at Crush for their support. @crushsoda#CaneloSmith pic.twitter.com/P2T2kxN5AM

— Canelo Alvarez (@Canelo) December 18, 2020
Despite offering the fight on cable DAZN are an online platform and they will hope that Alvarez vs Smith can be their biggest streaming event of 2020. Their mind-blowing deal with Alvarez was their first major foray into the world of elite boxing and despite that contract being cancelled the Mexican remains a huge draw for them.
DAZN is available for fans around the world with live events available to stream on mobile devices, tablets, computers, games consoles and smart TVs. Simply sign up for either a monthly or an annual subscription and you can stream all the action on the DAZN app or website.
In the US a monthly subscription costs $19.99-per-month or $99-per-year, while it is available in Canada for $20 CAD-per-month or $150 CAD-per-year.
As DAZN looks to expand overseas there are some great deals for global viewers looking for a monthly subscription. In the United Kingdom, boxing fans can subscribe to DAZN for just £1.99 a month. In Australia and New Zealand the price is a mere $2.99 a month. In both territories there is no minimum contract length so you are free to cancel after the initial month.