Real Madrid: Isco chooses Sevilla
The Real Madrid midfielder has elected to rejoin Julen Lopetegui at Sevilla but Zinedine Zidane has blocked a January move for the Spain international.
Isco has been set for some time on a move from Real Madrid, where he has fallen out of favor under Zinedine Zidane, and has elected to rejoin his former coach at the Bernabéu and in the Spain national set-up Julen Lopetegui at Sevilla.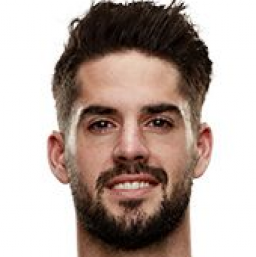 AS understands that Isco is eager to link up again with his mentor with Lopetegui having always supported and valued the midfielder. Some of Isco's finest performances for Spain came under Lopetegui's tutelage, including his memorable showcase in the 3-0 victory over Italy in the Bernabéu in 2017-18. At that time, Zidane also gave the midfielder preference, to the extent that he sacrificed Gareth Bale in the Champions League finals against Juventus in 2017 and Liverpool in 2018 to squeeze Isco into the starting line-up.
Zidane loses faith in Isco
Things could not be more different now. Zidane has lost faith in Isco and the 28-year-old has started just three games this season with the midfielder's form suffering as a result. Isco is out of contract at Real Madrid in 2022 and is eager to make a move in the January market but Zidane has blocked that possibility as the Frenchman is only too aware that a spate of injuries could leave him short after Madrid's inactivity in the last transfer window.
Madrid will allow Isco to leave next summer, with Sevilla expected to be quoted a fee of between €15m and €20m for the midfielder. The former Málaga player believes he still has several years at the top level remaining and won't be 29 until towards the end of the current season and he sees Sevilla and Lopetegui's style of play as the perfect stage for his talents. It is a deal that will suit all parties, with Lopetegui keen to be reunited with his former pupil and Isco's family more than happy to be closer to the family home in his native Málaga.
Isco's Euro 2020 place in question
The expected delay in Isco's departure may though have ramifications on his chances of making the squad for Euro 2020. His last call-up came in October 2019 in a European qualifier against Sweden and Luis Enrique has yet to include Isco in a squad since retaking the reins of the national side a year ago. Unless his situation changes dramatically at Madrid, or Zidane relents and allows him to leave in January, it seems unlikely that Isco will be in a position to convince the Spain boss he should be part of the squad for the postponed tournament this summer.