Stimulus check, coronavirus & US news summary: 20 Jan 2021
Headlines
- Senator Joe Manchin calls for immediate help to go out
- Trump pardons Steve Bannon and another 142 people in final hours in office
- Stimulus check of up to $1,400 included in President-elect Joe Biden's $1.9tn American Rescue Plan
- Biden set to sign raft of executive orders immediately after taking office
- New president's executive actions will include rejoining Paris climate accord and reversing Muslim travel ban
- Top GOP Senator Mitch McConnell places blame for 6 January insurrection at Trump's door
- US covid cases/deaths: 24.3 million / >400,000 (live updates)
Related articles:
2021 tax filing season will start on Friday 12 February
The IRS announced that the nation's tax season will start on Friday 12 February, when the tax agency will begin accepting and processing 2020 tax year returns. To speed refunds during the pandemic, the IRS urges taxpayers to file electronically with direct deposit as soon as they have the information they need. People can begin filing their tax returns immediately with tax software companies, including IRS Free File partners. These groups are starting to accept tax returns now, and the returns will be transmitted to the IRS starting 12 February.
Biden's proposed stimulus checks are "a lousy way to fix the economy"
Some economists and others critical of Joe Biden's plan to give most American individuals an additional $1,400 as a direct payment, is that much of the funds would go to those who have not been financially hurt by the Covid-19 pandemic, writes Chris Isidore for CNN. Mark Zandi, chief economist for Moody's Analytics, says that the money "is not well targeted".
Stocks welcome Yellen's call to 'act big' on coronavirus spending
World shares gained on Wednesday on bets of hefty US spending after US Treasury Secretary nominee Janet Yellen urged lawmakers to 'act big' to save the economy and worry about debt later. Oil rose and the dollar slipped in response.
At her confirmation hearing on Tuesday, Yellen said the benefits of a big stimulus package to counter the coronavirus pandemic were greater than the expenses of a higher debt burden. Pandemic relief would take priority over tax increases, she said, calling for corporations and the wealthy - both winners from Republican tax cuts in 2017 - to 'pay their fair share'.
Investors in European equities welcomed the comments, with the Euro STOXX 600 climbing 0.5%, gathering steam in morning trading. Indexes in Frankfurt and Paris were up 0.5% and 0.2% respectively, though London shares were flat. Luxury stocks gave the biggest boost, with Richemont quarterly sales climbing 5%, led by strong growth at its jewellery brands in Asia and the Middle East. The buoyant mood mirrored that in Asia, where MSCI's Asia-Pacific index outside Japan rose 1% to its highest ever. Hong Kong's Hang Seng gained 1.1% to near its 2019 peak. Australian shares hit a record high.
'They realised that there is some limits to what monetary policy can do to effect change in the real economy,' said Shaniel Ramjee, senior investment manager at Pictet Asset Management. 'The Fed will continue buying bonds issued by the US Treasury in order to fund the fiscal programs.'
Manchin keeps door open to higher payments
Joe Machin has called for 'immediate' help to go out to 'the people that need it' but says that it should be targeted if that is possible.
He also highlight what he feels is even more important: infrastructure spending.
Stimulus or survival?
Congresswoman Ayanna Pressley made the following plea to American lawmakers as the change of goverment was beginning.
She is pushing for more than just a one-off payment for the most needy, which she sees as helping them and the economy as a whole via knock-on spending.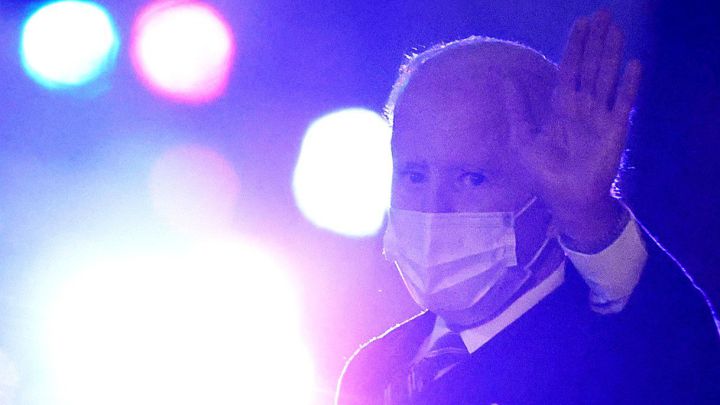 Third stimulus check: how to calculate how much you could receive
Stimulus check calculator
The final amount of the next stimulus check had been a hot topic since the Spring, with Democrats pushing for larger payouts to qualifying Americans while most Republicans pulled the metaphorical purse strings somewhat tighter.
Now, just as Joe Biden is due to be sworn in as the 46th President of the United States, a $1.9 trillion American Rescue Plan has been proposed which will include a booster $1,400 third stimulus check to add to the skinny $600 payout in December.
Emily France looks into what that could mean for Americans.
WATCH: Janet Yellen Senate hearing
The nominee for Treasury Secretary Janet Yellen came before the Senate committee which is tasked with confirming her position.
Yellen would inherit a floundering economy and jobs market that continues to be battered by the surging coronavirus pandemic and Biden sees her as a key part of the work that lies ahead.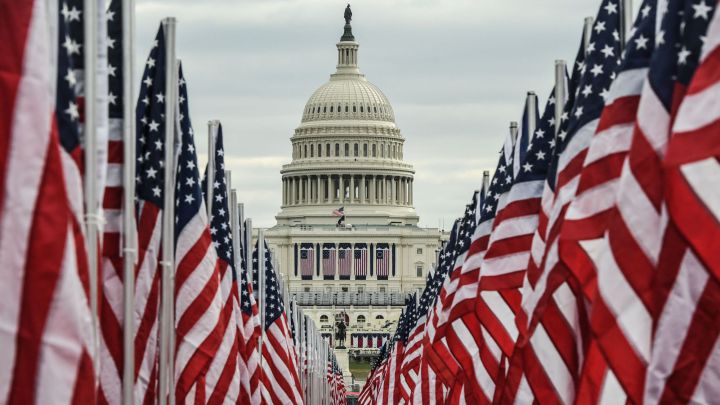 Stimulus check and US latest news: welcome
Welcome to our live blog bringing you all the latest information on the proposed third round of stimulus checks, as well as live US political news that may affect it.
Much of the focus of today will be on the departure of President Donald Trump from the White House, as the world watches on for President Joe Biden's inauguration.