US NEWS
What executive orders did Joe Biden sign on his first day as President?
Biden has taken aim at Trump's legacy in a blitz of 15 executive orders on issues from covid-19, global warming, immigration, racial and LGBTQ equality and economy.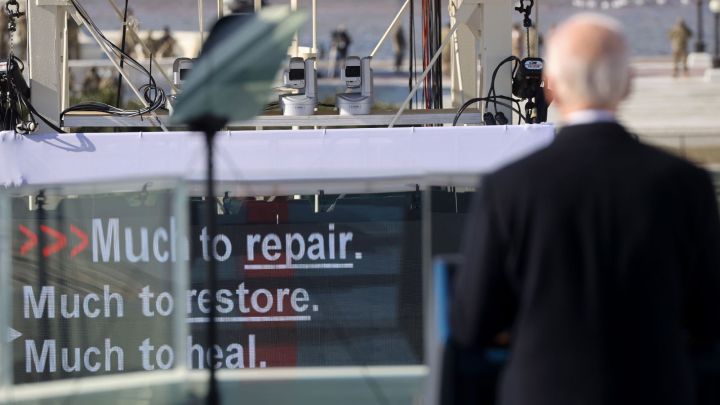 President Joe Biden hasn't wasted a second in beginning on his ambitious agenda. In his first few hours in the White House following the inauguration ceremony, he swore in dozens od staff appointees via a mass virtual meeting and managed to sign a slew of 15 executive actions and two directives in the start of a sweeping campaign to reverse four years of Donald Trump's policies.
What were Biden's day one executive orders?
Biden executive action: the coronavirus pandemic and economy
The first action to be signed was on covid-19, the President's top priority going forward.
The AP reports that one of these executive actions decrees that masks and physical distancing are mandatory on federal property and by federal employees.
Biden's order also extended the federal eviction freeze to aid those struggling from the pandemic economic fallout, created a new federal office to coordinate a national response to the virus and restored the White House's National Security Council directorate for global health security and defence, an office that Donald Trump had closed down.
Biden executive action: immigration
Biden has ensured the future of the Deferred Action for Childhood Arrivals (DACA) programme that protects from deportation immigrants who were brought to the US as children, often called "Dreamers". Trump sought for years to end the programme.
That's part of a broader immigration plan Biden sent to Congress on Wednesday that would provide an eight-year path to citizenship for an estimated 11 million people living in the US without legal status.
Biden executive action: climate change
Biden Wednesday signed an order that pledges that the US will re-join the Paris Climate Accords, which will be actioned 30 days from now.
After Trump notified the UN that America would be leaving the coalition of nearly 200 countries working to move away from fossil fuels, the US officially left the agreement on 4 November, 2020.
Other environmental policies that have been kick-started by executive actions today include revoking the permit for the Keystone XL pipeline; reversing the rollbacks to vehicle emissions standards; undoing decisions to slash the size of several national monuments; enforcing a temporary moratorium on oil and natural gas leases in the Arctic National Wildlife Refuge; and re-establishing a working group on the social costs of greenhouse gasses, according to the New York Times.
Biden executive action: racial and LGBTQ equality
Another order that Biden signed on Wednesday instructs federal agencies to prioritise racial equity and review policies that reinforce systemic racism.
Biden also revoked a Trump order limiting the ability of federal agencies, contractors and other institutions to hold diversity and inclusion training.
He also revoked Trump's order that sought to exclude illegal immigrants from being counted in the numbers used for apportioning congressional seats among states and ordered federal employees to take an ethics pledge that commits them to upholding the independence of the Justice Department.
The president also revoked the just-issued report of Trump's "1776 Commission" that promotes "patriotic education."