Real Madrid severely weakened by Jovic and Ødegaard exits
The departures of both players has left the first team squad vulnerable to coronavirus and injuries between now and the end of the season.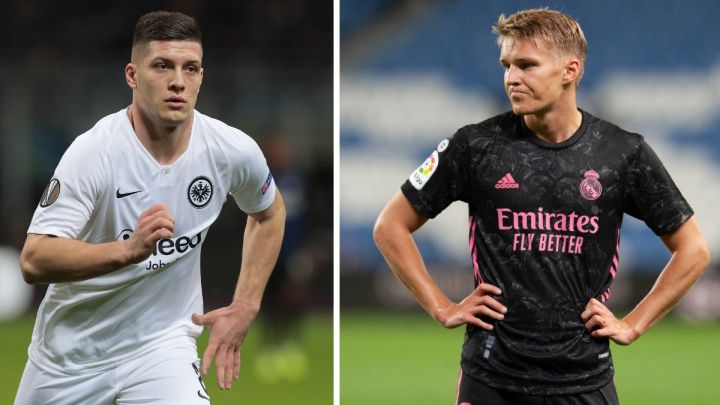 A squad of 22 players for a season which will see more players coming in and out of the team, due to the ongoing coronavirus situation on top of the usual injury problems. And a first choice XI in which the important players are all well into their 30s - Ramos, Modric, Kroos, Benzema and Hazard… The recent departures of Martin Ødegaard and Luka Jovic - bizarrely sanctioned by the club, not out of any economic necessity, has seriously undermined the squad, particularly in midfield where Zidane has just five players and no natural substitute for Casemiro. At the weekend, Madrid finished the Levante game with Vinicius, Mariano and Arribas in attack... that gives an idea about the lack of depth in the current squad.
Madrid left short in midfield
It's almost as though the club has decided to give up on the season before time. In the space of 15 days, Madrid have found themselves out of the Spanish Super Cup, the Copa del Rey and trail Atleti by 10 points, having played a game more which suggests LaLiga is also now out of reach. Jovic and Ødegaard has left Madrid weaker. While Fede Valverde can perform Casemiro's role when the Brazilian is unavailable, there is no one who can cover for Modric.
Real Madrid have a number of players who are out on loan in Europe who would be more than capable of filling in if Zidane is facing selection problems - and that would be handy now that five subs are allowed. Apart from Jovic and Ødegaard (strange that Zidane let the Norwegian leave when he doesn't count on Isco), there is Ceballos, Brahim, Mayoral, Bale, Kubo - and also Reinier, although he has hardly been playing during his loan at Borussia Dortmund.
So now the whole season, and Zidane's future hinges on how the team does in the Champions League. Supposing that Madrid go all the way to the final, they would have seven games to get through between now and then. All of Madrid's eggs are in one basket with a compromised squad, and with three delicate issues to resolve (renewing or not the contracts of Sergio Ramos, Lucas Vázquez and Modric, although the Croatian looks likely to stay). That's the situation - it looks as though Zidane is only counting on 12 or 13 players… Those will be the ones trying to salvage something from the season in the Champions League and who from now, will probably be rotated in LaLiga.