Buccaneers vs Chiefs: Arians, Reid & the value of taking a risk
Tampa Bay Buccaneers' Bruce Arians and Kansas City Chiefs' Andy Reid are two positive head coaches who are ready to gamble if the need arises.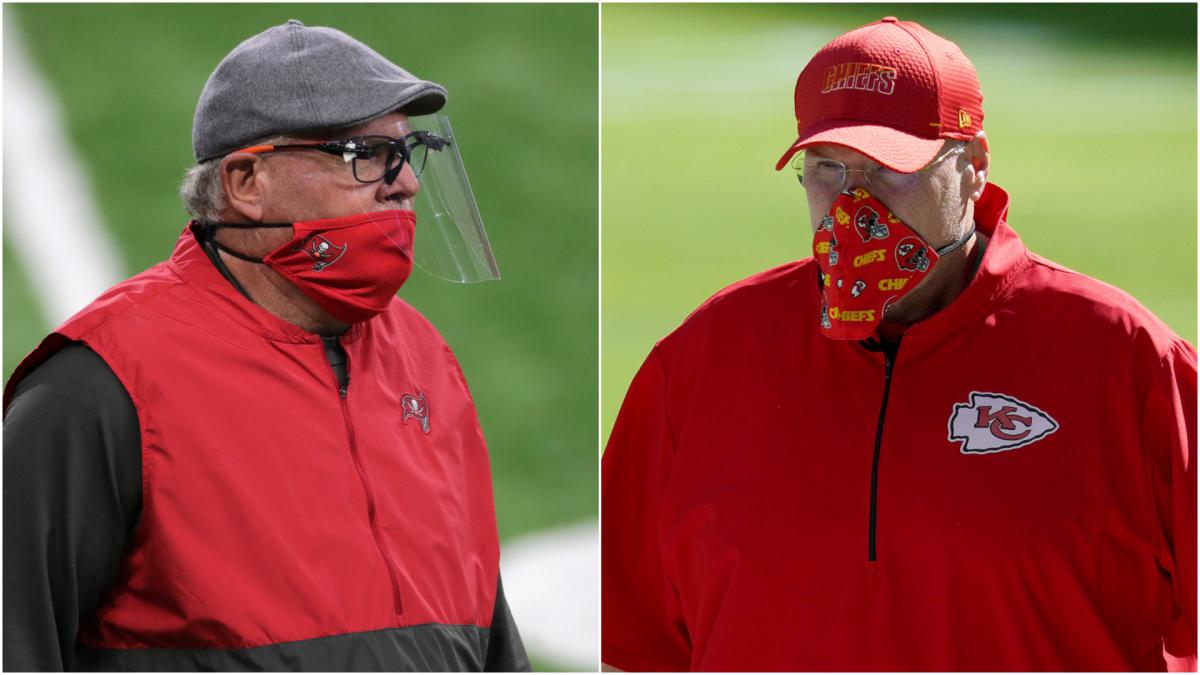 The Kansas City Chiefs take on the Tampa Bay Buccaneers in a Super Bowl with a difference on Sunday, as an NFL season like no other comes to a conclusion.
The Bucs have home advantage as they bid to make history – no team has ever before played for the Lombardi Trophy in their own stadium – but there will be no full house present to watch the action unfold. In a campaign shaped by the coronavirus pandemic, there will be more cardboard cut-outs in attendance than real fans.
As for the game itself, Tom Brady versus Patrick Mahomes is box office viewing. Both have supporting casts that can accentuate their talent, giving us a battle between two quarterbacks at opposite ends of their NFL careers but with the same goal: Win one more ring.
Reid, Arians' ability to adapt key to success, says Billick
Then there are the head coaches. Andy Reid, who couldn't win the big games, until he actually did. Bruce Arians, who retired from coaching, until he came back. They have continued to work through unprecedented times in the league, where protocols have dictated daily schedules and the only talk of two-a-days referred to COVID-19 testing, rather than practices.
Adapting to their specific situations has been the key to getting this far, according to former NFL head coach Brian Billick, now working for NFL Media.
"They evolve, they do what their players do best," Billick said on a conference call. "Certainly, Andy Reid has morphed that offense around Patrick Mahomes. He's been able to adapt exactly to the talents.
"Bruce Arians is the same way, the things that he's doing with the experience of Tom Brady and the big play presence on the outside. They adapt, specifically to the type of players that they have around them."
After starting out in the NFL in a number of roles with Green Bay, Reid had success in charge of the Philadelphia Eagles – he remains top of their all-time list for wins – without ever managing to secure the franchise a first Super Bowl. The narrative of coming up short in the postseason continued in Kansas City, but eventually – thanks to a fourth-quarter comeback – he got over the hump.
The Super Bowl triumph in 2020 ended any suggestion that Reid's Hall-of-Fame career required a ring for validation. Since then, he has appeared to be playing with house money.
Reid's fourth-down call against Browns may prove the enduring memory of Chiefs' playoffs
Depending on what unfolds on the field this weekend, the fourth-down call against the Cleveland Browns may well remain the lasting memory of this playoff run for Kansas City. Minus Mahomes and defending a five-point lead late in the game, a hard count by stand-in quarterback Chad Henne seemed the prelude to a punt.
Hold what you have and hope to hang on, right? Not for Reid, who went all in.
Knowing a first down would seal victory and a place in the AFC Championship Game, he allowed Henne to snap the ball while in the shotgun, wait briefly for Tyreek Hill to break on his shallow route and then fire in a pass to the wide receiver. The risk was great, but so too was the reward.
Arians known for "no risk it, no biscuit" approach
Had Arians been in a similar situation, he too may have gone for it. A cancer survivor, the 68-year-old is known for his "no risk it, no biscuit" way of thinking, both in terms of his coaching philosophy and life in general.
The Buccaneers certainly pushed all their chips into the middle of the table for this season, too. The seemingly unthinkable became reality when Brady walked away from the New England Patriots to start afresh in 'Tompa Bay', a move that tempted the retired Rob Gronkowski to put away the wrestling pants and don the football pads again.
There were teething problems, as to be expected, yet Arians always insisted the team was learning on the fly, adjusting from week to week with a new starting quarterback – even one as good as Brady.
However, the Bucs have been on a roll since their bye week. Four straight victories in which they amassed a combined total of 148 points to finish the regular season were followed by playoff triumphs on the road in Washington, New Orleans – who had previously beaten them twice – and then finally Green Bay.
Arians went close to making a Super Bowl in his previous head coaching job in Arizona, losing in the NFC Championship Game. When he left in 2017, his future appeared to be in television working as an analyst.
From 2009-2014, Tom Brady ranked 2nd in the #NFL in passing yards (26,812) and interception % (1.6) and 4th in TD passes (195) and passer rating (98.9) 

But was 2009-2014 Brady's best stretch? @Andrew_Fenichel, @CraigHaley and Trevor Goldstein broke down TB12's HOF career 

— Stats By STATS (@StatsBySTATS) February 2, 2021
Then the Bucs called.
Convincing both him and his wife Christine that it was the right move, he made a comeback. The arrival of Brady for his second season in charge changed the timeline, requiring Arians to use his man-management skills - "I'm not a father figure. I'm the cool uncle you'd like to have a drink with" - to bring it all together.
The presence of a great quarterback on the rosters for both franchises should not overshadow what their coaches have achieved. Arians has ironed out the wrinkles in time while allowing Brady to turn back the clock in terms of airing the ball out. Reid's biggest issue in the regular season seemed to be finding a suitable face mask to wear, yet he could still see how to put Mahomes in situations that allowed him to dazzle.
Arians and Reid have prevailed in hugely different circumstances but with the same positive outlook. Despite all that is on the line, you should expect both to be ready to gamble in the bid for glory.