Super Bowl LV 2021
Who is Sarah Thomas? The first woman referee in a Super Bowl
Working full-time with the NFL since 2015, Sarah Thomas will take to the field at the James Raymond Stadium on Sunday night, making history at the same time.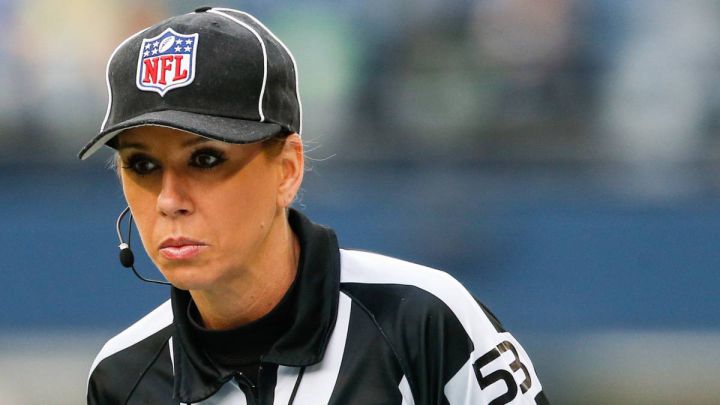 It may be a male-dominated industry but that hasn't stopped some women trying to make it to the top. And finally, many would say, one woman is going to be officiating in a Super Bowl. Meet Sarah Thomas, the referee for Tampa Bay Buccaneers vs Kansas City Chiefs in Super Bowl LV.
**Follow all the build-up to Super Bowl LV live**
Sarah Thomas: making Super Bowl history
Thomas is the NFL's only female official and got her full-time past back in 2015, becoming the first woman to do so. Back then, New Orleans Saints' head coach Sean Payton gave her a glowing recommendation: "She's ready," he said.
"She's gonna do well. We've watched her grow, and she's gonna be outstanding. She's got the right demeanour. She's sharp."
It took until 2019, in a game between the New England Patriots and the Los Angeles Chargers, when Thomas would become the first female on-field official in the history of the playoffs. And now the decision has been made, one that will hopefully pave the way for more women to get involved.
Thomas: "a well-deserved honour"
Troy Vincent Sr, the NFL executive vice president of football operations, said: "Sarah Thomas has made history again as the first female Super Bowl official.
"Knowing the impact that I'm having on not just my daughter, but young girls everywhere…is remarkable and I'm truly honored and humbled to be a part of this year's Super Bowl crew."

– Sarah Thomas on making @NFL history tomorrow pic.twitter.com/j6jiwZMbYp

— NFL Officiating (@NFLOfficiating) February 6, 2021
"Her elite performance and commitment to excellence has earned her the right to officiate the Super Bowl. Congratulations to Sarah on this well-deserved honour."
Carl Cheffers has been named the referee for the championship game scheduled for 7 February in Tampa, Florida. Cheffers has previously officiated in 17 playoff games, and was in charge for Super Bowl LI in 2017.
Thomas and Cheffers will be joined by umpire Fred Bryan, line judge Rusty Baynes, field judge James Coleman, side judge Eugene Hall, back judge Dino Paganelli and replay official Mike Wimmer.
Sarah Thomas: how it all began
From a college basketball career at the University of Mobile, football was her next calling. A degree in communications can't have harmed her development as she attended meetings for aspiring officials and built up experience working in the women's game. Grade school matches between young men then put her on her new path and then a special phonecall that would change her life arrived.
Former Super Bowl referee Gerry Austin rang Thomas in his position as Conference USA's officials supervisor. He told her she had impressed a scout that had been watching and he wanted to hire her. Major college football came next, starting in 2007, and two years later she was part of an officiating crew. A place in the 2013 final of the NFL's officiating development program then paved the way for what she will witness in Tampa.
As Thomas said herself: "Knowing the impact that I'm having on not just my daughter, but young girls everywhere…is remarkable and I'm truly honored and humbled to be a part of this year's Super Bowl crew."