Real Madrid 2-0 Valencia: result, summary and goals: LaLiga 2020/21 week 23
Real Madrid 2-0 Valencia: LaLiga as it happened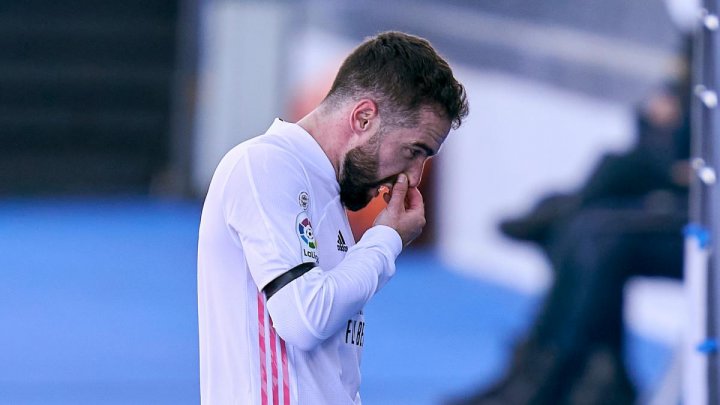 Zidane and Kroos 'worried' about latest Carvajal injury blow. The right back limped off after 25 minutes against Valencia.
Sergio Ramos, Eder Militao, Alvaro Odriozola, Eden Hazard, Rodrygo, Federico Valverde and Marcelo are all out at the moment.
Peep peep peeeeep!
It's a third straight LaLiga win for Real Madrid, who were never troubled by Valencia and deservedly take the three points courtesy of two fine strikes by Karim Benzema and Toni Kroos.
Madrid move back to within five points of leaders Atlético, who have two games in hand on Los Blancos.
One major black mark on an otherwise successful afternoon for Zinedine Zidane's men is that injury to Dani Carvajal, whose return from six weeks out lasted just 25 minutes.
As for Valencia, they're just three points above the drop zone and, to be honest, you fear for them. They were simply never in it today.
Thanks for reading!
Kroos plays the ball out to the right for Vázquez to cross towards Díaz at the back post, but Valencia scramble it behind for a corner.
Said corner is played short and results in a mini-session of keep-ball, before Arribas releases Vázquez on the right for another go at sending in a cross.
His ball is again aimed at Díaz, but Doménech comes out to claim.
Three minutes of time added on.
Kang-in Lee takes... and punts it straight out for a Real Madrid goal-kick.
It's been in Real Madrid's half for about three minutes now, but I can't say anything has actually happened.
Just as I write that, Thierry is fouled just inside the Madrid half and Valencia have another opportunity to send a free-kick into the box.
Thierry delivers a right-wing free-kick that drops to Racic at the back of the box, but the midfielder's volley drifts well wide of Courtois' right-hand post.
Racic plays the ball out to Gayá in space on the left flank, but the Serb's pass is overhit and flies out of play. He beats the turf in annoyance.
Valencia make their fifth substitution as Maxi Gómez makes way for Patrick Cutrone, a January loan signing from Premier League club Wolves.
Real Madrid make their final substitutions of the afternoon, withdrawing Modric and Benzema for Isco and Mariano Díaz.
Mendy's ball forward to Vinicius almost has the Brazilian streaking clear of the Valencia defence, but Thierry gets a foot in and halts his advances.
The loose ball falls to Benzema on the left wing, where he bides his time before clipping a precision pass into the box to meet Mendy's run... but the left-back's control lets him down, and Gabriel and Ferro dispossess him between them.
Kang-in loses it on the halfway line and, in the blink of an eye, Real Madrid get Benzema haring at a back-pedalling Valencia backline and into the box. However, he takes a second too long to make his mind up and is crowded out on the left-hand byline.
Arribas then cuts inside and sends a left-footed effort towards Doménech's near post, but he doesn't quite get hold of it and the Valencia keeper holds on with ease.
On comes Arribas, Asensio making way.
Modric clearly fancies his chances of scoring from range today: once more, the Croat gets the ball out of his feet 25 yards or so out from Doménech's goal, but he slices his strike well wide. The Valencia backline gave him way too much time to shoot at his leisure. He is a Ballon d'Or winner, lads; he's fairly useful.
Kroos slips a ball into the box that Asensio can't quite control!
Sergio Arribas is preparing to come on for Real Madrid.
Valencia make two more changes, replacing Wass and Soler with Kang-in Lee and Oliva.
Goal disallowed! Mendy has it in the back of the net, but after a long old wait a VAR check rules the Frenchman's strike out for offside.
Nacho plays a long ball down the left wing to release Vinicius, who plays it inside the box to Mendy. He's in acres of space and has all the time in the world to turn away from Ferro and fire right-footed into the corner.
However, it seems Mendy was caught just offside when Vinicius played the ball to him. Lucky, lucky Valencia; they made it far too easy for their hosts there.
Modric finds Benzema with an absolute peach of an angled ball to the back of the box, but the Frenchman doesn't have an immediate crossing option and, as he tries to wriggle into shooting space, he's run off the ball by Thierry. That pass from Modric...
Thierry curls an inviting ball into the box that Vázquez can only clear as far as Gayà on the edge of the box. However, Varane is perfectly placed to repel the left-back's effort.
Kroos controls and shots from the edge of the box, but trundles an unusually poorly-hit shot well wide. The German was down with some sort of physical complaint a few moments earlier, but he seems to be OK now.
Gabriel fizzes the ball into Gameiro with his back to goal, but the Frenchman is quickly crowded out by Varane and Nacho.
Moments later, Maxi Gómez strikes at goal and Courtois finally has to make a save! The Uruguayan gets it out of his feet 25 yards out and pings a dipping effort towards the Belgian's left-hand corner, but the keeper is quickly across his goal to parry.
By my count that's Valencia's first shot on target.
Musah gets his first chance to run at the Real Madrid defence, but Vázquez and Casemiro combine to dispossess the youngster. The hosts launch a quick break led by Marco Asensio, who carries the ball to the edge of the box before letting fly, but his effort is blocked.
Moments later, Modric snaps up a loose Musah pass and almost gets Asensio in behind the Valencia defence, but the Spaniard's first touch badly lets him down. A shame; he was through if his control had been even halfway decent.
Real Madrid win a corner, which is worked to Luka Modric for the midfielder to shoot from 20 yards or so - but his strike is blocked.
Thierry earns himself a yellow card within seconds of the restart, after absolutely clearing out Vinicius. He slipped as he prepared to challenge the Brazilian, to be fair to him.
Peeep! We're back up and running at the Di Stéfano.
Musah and Gameiro are on for Guedes and Vallejo.
Valencia preparing double half-time change
Unsurprisingly, Valencia boss Javi Gracia is to make a couple of half-time changes, with Kevin Gameiro and Yunus Musah both stripped on the touchline and ready to come on.
Gracia absolutely had to change something; if they repeat their first-half display of complete and utter meekness, Los Che are going to get walloped.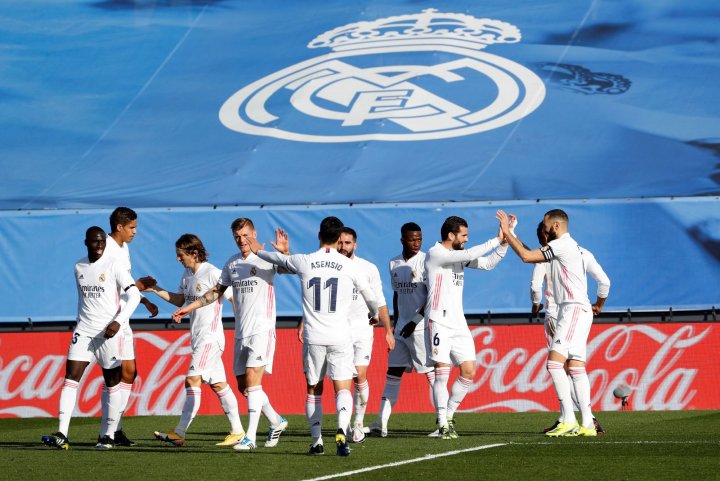 Real Madrid's players celebrate with Karim Benzema (right) after the Frenchman opened the scoring for Los Blancos.
(Photo: J.J. Guillén/EFE)
Peep peep peeeep! Half time in Madrid, where Real have utterly dominated Valencia and have a richly deserved two-goal lead courtesy of fine strikes by Karim Benzema and Toni Kroos.
That injury to Dani Carvajal is a real blow for the hosts, though.
Soler launches a free-kick from deep towards Gabriel in the Real Madrid area, but Los Blancos clear - and that will be that.
One minute of time added on at the Di Stéfano.
Goal! Kroos makes it two with a peak-Toni-Kroos strike! I'm pretty sure a video compilation of his career goals would just be a replay of the same shot.
Asensio slips the ball to Modric on the right-hand side of the area, where he plays it to Vázquez. He spots Kroos' run into shooting space at the top of the box, and lays it off for the German to guide a low effort past Doménech and into the near corner.
Now Modric controls 25 yards out and pings a shot towards Doménech's right-hand corner, but the Valencia keeper scrambles across his goal to beat it out!
According to initial tests on Carvajal, the right-back has suffered a muscle strain in his right thigh, Movistar+'s Ricardo Rosety reports.
Guedes looks to skip in between a gaggle of white shirts before slipping the ball into the box for Manu Vallejo, but he's crowded out.
Up the other end, Vázquez crosses to the back post for Benzema, who heads over. He didn't time his jump quite right; he was on the way down when he made contact with the ball.
It's all Real Madrid ball. Valencia have offered next to naff all in attack.
Again Madrid come at Valencia, Vázquez sending a ball into the box towards Benzema - who just needs to get a touch and he probably scores. However, Thierry does enough to put him off and, when the ball runs to Modric at the back of the box, he and Mendy get themselves in a muddle and Los Che clear.
Kroos releases Benzema towards the left-hand byline, where the Frenchman gets his foot round the ball to loop a high cross over to Vázquez at the far post, but Ferro gets there before the substitute.
That Carvajal injury doesn't seem to have knocked Madrid off their stride. They're in complete control.
That's nice build-up play by Real Madrid. Kroos clips a pass over to Modric at the back of the box, where the Croat knocks it first-time to meet Benzema's run towards the near post - but Gabriel Paulista is alive to the danger and nicks the ball off the striker's toes.
On comes Lucas Vázquez - who's also returning from injury today - for Carvajal. No Álvaro Odriozola, remember; he's injured too.
Valencia's Gonçalo Guedes becomes the first man to go into the book after bringing down Raphael Varane.
Oh dear. Carvajal's comeback from injury has lasted 25 minutes. As he tussles with Gayá on the right wing, the full-back pulls up with an apparent muscle problem and immediately signals that he'll need to come off.
The injuries are just never-ending for Madrid right now.
Benzema closes in on Arza
Spanish football stats guru Mister Chip notes that Karim Benzema's opener today is his 181st goal in LaLiga, taking the striker to within one of Sevilla great Juan Arza, whose exploits in the middle of the 20th century put him 13th in the all-time scoring charts in the Spanish top flight.
Benzema has a little way to go to catch up with Messi's record 459 LaLiga goals.
Thierry crosses low towards Daniel Wass at the near post, but Nacho is quickly into position to cut the ball out - and is fouled by the Dane.
Modric controls and shoots from range, but the ball bounces back off Thierry. The Croat picks it up again and swings in a cross towards the far post, but out comes Doménech to grab hold.
No Valencia league double over Real Madrid since the 60s
Per football stats specialists Opta, Valencia haven't beaten Real Madrid home and away in the same LaLiga season since way back in 1967/68.
They now face an uphill battle to end that 53-year barren run.
Lovely goal! Real Madrid lead through sweet Benzema curler!
Carvajal carries the ball forward before slipping it inside to Kroos, who helps it on first-time to Benzema on the left-hand corner of the box.
The Frenchman gets the ball out of his feet before stroking a pinpoint strike past Doménech and into the far corner. That's a really fine goal.
José Gayà gets to the byline and crosses into the Madrid box, but it's too close to Thibaut Courtois and the goalkeeper gobbles up the ball with the minimum of fuss.
Casemiro shoots low - and Doménech is almost fooled by the flight of the ball! Kroos plays the ball square to the Brazilian 25 yards or so out, and he doesn't need a second invitation to ping a low shot at goal.
Having dived to his left seemingly in anticipation of a shot towards the corner, Doménech is surprised to see the ball head straight down the middle of his goal, and has to stick out a leg sharpish to avoid it from flying in past him.
Madrid enjoy their first spell of prolonged possession in the Valencia box, before Kroos clips the ball into the area towards Benzema, only for Jaume Doménech to come quickly off his line to claim.
Benzema looks to have shaken off that early knock.
Right away we have a player down and in pain, after Karim Benzema and Thierry Correia collide as the pair contest a long ball pumped into the Valencia box.
Benzema is left in a heap after coming off the worst of the two. He's fairly quickly up again, although he's limping pretty heavily. He's makes his way over to the touchline for a very swift bit of treatment, but he looks like he'll be fine.
Mariano Díaz is warming up just in case.
Peeeeep! We're underway at the Di Stéfano.
Minute's silence for Pachín
The teams are out at the Estadio Alfredo di Stéfano, and before we get underway there's a minute's silence for Real Madrid great Pachín, who died this week aged 82. Rest in peace.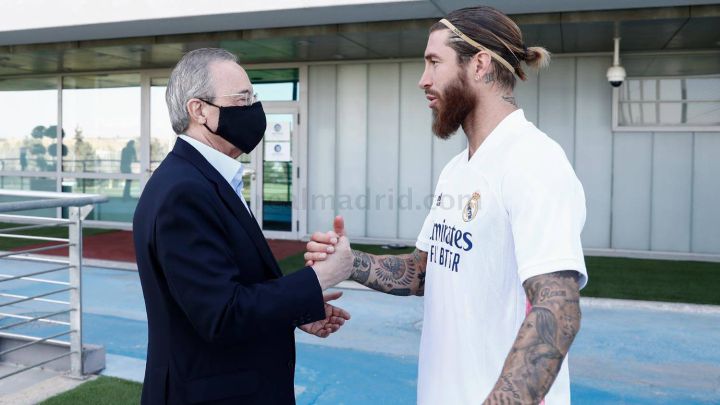 Ramos moves closer to Real Madrid deal following calls with Florentino Pérez
Ramos closer to new Real Madrid deal?
Real Madrid have been without Sergio Ramos for the past month and, in the wake of the defender's knee operation earlier in February, aren't expected to have their skipper back for at least another month or so.
However, there was encouraging news this weekend on Ramos' slowly, slowly moving contract talks with the club: the 34-year-old is reportedly closer to signing an extension to his current terms, which expire in the summer, after talks with Madrid president Florentino Pérez.
Full story: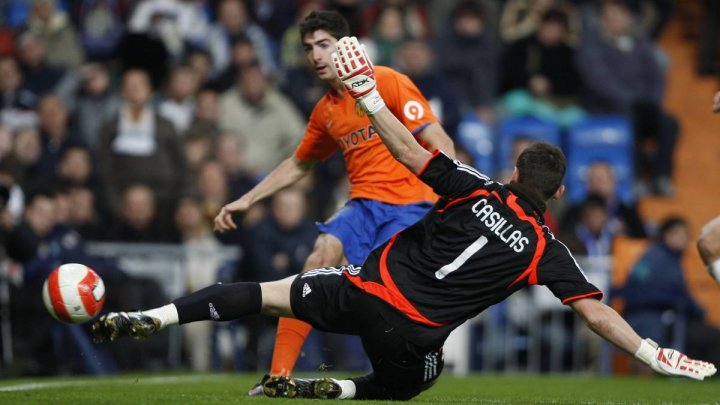 One win in 15 years for Valencia at Real Madrid
Carlos Soler's spot-kick treble might have given Valencia a thumping win over Real Madrid when the sides met at Mestalla in November, but Los Che have had altogether less joy on the road against Los Blancos in recent - and not so recent - times.
They have won just the once in their last 16 visits to Real Madrid in all competitions, stretching back to 2006.
Valencia's last away victory against Madrid came in March 2008, when a late Javier Arizmendi strike (pictured) gave a side coached by current Barcelona boss Ronald Koeman a 3-2 victory at the Bernabéu.
David Villa was also on target for Valencia with a brace that day, while Raúl González got both of Real Madrid's goals.
(Photo: Jesús Aguilera/Diario AS)
What the coaches said: Javi Gracia, Valencia
Touchline ban:
"I like to be by the pitch and be a part of it, putting across my message from close to the touchline. It allows me to remind the players of things, gee them up, correct things from up close. I think being close to the action helps, but another member of my coaching staff will be there instead of me and we have complete confidence in everything we do, so the message conveyed to the players won't change."
Real Madrid:
"They've got the odd absentee but they're Real Madrid. They have a squad full of internationals and I think in defence they've got some options back available. The most notable absentee is perhaps their captain, Sergio Ramos. But it'll still be a very familiar line-up and I don't they'll be affected by the absences; it's something that happens to all of us."
What the coaches said: Zinedine Zidane, Real Madrid
Injury issues:
"It's not just bad luck. We're concerned. We've spoken about it a number of times. We don't like having players unavailable. We're going to try to get them back. We've welcomed back Lucas [Vázquez] and [Dani] Carvajal and bit by bit I hope to get the rest back, because we need them."
Valencia game:
"We want to carry on in the same vein; there's a positive buzz around the side. Sunday's game is a good chance to show what we're all about and keep on growing as a team. The players are really committed and we have to keep on working hard."
Coaching France:
"For now I'm here. I'm enjoying what I do here. As for the future, we'll see. I'm just focused on my day-to-day work here."
(Photo: SERGIO PÉREZ/REUTERS)
Carvajal and Kroos return for Real Madrid, Ferro makes Valencia debut
Real Madrid boss Zinedine Zidane makes two changes to the side that began the midweek stroll against Getafe, as first-choice right-back Dani Carvajal returns from injury to start for the first time in a month and a half, while midfielder Toni Kroos comes back into the midfield after serving a one-match suspension against Los Azulones.
Having gone with a back three last time out, Zidane reverts to the more familiar 4-3-3.
For visitors Valencia, meanwhile, there is one change from the team that draw with Athletic Club seven days ago, as loan signing Ferro makes his debut in central defence in place of the suspended Guillamón.
(Photo: JESUS ALVAREZ ORIHUELA/DIARIO AS)
Valencia team news
Starting line-up: Doménech, Thierry, Gabriel, Ferro, Gayà, Wass, Soler, Racic, Guedes, Gómez, Vallejo
Substitutes: Rivero, Lato, Mangala, Gameiro, Oliva, Cutrone, Blanco, Kang-In, Jason, Musah
Real Madrid team news
Starting line-up: Courtois, Carvajal, Varane, Nacho, Mendy, Modric, Casemiro, Kroos, Vinicius, Benzema, Asensio
Substitutes: Lunin, Altube, Vázquez, Isco, Mariano, Arribas, Chust, Miguel
No Javi Gracia in the Valencia dugout today
Meanwhile, Valencia arrive in Madrid on an improved run of form of two wins and two draws in the last five in LaLiga, having previously endured a dismal sequence of results that saw them muster just the one victory in 13 games.
That had left them languishing one place above the relegation zone in early January, but Javi Gracia's men have now climbed to the relative respectability of 12th.
That sole win, of course, came against their opponents this afternoon: a thoroughly eyebrow-raising 4-1 triumph at Mestalla in early November, achieved courtesy of Carlos Soler's hat-trick of penalties.
Los Che head coach Gracia won't be in the dugout at the Di Stéfano, as he has been handed a one-match touchline ban for his role in Hugo Guillamón forcing a suspension-incurring booking against Atlético in late November. Guillamón has also been banned for today's game over the incident.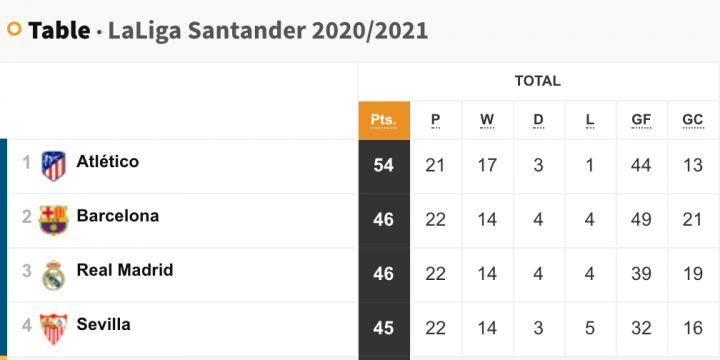 Real Madrid vs Valencia: ¡bienvenidos!
Good afternoon! Welcome to our live coverage of Real Madrid's LaLiga matchday-23 clash with Valencia, as Los Blancos look to cling on to the coat tails of leaders Atlético Madrid by reducing the gap at the top to five points, albeit Los Rojiblancos have two games in hand.
Madrid may have been embarrassed in the Copa del Rey by third-tier Alcoyano last month, but their recent form in LaLiga hasn't been too shabby, home defeat to Levante aside. Today, they can make it 10 wins and two draws in the last 13 with victory over a side they haven't lost to at home since 2008.
The hosts' injury list has at least partly been eased by the return to fitness of Dani Carvajal and Lucas Vázquez, although Marcelo was this week added to the crowded Bernabéu sickbay after picking up a calf strain in Tuesday's win over Getafe.