Barcelona player ratings in 4-1 defeat to PSG: Messi relinquishes his crown to Mbappé
Barcelona were thumped by a Kylian Mbappé-inspired Paris Saint-Germain in the first leg of the Champions League last 16 on Tuesday evening.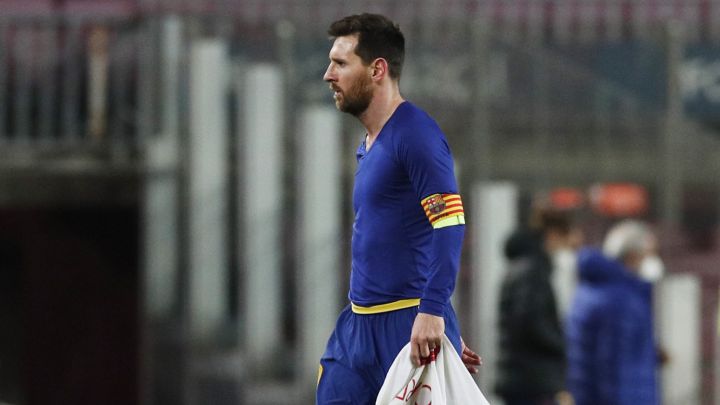 Marc-André ter Stegen:
The German prevented the team from suffering an even more embarrassing defeat. Made two uncharacteristic errors when clearing the ball, but could do little about any of the goals.
Sergiño Dest:
Second best to Kylian Mbappé throughout. The Paris Saint-Germain striker had the full-back on toast; he had far too much space and Dest never looked capable of stopping him. The American continues to display some pretty worrying shortcomings in his game. Substituted for Óscar Mingueza.
Gerard Piqué:
The defender put in a superhuman effort to even be on the pitch. His return seemed to give the team a lift, but he only had enough in the tank to last not much more than 45 minutes. He was an intense on-field presence, showing his commitment and leadership as he barked orders and organised those around him, but he had clearly begun to run on empty in the second half and was starting to struggle with his defensive duties. However, the effort he made to return to action and do his bit for the team, albeit it didn't bear fruit, should be applauded.
Clément Lenglet:
At fault for Moise Kean's goal. He allowed Kean to escape his attentions far too easily, leaving the Italian in space to send a free header past Ter Stegen and into the net.
Jordi Alba:
Kean's pace and power meant Alba was usually too busy keeping the PSG man in check to think about forward forays up the left wing. Overwhelmed by the visitors' attack, there was no sign of his connection with Lionel Messi.
Sergio Busquets:
The toll that the passing years have taken on Busquets are becoming increasingly evident in the most demanding situations. He was overrun by Marco Verratti. Overwhelmed and short of ideas, his game descended into insignificant and predictable contributions.
See also:
Frenkie de Jong:
Won Barça's penalty after a light touch by Layvin Kurzawa. That was the Dutchman's best moment of the game. He never seemed to know what it was he was supposed to be doing.
Pedri:
He's 18 and games like this will help him to grow as a player. A disappointing performance from the midfielder, who failed to link up to good effect with those around him and generally struggled to get into the game.
Ousmane Dembélé:
The Frenchman put in a highly erratic display that merely served to cause bewilderment among his team-mates. He was also slack in his defensive duties, leaving Kurzawa with so much space to gallop up the left wing. He should learn from his compatriot Mbappé; now that's how you put talent to good use.
Antoine Griezmann:
Griezmann made very little impact; as has been the case since he joined Barça, he tends to disappear in the big games. He puts a shift in, sure; but he was brought to the club to be more than just a work horse. Came close to scoring a bizarre goal when Keylor Navas's bad clearance rebounded off him and flew wide.
Lionel Messi:
After tonight, PSG's owners will think twice when anyone advises them to swap Mbappé for Messi. The Argentine put in a performance in line with Barça's recent big nights in the Champions League: unable to make his presence felt, not on his game and an increasingly forlorn look on his face. Here's hoping this wasn't Messi's farewell European appearance for Barça; what a sad way to go out it would be. Scored a penalty and did little else.
Substitutions
Óscar Mingueza:
Showed that he's a better option than Dest at right-back at the moment.
Francisco Trinc
ã

o:

Served up one slaloming run through the PSG defence, but it came to nothing.
Riqui Puig:
As always, the youth product went out there clearly hugely eager to impress.
Miralem Pjanic:
Brought some grit and presence to the midfield, but it was too little, too late.
Martin Braithwaite:
Almost scored from Dembélé's cross. Did more than Griezmann in attack in the short time he was on the pitch.