TIGER WOODS
How fast was Tiger Woods driving his car?
Legendary golfer Tiger Woods was driving a Genesis GV80 luxury SUV and was taken to hospital in a serious condition on Tuesday morning.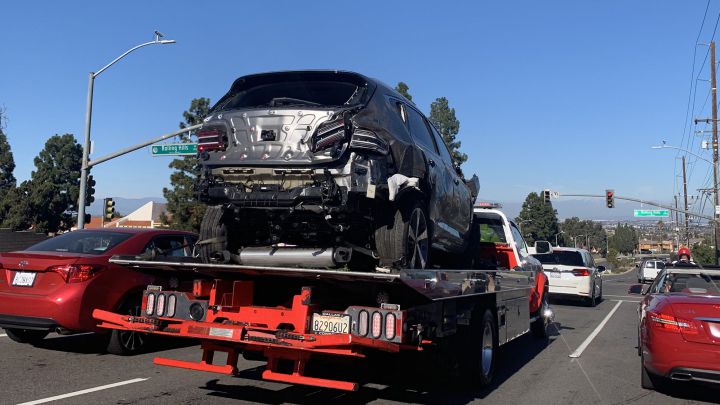 On Tuesday morning, Tiger Woods was involved in a car crash in the Los Angeles area and was taken to hospital in a "serious condition" after being assisted from the vehicle, according to the LA County Fire Department.
Tiger driving at "greater speed than normal"
Los Angeles County Sheriff Alex Villanueva spoke at a press conference following the crash and stated that Woods was likely travelling at a "relatively greater speed than normal" on a downhill slope of a stretch of road that is known for a "high frequency of accidents." He also confirmed that the car rolled over several time and that a neighbour called 911 for help to be sent.
The sheriff went on to say that the golfing great "was able to communicate" and that "he was conscious" when first responders arrived. The investigation continues but as yet there is no evidence of impairment and Woods was wearing a seatbelt at the time of the incident. Weather conditions have also been ruled out as a reason for the crash.
What car was Tiger Woods driving?
The vehicle Tiger Woods was driving was a Genesis SUV, specifically a Genesis GV80, which is the first SUV released by the brand - an upscale spin-off from Korean manufacturer Hyundai.
Genesis confirmed the model involved in an official statement: "This morning, Genesis was saddened to learn that Tiger Woods had been in an accident in a GV80. Our thoughts and prayers are with Tiger and his family at this time."
The vehicle Woods was driving had a "Genesis Invitational" logo on its side. The golfer had been attending his Genesis Invitational golf tournament at the Riveria Country Club in Pacific Palisades, which ran last weekend. Winner Max Homa received a new GV80.
GV80: Genesis' first SUV
The GV80, a mid-size luxury SUV, starts at just under $50,000 in the US and offers 10 airbags, a forward-collision warning system, auto-evasive steering and also a camera system to warn the driver if they are falling asleep.
It was first unveiled in January 2020 and is the first SUV for the Genesis brand. It was launched in the US in November 2020 for the 2021 model year.