LA Galaxy: Vanney wants Chicharito to reach his full potential
The new manager of the Los Angeles Galaxy is hopeful that Javier Hernández will bounce back this season in his second year in Major League Soccer.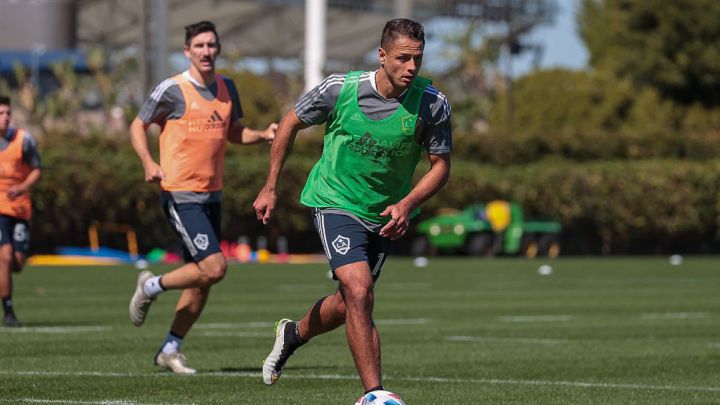 In 2020, Javier Hernández decided to leave Europe after a decade to continue his career in Major League Soccer. The Mexican international signed a three-year deal with an option for a fourth with the Los Angeles Galaxy.
14

Chicharito underwhelmed in first season with LA Galaxy

The Galaxy paid Sevilla FC $9.40 million for Chicharito and he was expected to be the most important player last season, but he didn't meet expectations. The 32-year-old had a hard time adapting to the league and he only scored two goals in 12 appearances for a total of 758 minutes.
As the LA Galaxy failed to make it to the playoffs and had the worst season in the history of the franchise, Chicharito publicly admitted that he was to blame for the bad results, but for 2021 he would return and demonstrate why he signed with the five-time MLS Cup champions.
New Galaxy boss Vanney out to create "style of play that really makes sense" for striker

Now that manager Greg Vanney is in charge, he hopes he can bring the best version of Hernández for the upcoming 2021 MLS season. The Galaxy held their first training session ahead of the season opener in mid-April and Vanney's plan is to help Chicharito reach his full potential.
"The way we play and how we set up and how we try to create opportunities, how we defend, has to make sense for a player like that," Vanney said on The Call Up. "In this league, you have only so many opportunities to have players who have those special qualities to put the ball in the back of the net and the way you play and the way we create opportunities has to fit into what makes sense for him. We can't just dump balls up to him and expect him to beat three guys and put the ball in the back of the net. That's not the type of player he is.
"I think he's going to be one of the guys who can really set the standard in our group this year because we need that," Vanney said. "But then this team, to take a step forward, we need a few guys to really step up and help us to hold the standard across the entire team and he's proven himself that he's ready to do that just with the way in which he's worked this offseason.
"I'm excited to work with him. I think we can create a system and a style of play that really makes sense for him, that can help him to be really successful in terms of in front of the goal, which is where he's made his bread and butter over the years, putting the ball in the back of the net. We've got to be a good team to help him and he's got to do his thing," he added.