US CORONAVIRUS NEWS
How many Johnson & Johnson vaccines have been administered in the US?
As the FDA presses pause on the rollout of the vaccine at federal sites, we consider how many shot of the drug have already been given.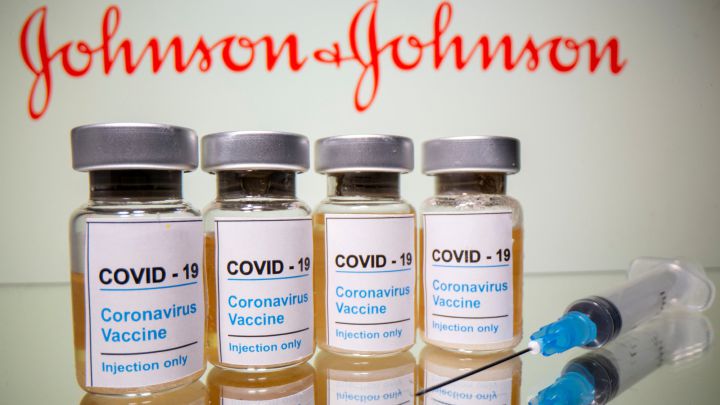 On Tuesday, the US Food and Drug Administration and the US Centers for Disease Control and Prevention announced that they were pausing use of the Johnson & Johnson vaccine after six recipients in the United States developed a rare disorder involving blood clots.
How many J&J vaccinations in the US?
White House economic adviser Jared Bernstein said that it was too soon to say what impact the pause of Johnson & Johnson's covid-19 vaccine could have on President Joe Biden's push to reopen the country. More information was still needed on any possible issues with the vaccine before the Biden administration could weigh what potential impact any delay in the vaccination campaign could have on the nation's economy, he added.
It is worth noting that the six cases being investigated were out of more than 6.8 million J&J vaccine shots administered in the US, or as many people have been saying, the equivalent of 'one in a million'.
CDC will convene a meeting of the Advisory Committee on Immunization Practices (ACIP) on Wednesday to further review these cases and assess their potential significance. FDA will review that analysis as it also investigates these cases.

— U.S. FDA (@US_FDA) April 13, 2021
The White House referred any questions to the Department of Health and Human Services, which overseas the FDA and CDC. Bernstein, a member of the White House Council of Economic Advisers, said the White House took any safety issue with J&J's covid-19 vaccine "extremely seriously" and that US health officials were still analyzing the vaccine data.
"We're going to have to get a lot more information before we can understand what that does to the curve" and any larger economic impact, he told CNBC.
White House economic adviser Jared Bernstein says it's too early to say whether the pause on the use of the Johnson & Johnson vaccine affects Biden's timeline for reopening.

"I don't know the answer, and I don't think anyone else does either," he told Bloomberg TV this morning. pic.twitter.com/IBggHuJKoT

— Josh Wingrove (@josh_wingrove) April 13, 2021
Asked how that could affect Biden's timeline for the country to return to more normal operations, he separately told Bloomberg TV: "I don't know the answer, and I don't think anyone else does either."
Johnson & Johnson response
On the back of the news going public, Johnson & Johnson issued the following statement concerning their covid-19 vaccine:
"The safety and well-being of the people who use our products is our number one priority. We are aware of an extremely rare disorder involving people with blood clots in combination with low platelets in a small number of individuals who have received our COVID-19 vaccine. The United States Centers for Disease Control (CDC) and Food and Drug Administration (FDA) are reviewing data involving six reported U.S. cases out of more than 6.8 million doses administered. Out of an abundance of caution, the CDC and FDA have recommended a pause in the use of our vaccine.
In addition, we have been reviewing these cases with European health authorities. We have made the decision to proactively delay the rollout of our vaccine in Europe and pause vaccinations in all Janssen COVID-19 vaccine clinical trials while we update guidance for investigators and participants.
With the Johnson & Johnson vaccine being put on pause, what should you do if you already received one? Dr. Dana Hawkinson answered that and other questions we have about the breaking news. pic.twitter.com/ZdmNLTFI9z

— 41 Action News (@41actionnews) April 13, 2021
We have been working closely with medical experts and health authorities, and we strongly support the open communication of this information to healthcare professionals and the public.
The CDC and FDA have made information available about proper recognition and management due to the unique treatment required with this type of blood clot. The health authorities advise that people who have received our COVID-19 vaccine and develop severe headache, abdominal pain, leg pain, or shortness of breath within three weeks after vaccination should contact their health care provider".
What to do if you have had the J&J vaccine
The current recommendation is that if you have already received the Johnson & Johnson vaccine and within three weeks of the shot you experience either severe headaches, abdominal pains, leg pain, or shortness of breath, then you should contact your local doctor.
The CDC & FDA recommended pausing the use of Johnson & Johnson 's Covid-19 vaccine to investigate rare but severe cases of blood clots.

As of 4/12, there have been only 6 reported U.S. cases of this blood clot out of more than 6.8m J&J doses administered https://t.co/bB5UXviDt7

— Sabrina Siddiqui (@SabrinaSiddiqui) April 13, 2021
The move from the US regulators comes less than a week after Europe's drug regulator said it was reviewing rare blood clots in four people in the United States who received the shot. The vast majority of the 6.8 million doses of the J&J vaccine have shown no either no side effects or simply mild reactions.
It is also worth noting that amid the sensational headlines, the European Medicines Agency has already highlighted that the benefits of receiving the vaccine outweigh the risks for the majority of people. That said, some countries have imposed age limits for certain shots, including the United Kingdom, which offers alternatives to those under 30.