Higuaín: "I understood Messi and Cristiano Ronaldo perfectly"
The Inter Miami striker said during an interview with La Nación that he was the perfect foil for both Messi and Cristiano Ronaldo: "I knew what they wanted."
Gonzalo Higuaín is becoming well-adapted to Major League Soccer and during his first season with Inter Miami he helped the team qualify for the playoffs in their debut season in MLS. The 33-year-old arrived late in the 2020 MLS season but managed only one goal and two assists in nine appearances.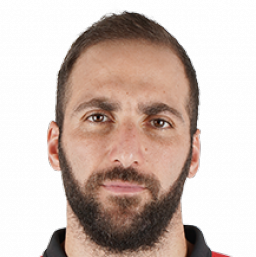 Less pressure in MLS
Higuaín has now had his first full preseason with Inter Miami and is ready to lead the team for another playoff run and then the MLS Cup title. Higuaín's contract expires on 31 December 2022 and he doesn't see his future linked to football after he retires. One thing he has made clear is that he is happy in MLS and he wants to retire in this league.
"The other day, I was thinking about all the things that I've left behind. The requests, the responsibilities, all the different countries. All these things can destabilize your head. The truth is that now I am really, really happy because I've obtained what I wanted, which is leaving that bubble of pressure, requests, press and criticism," said Higuaín.
"Football is not a priority in the United States. There are other sports that feel that pressure. The league is improving and will continue doing so. People in the street don't judge me because I score or miss a goal, and the same is true of the press. When I am queuing, I feel like an average person, and sometimes I tell myself how beautiful this feeling is. It's what I wanted to experience," he added.
Plans after he retires
"I've decided, I retired from international football because I wanted to focus on what would happen next. My life won't be in football after I retire. I'll take a different path. I want to have fun with my family and my people. Then I'll find something I like. I'd like to take cooking classes or study oenology. The wine captures me," he told La Nación.
Playing alongside Messi and Cristiano Ronaldo
Higuaín is one of the few players in the world to have played alongside two of the most dominant figures in football over in the past 10 years, Cristiano Ronaldo and Lionel Messi. The Argentinean striker is the player to have played most often alongside them during his time at Real Madrid, Juventus and the Argentina national team.
"It means I am the one who got to know them better. I understood them perfectly. I knew what they wanted. They could count on me."