Zidane: "It's our right to play the Champions League, it's madness"
Zidane spoke about Ceferin's threat to kick Real Madrid out of the Champions League: "It makes no sense. All I can say is we are preparing for the semi-final".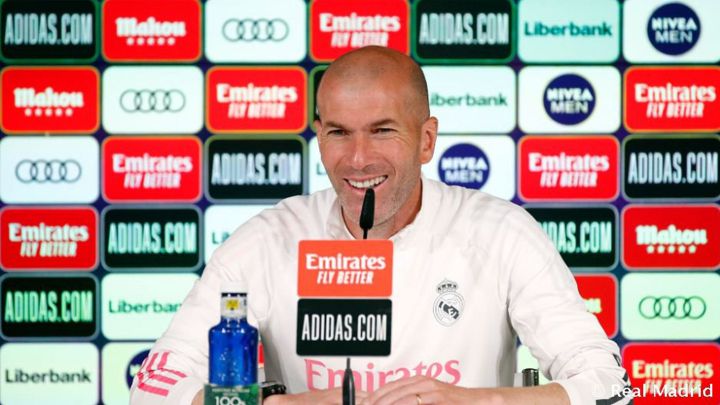 Zinedine Zidane faced the media this afternoon to look ahead to tomorrow's league clash with Betis at the Di Stéfano. The coach also gave his opinion on the reports that UEFA president Aleksander Ceferin had threatened to ban Madrid from the semi-finals of the Champions League - although it later emerged that UEFA have decided not to take any immediate action against the clubs involved in the Super League. He also confirmed that Modric and Hazard are back in the list but Kroos and Mendy are unavailable.
Poor planning: "No. We don;t have a small squad, it's big enough and good enough. We've had a lot of problems, players out injured... the whole Covid situation. It's been a strange season, a very different one. But considering what a lot of other people are going through, we cannot complain. We have to focus on the football side of things when make the most of situations when we are in good form. That's what we've been doing".
Florentino upset by Super League: "No. He's the same as always, we speak every now and then and that's it. He comes here to see the team, to see everyone. Nothing's changed. We know where the presi is. He wants us to focus on tomorrow's game".
Trick game against Betis: "It's not a trick game at all, they're a good side. We've come here and beaten us before. We'll need to be at our best to take all three points".
Florentino cannot imagine Real Madrid without Zidane: "I am only concerned with the day to day. I don't know what will happen in one month or two months. I want to finish the season well and after that we'll talk about the future and what might happen. Right now we are only taking each day as it comes and focusing on the next game".
Mendy injured: "I won't play tomorrow. I hope he'll be back with us on Tuesday, but he's out for tomorrow's game. It's nothing too serious, he'll be back in a question of days".
Sergio Ramos: "He seems fine. In terms of spirits, he's very upbeat. He's had problems but he's better. He's still not ready to return with us but he's only got a few days to go, we always want him with us. He's taking it step by step. He needs a few more training sessions".
Were you annoyed by the protests of Cádiz fans? "No. Everyone can do what they want. They can have their say, like everyone".
You have never won two consecutive league titles: "It's always been difficult, we've spoken about it a lot. The Spanish league is very competitive. It's 38 games and it's complicated. That hasn't changed. For me, it's been one of the best leagues for a long time. We're go".
Ceferin's threat to kick Madrid out of this season's Champions League: "It makes no sense. We are going to play the Champions League, we have every right to and we're going to play. It's a ridiculous matter. I'm not going to get into it. All I can say is that we will be preparing for the Champions League semi-final".