Will there be a fourth stimulus check? What did Biden say in his address to Congress?
In his first 'State of the Union' speech the President outlined plans to extend the Child Tax Credit, but fell short of announcing a fourth direct payment.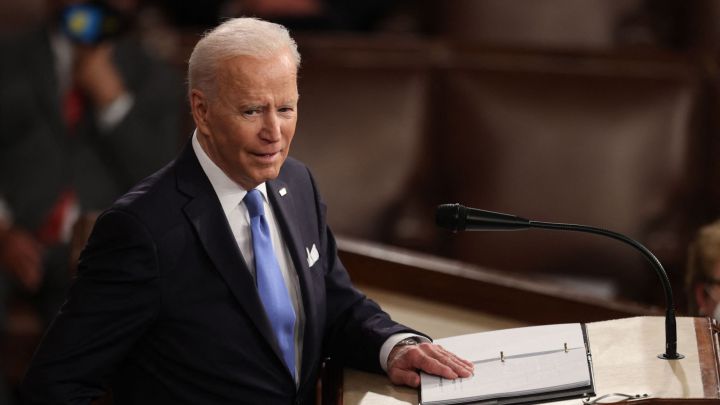 On Wednesday evening President Joe Biden gave his first official address to a joint session of Congress in which he outlined some key areas of focus for his presidency.
He struck a very different tone to his predecessor and called for a considerable expansion of the state-funded safety net and a marked improvement in education. His 'big government' agenda saw trillions worth of additional spending mooted.
"America is moving. Moving forward. And we can't stop now," he told the roughly 200 lawmakers in attendance. "We're in a great inflection point in history. We have to do more than just build back. We have to build back better."
It's never been a good bet to bet against America — and it still isn't.

We are the United States of America. There is nothing we can't do if we do it together. pic.twitter.com/WGlXhZJkQG

— President Biden (@POTUS) April 29, 2021
Biden promised to provide the support needed for those who "feel left behind and forgotten in an economy that's rapidly changing." However he stopped short of announcing a fourth round of stimulus checks, despite calls from within his own Party to do so.
Last month a group of 21 Senate Democrats signed a letter urging the White House to consider including another round of direct payments in the upcoming Build Back Better legislation. On Wednesday evening Biden gave the first full details on his proposals, but there was no mention of a fourth stimulus check.
What is in the American Jobs Plan?
Following the American Rescue Plan, the $1.9 trillion stimulus bill passed last month, Biden announced details of the American Jobs Plan. This was the second facet of his three-pronged legislative response to the covid-19 pandemic and focuses on rebuilding the US' economy.
At a total cost of $2.3 trillion it is the largest of the pandemic-era bills and is designed to completely overhaul American infrastructure. There is $621 billion to invest in bridges, roads, mass transit, airports and electric vehicle development, with additional $100 billion in tax credits for building and upgrading public schools.
An additional $300 billion is set aside for manufacturers and small businesses to allow them to invest in clean energy. There is $111 billion to improve drinking water infrastructure across the country and additional investment to improve broadband service and upgrade electrical grids.
What is in the American Families Plan?
The major legislative announcement to come out of Wednesday's speech was the first official details of the American Families Plan, which includes a variety of spending initiatives and tax cuts aimed at benefitting low- and middle-income families.
It is thought that the AFP will cost around $1.8 trillion, with $1 trillion in new spending and around $800 billion worth of tax credits. Key inclusions will be a $225 billion investment in subsidised child care to support women in the workforce, as well as $225 billion for a paid family and medical leave programme.
How do we pay for Biden's $1.8T American Families Plan?

Simple: we tax the rich.

Repeal Trump tax cuts: $500B
Raise top marginal tax rate by 1%: $123B
Wealth tax: $2.75T
Wall St transaction tax: $777B
Eliminate loopholes: $119B
Fund the IRS: $1.75T

Total: $6T over 10 years

— Robert Reich (@RBReich) April 28, 2021
Around $200 billion will be put towards a variety of education initiatives, such as providing free preschool for five million children in low-income families.
To pay for the extensive proposal, Biden will forward an additional $80 billion of federal funding to the IRS to help enforce tax checks. The White House estimates that this could bring in an additional $700 billion from high earners and corporations that evade taxes. There will also be an increase to the marginal income tax rate for the wealthiest 1% of Americans, raising it from 37% to 39.6%.