Can covid-19 vaccines cause a rash? What to do if you have an allergic reaction
The United States continues the vaccination effort but what should you do if you experience side effects? The CDC has issued new guidance for allergy sufferers.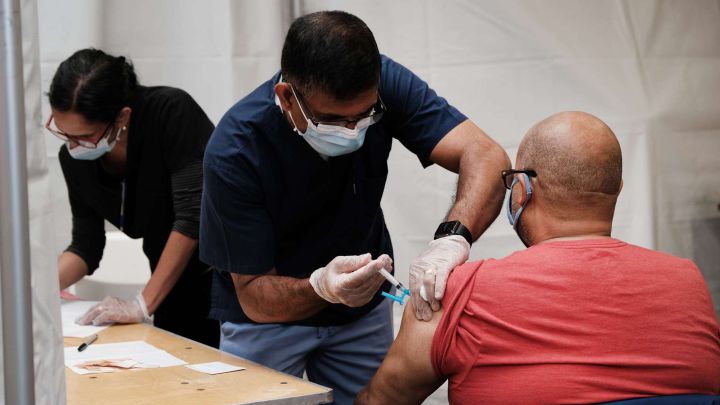 The United States is on the brink of administrating 250 million doses of covid-19 vaccines, a remarkable achievement little over a year into the pandemic. The life-saving potential of the shots makes them vital to the fight against the coronavirus, but that does not mean they are without side effects.
Some have reported experiencing a red, itchy, swollen or painful rash around the area where they got the shot, which can appear a week after the injection was received. These rashes are sometimes known as 'covid arm' according to the Centers for Disease Control and Prevention (CDC), but they advise that it should not stop you getting the second dose.
"Even if you've had Covid, it's still important that you get vaccinated. And the reason is because your body will build up an immune response from having Covid but...the protection you get from the vaccine is even stronger and more robust," Surgeon General Murthy says. pic.twitter.com/5TgOoCIPJE

— MSNBC (@MSNBC) May 13, 2021
A statement from the CDC reads: "If you experience 'COVID arm' after getting the first shot, you should still get the second shot at the recommended interval if the vaccine you got needs a second shot. Tell your vaccination provider that you experienced a rash or "COVID arm" after the first shot."
They go on to say that an antihistamine may help if the rash is particularly itchy. In fact, allergic reactions to vaccines are fairly common and the same is true of the covid vaccinations.
What to do if you have an allergic reaction to a covid-19 vaccine
Unfortunately allergic reactions in the aftermath of receiving a covid-19 shot are not uncommon and the CDC have issued guidelines on what to do. They advise that anyone who has a serious allergic reaction, also known as anaphylaxis, after receiving their first dose should not get a second dose of the same vaccine.
Because both Pfizer-BioNTech and Moderna were developed using mRNA, if you suffer a serious allergic reaction after your first shot you should not receive another dose of either of them. Serious allergic reactions are defined as those which require epinephrine or an EpiPen, or which result in a trip to hospital.
I am a pediatric allergist/immunologist.

My wife is a pediatric emergency room physician.

I take care of itchy kids. She takes care of sick kids. (Or so our children say😆)

We have both received our #COVID19 vaccines and our children will as well, once they are age-eligible. https://t.co/y7Xhn6Zynt

— Dr. Dave Stukus (@AllergyKidsDoc) May 8, 2021
In the case of less severe allergic reactions the guidance varies slightly, depending on the timeframe. Anyone who gets an immediate allergic reaction (defined as less than four hours from the injection) should not get a second dose of the same vaccine, regardless of the severity of the episode.
More minor reactions can be harder to define but can include symptoms likes hives, swelling and respiratory issues. If you are unsure, consult your doctor and they may be able to refer you to a specialist in allergies and immunology.