LALIGA SANTANDER
Real Madrid and Atlético Madrid: final day to decide LaLiga title
As the LaLiga Santander title race goes to the wire, four becomes two. Sevilla and then Barcelona have fallen by the wayside as we wait until the final day.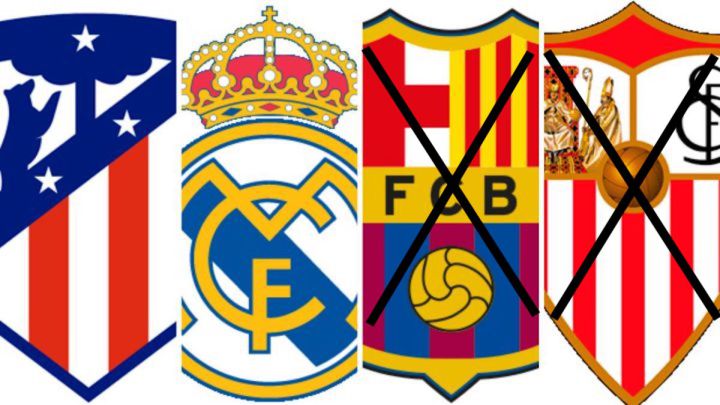 As has been commonplace for much of this season, results continue to surprise in the race for the LaLiga Santander title. After we witnessed Champions League semi-finalists Real Madrid failing to score at home to Betis and apparent runaway leaders Atlético Madrid falling to Athletic Bilbao, there were four teams vying for top spot.
Those sides then all met on the same weekend - Barça-Atleti and Madrid-Sevilla - and their share of the spoils didn't alter that view. Then to the midweek games...
Ronald Koeman's side were first up next, away to Levante, and after taking a 0-2 lead, capitulated to a 3-3 draw. Then it was Atletico, who triumphed 2-1 over Real Sociedad on Wednesday edging them closer to the title, while Sevilla remained in the conversation with a 1-0 win over Valencia.
And on Thursday, Los Blancos did their job, coming away with a convincing 1-4 victory in Granada.
The penultimate games of the season could have seen the title handed to Atlético but, despite plenty of excitement and nerves, the title will go to the final day, although we know that only the Madrid sides are now in contention.
Sevilla lost 4-0 to Villarreal; Barcelona went down 1-2 to Celta; Los Blancos won by a single goal in Bilbao and Los Colchoneros put on a late show against Osasuna.
Atlético and Real Madrid: LaLiga final day
Atlético remain top of the pile but are just two points above their neighbours as they go to former Madrid legend Ronaldo's Valladolid, who need a win to have any chance of league survival. Zidane and co. clearly need all three points against Villarreal, but could be helped by the fact that their opponents play the Europa League Final three days later.
Let's have an updated look at how the final five games of the season have panned out for each of the contenders...
Real Madrid: final five LaLiga fixtures
Osasuna (H) 2-0 win
Sevilla (H) 2-2
Granada (A) 1-4 win
Athletic Club (A) 0-1 win
Villarreal (H)
Barcelona: final five LaLiga fixtures
Valencia (A) 2-3 win
Atlético Madrid (H) 0-0
Levante (A) 3-3
Celta Vigo (H) 1-2 loss
Eibar (A)
Atlético Madrid: final five LaLiga fixtures
Elche (A) 0-1 win
Barcelona (A) 0-0 draw
Real Sociedad (H) 2-1 win
Osasuna (H) 2-1 win
Valladolid (A)
Sevilla: final five LaLiga fixtures
Athletic Club (H) 0-1 loss
Real Madrid (A) 2-2 draw
Valencia (H) 1-0 win
Villarreal (A) 4-0 loss
Alavés (H)