Kroos: "I hope Ramos will stay for many more years"
The German midfielder discussed Ramos' situation at Real Madrid and the German national team's chances at the European Championship.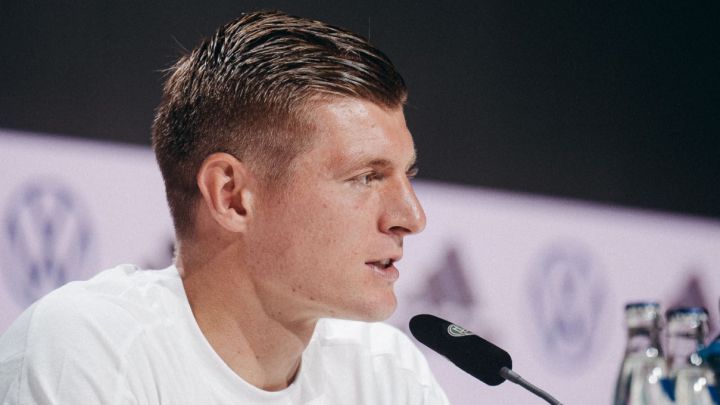 With four days to go until the Germany play at the European Championship, Real Madrid's Toni Kroos spoke about his team-mates at club and international level at a press conference ahead of the tournament.
Sergio Ramos
I don't know how things stand with the club, but it looks like he has 20 days left on his contract. He's a top team-mate, I've really enjoyed the years I've played with him. I hope it will be many more, but I can't do anything about that. He's a great team-mate and the best captain I've had in my career.
Karim Benzema
I know that his exclusion from the France squad was not for sporting reasons, because he is simply too good to not have been called up before. It's great to be on the pitch with him, now we will be rivals, but I trust our defence. We will have to stop him as a team.
Germany's challenge
There were difficult moments after the 2018 World Cup, but it's been three years and I believe in this group. There are a lot of players who are putting the spotlight on the collective and that's what, in my view, really matters in a tournament of this magnitude.
Kante
He's a great player, you saw that in the Champions League semi-finals and in the final. He works hard for the team, he never gets tired and he covers a lot of ground. I don't know if he's a candidate for the Ballon d'Or, I'm not too interested in that type of individual award.
Kimmich/Gündogan as a double pivot
For me it doesn't change much. Kimmich is very good, both in midfield and at full-back, unlike Gündogan and myself. I don't really see myself as a full-back. It's important to use the qualities of each player according to what we're looking for as a team. The coach has been thinking about this kind of thing for a long time now. Otherwise we won't get far.
Löw
We are in constant contact. He's the one who makes the decisions and he has to be totally convinced about them. But he always tries to do it in agreement with the players, because it has to be a group and an idea that everyone is convinced of. You can always adapt some nuances and he is always open to this type of proposal from the players.