1
Completed
Belgium 1-0 Portugal summary: score, goals, highlights, Euro 2020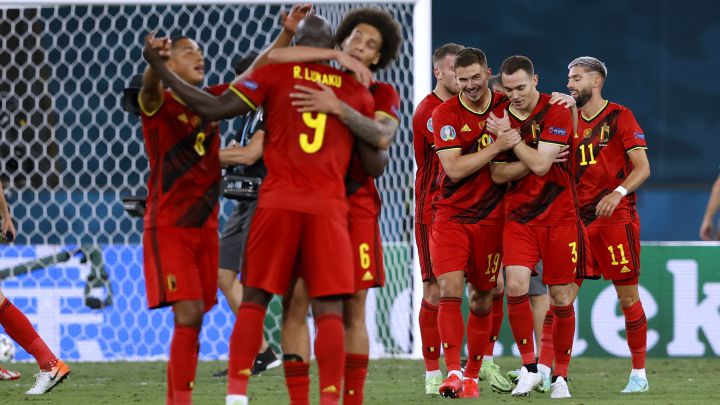 Belgium 1-0 Portugal | Euro 2020
Belgium 1-0 Portugal: on-the-whistle match report
Belgium's Thorgan Hazard thundered in a first-half winner as they beat title holders Portugal 1-0 in their Euro 2020 last-16 game on Sunday to move into the last eight.
Hazard found enough space after a swift passing move to rifle home from 20 metres and score against the run of play in the 42nd minute, setting up a quarter-final clash with Italy, who are unbeaten in their last 31 matches.
Yet Belgium's Kevin De Bruyne, only recently back from a facial injury, could be a doubt, hobbling off three minutes into the second half after suffering an ankle injury shortly before the break.
Diogo Jota had two good chances for the 2016 European champions - one in each half - and Raphael Guerreiro hit the post in the 83rd minute but they could not find an equaliser despite an improved display in the second half.
Belgium will face Italy, who beat Austria 2-1 on Saturday, in Munich on 2 July.
Full-time
Goals: T. Hazard (42')
Peep, peep, peeeeeep!!! Belgium are through
Belgium have had a few chances to get the ball away from their danger zone and kill time, but have failed to do it on any of them. Either they've been caught in possession or have pushed on for a second goal and handed it back to their opponent.
Time almost up though...
Patient(ish) build up on the edge of the Belgian area, between Silva and Lukaku. The latter lays it off to the incoming Fernandes who gets his strike all wrong and the ball flies way, way over the bar.
Five more minutes to be played
Chance for Silva
Andre Silva is right in the mixer and forces Courtois into action. How many more opportunities will Santos' men have in these dying minutes?
I hope you're sitting down for this shocking news...
Eden Hazard is injured. Who'd have guessed? He's off holding his hamstring. Yannick Carrasco is on in his place.
The end-to-end nature of this game continues.
Portugal pushing for the chances, and the Devils hitting on the break. The latest one of the latter has Lukuku sprinting at Dias, then at Pepe. On both occasions the defenders come out on top.
This is rather exciting!
Guerreiro off the post
An effort into the area is cleared but it falls to the Dortmund full-back who hits it first time.
Courtois is beaten but the post saves him. So close.
Courtois point blank from Dias
The Man City defender meets a corner beautifully but directs it straight at Courtois. Anywhere else and that's the leveller!
Fernandes lays it off to Silva whose effort flies over. There's still time, and enough talent, for Portugal to get back into this.
Portugal changing things up
Danilo and Sergio Oliveira ON
Palhinha and Sanches OFF
Pepe ends up in the book but the last few seconds could have seen this escalate much worse.
Lukaku had been caught accidentally in the head but the studs of a Portuguese player. Play continued before the ref brought things to a halt, allowing the former Madrid defender to take out Thorgan Hazard after the whistle. Red shirts swarmed all over him.
Felix tries to skip past three defenders but is bullied out of it. The ball pops out to Ronaldo on the left of the area and he appears to be caught between the idea of crossing and shooting.
Courtois is happy to catch the result of that indecision.
...the wall was in Cristiano range too!
The low strike whacks off Mertens rather than finding the gap through to goal. Ronaldo's frustrating is growing by the minute.
Vermaelen could've been booked before now but this time he doesn't escape Brych's attention. Free-kick in Cristiano range...
Andre Silva brought on to replace Jota as Portugal chase an equaliser
It's kicking off as pressure rises
Bruno Fernandes stands on Eden Hazard's heel in a challenge from behind, and the Madrid man goes down hurt. Pepe and Lukaku start pushing each other. It's all fine in the end.
If this game was feeling like chess in the first half, the last few minutes have been more like basketball... if the players were only shooting from downtown.
From one end to the other and an effort from distance that doesn't worry the keeper. It what's happening out there right now.
Another attempt from distance, this one from Cristiano. It's on target but bounces on to the open arms of Courtois without concerning him.
Lukaku collects a ball in to him from Thorgan Hazard on the left, quickly turns and then hits a nicely controlled half volley. Just wide.
Both sets of players happy to try pot shots from outside the area.
Fernandes gets his first sniff of goal, from quite a distance, but his dipping effort is well over.
Felix gets into the Belgian area, there's an extra bounce in their step at the moment, but the ball runs through to Courtois to make a comfortable save.
Jota skies it over
Excellent play from Cristiano, dribbling in from the right, playing a one-two, then feeding Jota around the penalty spot.
The Liverpool forward controls, swivels and...fires over Courtois' crossbar. Great chance!
Portugal push on again but a cross from the left into the area from Guerreiro goes way over eveyone and out of play.
Double change for Santos
Joao Felix and Bruno Fernandes ON
Moutinho and Silva OFF
Mertens given a right mouthful from Lukaku after, rather than playing the newly won-back ball into his feet to release pressure, he hammers it way over his head to run on to.
Dalot challenge more than frowned upon by Brych.
As Portugal try to build around the Belgian area, they lose possession and the Hazard brothers sprint clear, Thorgan with the ball.
instead of laying it out to his kin outside him on the left he tries a weighted through pass for Mertens to run onto. He needs new scales!
Dries Mertens comes on for the Man City man, possibly still feeling the effects of the challenge at the end of the first half.
Santos' side take a minute of possession and do nothing with it. It comes to an end with them losing it then Moutinho barging Eden Hazard out the way.
As the play stops for a free-kick, De Bruyne calls attention his way. He looks like he can't continue.
Peeep! Portugal get us going...
OK, the players are heading back out onto the pitch...

The history between these two nations is fairly well balanced and if the score stays as it is, the equilibrium will be perfect.
Plenty football to be played, of course, but I'm going to put my head on the line and say 3-1 Belgium!
Half-time musings
Without sounding too cliché, this game needed that goal. It wasn't so much that it was a poor encounter requiring something to bring it to life, but more about forcing a change in approach from one or other of the coaches. It was a tactical challenge for both teams to try and break each other down, but now that initiative has slanted in one direction.
Santos and, more importantly, his talented forward-thinking stars - know they need to push on in search of the equaliser. And we are all aware of the potent nature of Belgium's counter attack.
I'm looking forward to seeing what the second half brings...
Peeeep! The half-time whistle blows
After some treatment to De Bruyne - he went over on his ankle under the last challenge - the game continues.
Cristiano leaps to meet a Dalot cross but even he can't reach it. That's likely to be the last action of the half.
Palhinha first into the ref's bad books, after what was deemed a foul on De Bruyne. I thought it was fine.
Just the one minute to be added.
Portugal immediately look to get back on terms and throw a couple of crosses into the area. From the latter one Belgium break.
Eden Hazard carries the ball until he's almost at the Portugal box, waiting for support. It arrives over his right shoulder in the form of Meunier but his attempted pass to Lukaku at the back post is worse than poor.
GOAL!! Thorgan Hazard gives Belgium the lead
That came out of nowhere. Just as a pass between Lukaku and De Bruyne had been intercepted, Hazard retrieves the ball and swipes his right foot across it.
The swerve takes it away from the diving Patricio.
Nice dribbling skills from Bernardo Silva wins Portugal a corner. It's then taken short and the danger quickly dissapates.
The ball is headed clear and immediately the red shirts pile forward on the counter.
Lukaku has the ball at his feet and is sprinting through the middle but, as he attempts to lay it off to a supporting teammate, his shirt is slightly tugged, and he fails. No foul called.
Vertonghen hands Moutinho an opportunity to deliver from a dead ball on the right, given for pulling back the midfielder after he showed a lovely piece of skill to evade his marker.
Great wing play down the left from Diogo Jota, going outside then cutting back inside. The options to shoot are all closed off so he lays it off and Portugal target other avenues. None found.
Likely to do with the Seville heat, Portugal have been popping the ball about for a minute or so while Belgium sit back a let them.
From their possession in the opposition half, Portugal work it all the way back to Patricio in goal.
The Red Devils quickly move as one and cut off all the options, forcing the Wolves keeper to rush a clearance, one that is intercepted and almost taken advantage of.
Portugal are getting more and more joy, the latest to have an attempt is Palhinha but it's well over.
Courtois denies Cristiano
After Vermaelen gives away a free-kick around 25 or so yards from goal, slightly to the right, Ronaldo is keen to have a go.
He catches it sweetly enough, it evades the wall, and the current Madrid keeper has to be down smartly to block. Nice hit!
Sanches has found some space, but is some distance from goal. Nonetheless he tries his luck... it trundles towards Courtois.
Cristiano is down holding his face after losing out in a challenge. There didn't look much in it but I'll check the replay...
Embarrassing from the Juve man. His face was not touched.
That space I mentioned earlier to create something continues to be a serious challenge to find. Then Belgium go long down the left to Thorgan Hazard, who cuts back inside and fires low.
There are too many bodies in front of him and the effort is blocked well, before the ref blows up for a foul in the multi-leg scramble.
More players on the ground. Witsel and Eden Hazard went in for a challenge and both came out in pain.
There's a brief stoppage in play but they'll be fine to carry on.
For all Lukaku's size and power, he's ended up on the deck there after taking on Pepe with a full on shoulder charge. That was fun!
More tiki-taka type play from Martinez's side (he's Spanish, right?), around the half-way line.
They try to draw in some pressure from their opponents to give them space to move the ball quickly into a more threatening position but it doesn't come.
Hazard's first sighter
The Real Madrid winger links up nicely with Lukaka on the edge of the Portugal box but the final shot from Hazard is well off target.
"Next time," I bet he's thinking to himself.
Meunier picks up the ball wide on the right and cuts inside two covering defenders before swinging in a cross to the area. It's too high and runs away from danger.
We've had a little more time to assess the set-ups and Santos seems to be happy that his troops focus on the counter attack.
Belgium love a big of possession and appear likely to have quite a bit the way this has started. Clearly goals can change that.
First chance to Portugal
Great play from Sanchez - although it came from some slack play from Belgium - and he feeds Jota in the inside left channel.
The Liverpool man shifts the ball in front of him and then swings a left boot at it, making poor contact and it runs harmlessly wide.
An attempt by Palhinha to deliver to his frontmen is intercepted. There's not a lot of space out there, as both sets of players target the press.
Belgium get the ball rolling and keep control of it for the entirety of the first 90 seconds.
A nice pass down the left-hand line gives Thorgan Hazard a chance to test his marker, but a sharp pass into de Bruyne central is the choice. Portugal then win it back as the sparring begins.
Captains to the middle
Eden Hazard and Cristiano Ronaldo head to the centre circle and go through the usual pleasantries.
The next sound you will hear (written down) will be the referee's whistle...
Anthems volume II
The Belgians are loud with La Brabançonne:
"Worthy children of the Low Countries
Whom a fine passion has aroused,
To your patriotic fervour
Great successes lie in store.
Remain under arms, so that naught shall change!
Let us keep to the same will,
And we shall see Orange bloom anew
Upon the tree of Liberty"
Right, almost time for some footie...
Anthems at the ready...
The players walk out and line up for their pre-match sing-song. Portugal first...
"Heroes of the sea, noble people,
Brave, immortal nation,
Raise once again today
The splendor of Portugal!"
A rousing end to that as usual.
The teams are now in the tunnel, shaking off their limbs and a few nerves, no doubt.

Hands up if you're in charge
The ref tonight is German Felix Brych. It's the 45-year-old was also in charge in Saint Petersburg for Belgium's game against Finland, which they won 2-0.
Compatriot Marco Fritz is the VAR.

...and the Portuguese stars have had enough.
Grass cut? Check
Lines painted? Check
Nets attached? Check
Pitch watered? Hmmm, what's that guy doing with his bottle????

The Belgians check out the turf...

Man to watch: Cristiano Ronaldo
Over recent tournaments, the Juventus record-breaker has been seen as the man to carry his nation on his shoulders. That, however, has become less of a factor with the arrival of another Portuguese wave of talented forwards and creative midfielders.
Both Liverpool and Man City fans can contest to the qualities of Diogo Jota and Bernardo Silva respectively, while Silva's new club teammate, Ruben Dias has played a starring role in the backline for the Premier League champions.
All that said, Ronaldo just keeps on scoring... and one more will put him out on his own in international competitions.

Man to watch: Romelu Lukaku
Belgium have a wealth of talent to call upon but when you note that they have scored 2+ goals in 25 of their last 27 competitive matches - a key factor that has seen them sit top of the FIFA rankings for over 1,000 days - then one man in particular has helped.
The striker helped Inter Milan to the Serie A title last season and as you can see from the graphic (h/t SofaScore), he has been the main man in front of goal for his country over the last three years.

What the managers have said: Fernando Santos
"This game is like a final, there is no other way to see this match other than as a final. There is no way around it. What is behind [us now] is the group stage, which has nothing to do with tomorrow's match.
"They do not play in the same way. They can have similarities in terms of strategy or in terms of tactics, but there is only one possible result for this game, which is to win. Otherwise we can't achieve our objective, which is to reach the final.
"Now is staying or going. Both teams have players who have experienced moments like these many times. Both teams' ambition – and I've no doubt about that – is to get to the final, in London, and to win. But we have three finals before we can get there; a series of matchesthat we have to overcome that have nothing to do with the group stage."

What the managers have said: Roberto Martinez
"It is very special. Especially because my family will be there. They have driven to Seville to cheer on the Devils with a Spanish accent.
"It's a knockout match against Portugal but we don't play the occasion, we play the opposition.
"Whoever wins this match will need a complete performance. I want my team to dominate possession and use the ball well but Portugal are a dangerous team so we need a mix – we need to defend well."

Belgian hearts
After so long getting used to football games without the noise of the fans, these Euros have reminded us just how important supporters are.
Starting line-ups: a reflection
Roberto Martinez has, understandably, brought back in all the big guns he has available.
This means that we're going to see a frontline of De Bruyne, Lukaku and Eden Hazard running at the Portuguese defenders, and if their second half performance against Denmark is anything to go by then that defence is going to have their work cut out.
Witsel is also back in from the start, and he'll be joined by Leicester City's in-demand Tielemans in the centre of the park.
Emotionally-challenged Fernando Santos has stuck with most of the players that navigated the Group of Death, and will also threaten with an attacking trident of Jota, Silva and, of course, Ronaldo.
At the back Pepe and Dias will likely have to be at their best, while Manchester United's Dalot comes in for what could be a baptism of fire.
Starting XI: Portugal
Rui Patricio; Dalot, Dias, Pepe, Guerreiro; Palhinha, Sanches, Moutinho; B. Silva, Ronaldo, Jota
Starting XI: Belgium
Courtois; Alderweireld, Vermaelen, Vertonghen; Meunier, De Bruyne, Witsel, Tielemans; T.Hazard; Lukaku, E.Hazard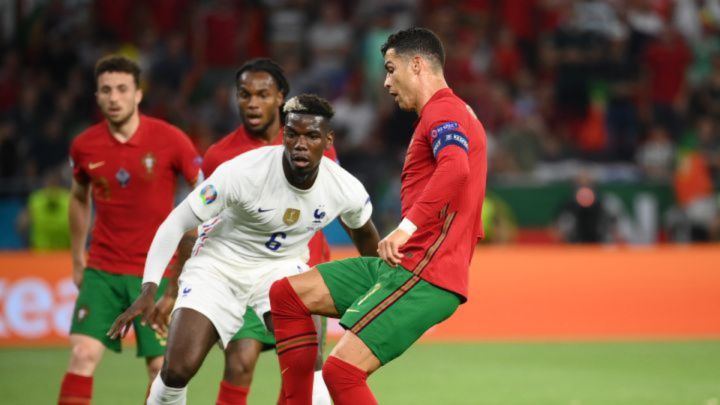 Group F Euro 2020: score, standings and who progresses to round of 16
As fate would have it, the 'Group of Death' would be the final group to be resolved at Euro 2020 with France, Germany, and Portugal all still very much in the running to take first and second place, while group minnows Hungary still had an outside chance to qualify for the last 16 and even finish second should results go their way in both games.
Two penalties from Cristiano Ronaldo helped holders Portugal squeeze into the last 16 of the European Championship after a 2-2 draw with France in a dramatic conclusion to Euro 2020 Group F. Ronaldo edged his side in front from the penalty spot, becoming the first European in World Cup and Euros history to score a combined 20 goals across the two competitions.
France striker Karim Benzema scored twice to put his side ahead but Ronaldo equalised from the spot to become the joint top scorer in international soccer history.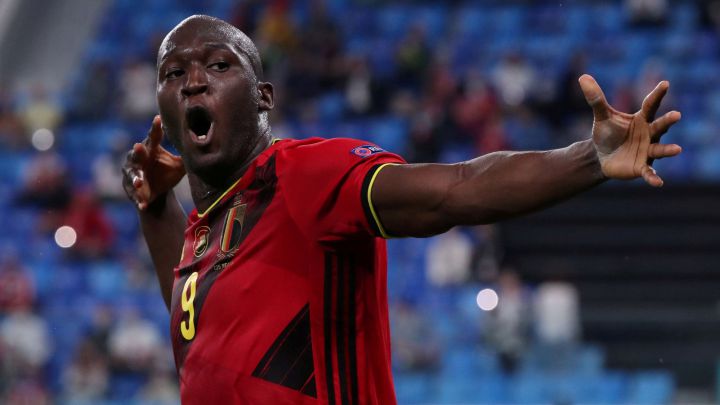 Group B at Euro 2021: scores, standings and who progresses to the round of 16
Belgium progressed as group winners after a 2-0 victory over Finland last Monday in the final round of fixtures in Group B at the 2020 European Championship. Roberto Martínez fielded the bulk of the side that had already ensured the Red Devils' place in the last 16 with victories over Russia and Denmark and Belgium finally ended a 50-year.old hoodoo in Saint Petersburg: they had not beaten Finland in over half a century, losing three and drawing four of the last seven meetings between the sides.
Belgium only needed a point to ensure top spot but Finland went into the game knowing they too would advance to the knock-out stages with either a win over Martínez's side, or a draw in the event that Russia were beaten by Denmark.
Belgium vs Portugal: welcome
Hello and welcome to our live coverage of this mouth-watering affair in Euro 2020 as Belgium and Portugal go head-to-head in the fourth Round of 16 match.
Headline makers up front Romelu Lukaku and Cristiano Ronaldo will clearly have much focus on them, but there is so, so much more to these sides, both of whom can consider themselves potential trophy lifters come 11 July.
Stay with me as the team news comes in shortly and we build-up to kick-off, and then I'll take your hand and guide you through the action as it happens.
.