What states have been sued after ending unemployment benefits?
Three states have been sued over their governor's decision to end federal unemployment benefits before September expiration date, more may be coming.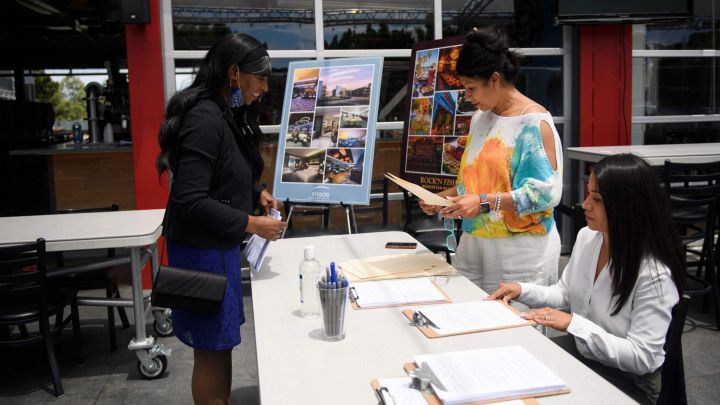 Citing the need to get people back to work because of labor shortages, blaming overly generous federal unemployment benefits, 26 states have chosen to suspend federal pandemic unemployment compensation early. Workers in three states have not taken the decision lying down, filing lawsuits against their governors to continue payments, potentially more court filings could be on the way.
A judge in Indiana, the first state to face a lawsuit over ending benefits prior to the 6 September national expiration date, placed a temporary injunction on Governor Eric Holcomb's order to cease participation in all four federal jobless benefits programs. Marion Superior Court Judge John Hanley in his ruling on Friday said that the harm on workers created by terminating the benefits far outweighed any risks to the state continuing to pay them while the lawsuit is pending resolution.
"Indiana should notify the US Department of Labor immediately of its continued participation in the CARES Act programs pending further action by this Court," Marion Superior Court Judge John Hanley wrote.
Texas and Maryland join workers in Indiana in suing over ending unemployment benefits early
On Thursday lawsuits were filed against Governor Greg Abbott of Texas, along with the Texas Attorney General Ken Paxton, and Governor Larry Hogan of Maryland. As in Indiana the plaintiffs allege that the governors did not have the legal authority to order cutting off unemployment benefits that are paid with federal dollars. In the case of Indiana, state law requires that "all available federal insurance benefits to citizens" must be procured.
Judge Hanly wrote that there was a "preponderance of evidence" to demonstrate Governor Eric Holcomb violated that state law when he ordered his state to stop payment of federal benefits starting 19 June. Andrew Stettner, an unemployment insurance expert and senior fellow at the Century Foundation told Yahoo Money "The decision by Judge Hanley was a breakthrough, as many states have similar state law provisions that could be brought up in court."
"I expect more judges to be sympathetic to the facts in the cases," Stettner added.
More than 30,000 people from two groups on Facebook are filing a lawsuit against Texas Gov. Greg Abbott for ending federal unemployment benefits https://t.co/9r2eqQZeDN

— Houston Chronicle (@HoustonChron) June 25, 2021
Travis County District Judge Dustin Howell denied the Texas workers' petition for a temporary restraining order on Friday over concerns that the litigants didn't have standing but that perhaps standing would exist with the Texas Workforce Commission. Attorney David Sibley intends to file an injunction to reinstate unemployment payments which ended 26 June for around one million Texans.
The Unemployed Workers Union, an advocacy group organized by the People's Power Assembly to help people obtain benefits filed a class-action lawsuit on Thursday in Baltimore Circuit Court against Governor Larry Hogan's order to end the federal programs 3 July. "Our position is that this order is illegal. And a threat to the public welfare," the attorney representing the workers, Alec Summerfield said.
Summerfield wants a hearing on the motion for an injunction early this week. "I hope the court will be prudent here and handle the situation correctly and we'll hear from them on Monday, either a scheduling order or just an update." The decision will affect nearly 250,000 people, according to the labor department.
The lawsuit in Maryland differs in that it is also seeking to secure benefits for people whose cases have been pending in the state's claims system.
Floridians saw the extra $300 a week on top of other unemployment compensation they were receiving cut off on Saturday. Florida and four more of the other 26 states that are ending benefits early chose to only end the $300 booster to jobless benefits, keeping the other federal programs. The Florida AFL-CIO petitioned Governor Ron DeSantis to reverse his decision to stop the $300 weekly federal unemployment supplement. If the Governor does not, the union said it would consider legal action against DeSantis.
26 states will end one or all of the federal unemployment programs set up during the covid-19 pandemic beginning 12 June.
Federal unemployment programs that will be stopped in some states before 6 September expiration date:
Pandemic Unemployment Assistance (PUA) program, which provides unemployment benefits to those who normally don't qualify like the self-employed and gig workers, or those who couldn't work due to the pandemic.
Pandemic Emergency Unemployment Compensation (PEUC) program, which provides those that have exhausted their state benefits with additional weeks.
Federal Pandemic Unemployment Compensation (FPUC) program, which provides an extra $300 per week to unemployment benefits.
Mixed Earner Unemployment Compensation (MEUC) program, which provides an additional $100 to those that are both wage earners and self-employed.