OLYMPIC GAMES | BASKETBALL
Tokyo Olympics basketball 2021: when are the quarter finals, semi finals and final being played?
U.S men's basketball team hoping to capture its fourth consecutive gold at Tokyo 2020. Check out the schedule for men's basketball's bronze and gold medal games.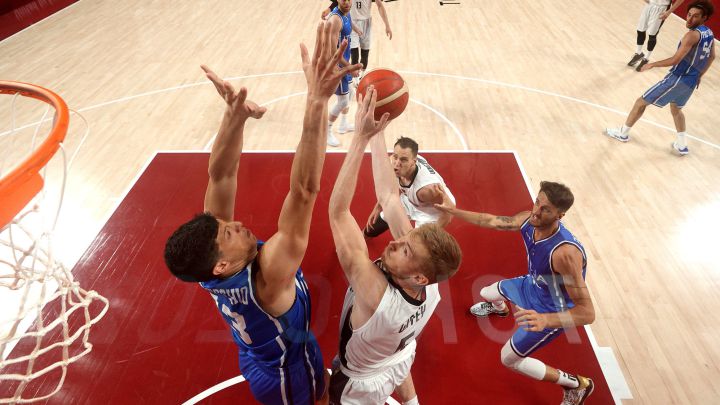 U.S. basketball team
The American basketball team is looking forward to winning their fourth consecutive olympic gold. High-expectatives are set in coach Gregg Popovich to lead US to the same glory Krzyewski did in the last three Games.
"I'm excited to represent the United States in our quest to earn a gold medal in Tokyo."
A team of 12 selected players is led by now three-time Olympian Kevin Durant, who won Olympic gold both in London and Rio de Janeiro. Other remarkable players will also be playing for the US such as Rio gold awarded Draymond Green and Devin Booker. All three stars feature a huge amount of likes.
Team USA are included in Group A with France, Iran and the Czech Republic to play against. All of their matches will take place at the Saitama Super Arena in Saitama, Japan.
Schedule for Team USA's matches
Game One: USA vs France on Sunday July 25 at 8 a.m. ET
Game Two: USA vs Iran on Wednesday July 28 at 12:40 p.m. ET
Game Three: USA vs Czech Republic on Saturday July 31 at 8 a.m. ET
The final stretch for gold
Quarter-finals
Will take place on Tuesday Aug. 3 (time TBC)
Semi-finals
Will take place on Thursday Aug. 5, ( time TBC)
Bronze Medal Game
Will take place on Saturday Aug. 7 at 7 a.m. ET.
Gold Medal Game
Will take place on Friday Aug. 6 at 10:30 a.m. ET
Where to watch live?
You can watch the entire Olympic basketball competition on TV NBC Sports Network channel. If you don't have cable, you can easily watch Olympics live stream through NBCUniversal's streaming service Peacock.