TRANSFER MARKET
Ronaldo, Messi, Neymar - PSG owner's brother goes public
Khalifa Bin Hamad Al Thani has set Twitter alight hinting at about the possibility of bringing the Portuguese, Argentine and Brazilian legends together in Paris.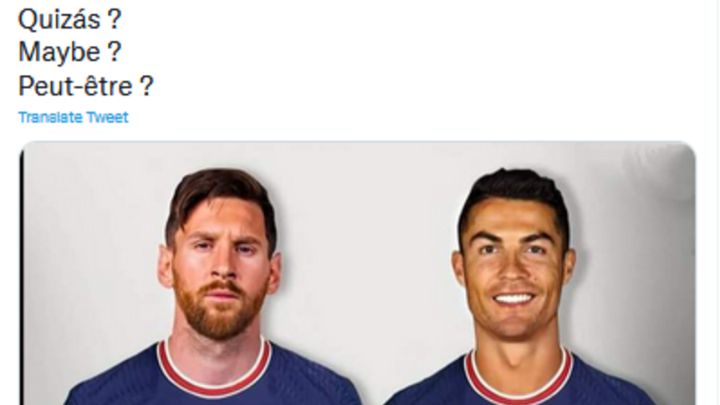 Even families are having their say in the crazy transfer market activity that we are seeing this summer. Khalifa Bin Hamad Al Thani, brother of the Paris Saint-Germain's owner, enjoys social media and on Tuesday, in the midst of the hurricane caused by Real Madrid's offer for Kylian Mbappé, got tongues wagging and imaginations flying.
Ronaldo and Messi together at last?
After pushing each other to the absolute of footballing limits during a rivalry that lasted a decade, the idea that Cristiano Ronaldo and Lionel Messi could share the same dressing room has been an unlikely dream for many. Well, the PSG-related family member posted an image on Twitter that added more fuel to the story that we published earlier this week.
With the simple word 'Maybe?' (in Spanish, English and French) Al Thani shared an image of the Portuguese and Argentine superstars side by side in a PSG shirt.
Juventus family member responds
The likes, retweets and comments went through the roof immediately, some fantasising the possibility, some rubbishing the idea. And there was one in particular that stood out above the rest.
A reply from Lapo Elkann, a member of the Agnelli family that owns Juventus read as follows:
"CR7 is a Juventus player. It's disrespectful to keep putting him in other jerseys as if he were a trading card. If he changes teams, wherever he goes, he will have respect as a man and as a sportstar. For us, football is a passion of generations."
Let's see how this already memorable transfer market plays out in its final week…