NBA | 76ERS
Green highlights 76ers' defensive concerns if Simmons moves
Danny Green was asked about team-mate Ben Simmons and what a Philadelphia 76ers team, without the Australian, would look like.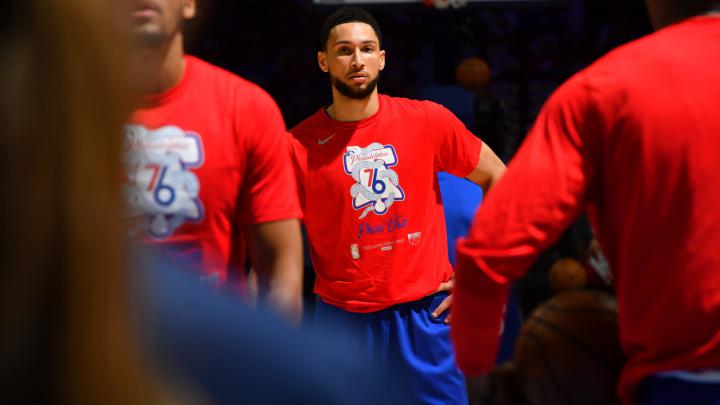 Danny Green believes the Philadelphia 76ers without Ben Simmons might cause defensive issues amid uncertainty over his future with the NBA franchise.
Simmons' future in Philadelphia is up in the air after struggling in the 76ers' shock Eastern Conference semi-final exit at the hands of the Atlanta Hawks in the NBA playoffs.
The three-time All-Star – an elite defender whose shooting problems were laid bare during the postseason – has been at the centre of trade rumours involving the Minnesota Timberwolves, Golden State Warriors and the Portland Trail Blazers.
Portland are a team of particular interest, given reports the 76ers are eyeing their All-Star Damian Lillard.
Green, who signed a new deal to return to Philadelphia for the 2021-22 season, was asked what a Simmons-less 76ers would look like.
"That's going to be tough to say man because we don't know what we're going to get back for him," Green told Howard Beck on the Crossover podcast.
"We may get a point guard, we may get wings. That may change a lot: I might be playing with a different type of point guard, I might be playing with different types of wings, I might be coming off the bench. I don't know who we're going to get."
Former number one draft pick Simmons had no fourth-quarter field-goal attempts in his last four games of the playoffs last season. He is the only NBA player in the last 20 seasons to have four consecutive postseason games with no field-goal attempts in the fourth quarter during a season in which he was an All-Star.
After four seasons in the league, there has been no improvement from the 24-year-old Simmons in one fundamental area – shooting.
An elite defender and creator, debate around Simmons centres on his offence or lack thereof, with the 76ers handicapped by his unwillingness to shoot.
Simmons' field-goal percentage has regressed, dropping from 58.0 in 2019-20 to 55.7 this season – he only managed worse in his 2017-18 rookie campaign (54.5).
He averaged just 10.1 field-goal attempts in 2020-21 – a career low, which dropped to 7.9 in the playoffs. It is the same story with his scoring as it dropped to a career worst 14.3 points per game and 11.9 in the postseason – both career lows.
Then there is Simmons and free throws. He was exposed by rival teams as they regularly sent him to the line, with the Melbourne-born guard making just 25 of 73 shots in the 2020-21 playoffs. His 34.2 free-throw percentage is the lowest ever in a single postseason.
Despite those liabilities, Green said losing Simmons would force some adjustments.
"And also defensively, I probably become the primary defender," he said. "Not saying it's an issue or a problem for me, but we have one less wing defender with him.
"Now it's me and Matisse [Thybulle]. Not saying that the other guys don't play defence, but you talk about our main defenders. That was a big part of that and a big part of our defence. … Ben, you know, was DPOY [Defensive Player of the Year] for us this year. …
"We thought Ben was able to guard one through five and set the tone for us. If he's gone, that changes a lot not just offensively but defensively as well for me."