BARCELONA
Koeman to give Coutinho one last chance at Barcelona
The Barcelona coach is prepared to hand the midfielder his final opportunity. He will be given minutes against Bayern Munich - after 259 days on the sidelines.
Following the departures of Leo Messi and Antoine Griezmann, the only big money signing left at Barcelona is Philippe Coutinho. He arrived in January 2018 when Barça decided to splash out 120 million euros plus a further 40 million is add-ons to bring him to Camp Nou from Liverpool. When all totted up, he will have cost the club 160 million euros, making him the most expensive signing in FC Barcelona's history.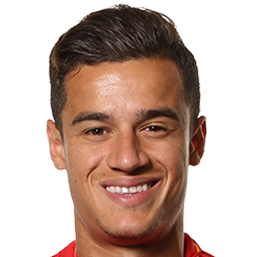 But within weeks of his arrival, all of the initial expectation about the Brazilian started to fade. He never found his position within the side - Ernesto Valverde fielded him on the left wing with disappointing results; he looked out of place - daunted in Leo Messi's shadow, never managed to connect with the fans and even covered his ears to make a point after scoring against Manchester United. An introverted, sensitive character, Coutinho's adventure at Barcelona descended even further into absurdity when he scored against his employers and set up another goal in the humiliating 2-8 thrashing to Bayern Munich where he had been sent out on loan.
A catalogue of events which led the new board of directors, headed by Joan Laporta, to reach the conclusion that the best outcome would be for the player to be sold. But no offers came in for Coutinho - not even at the cut-down price of 30 million euros.
Injury blow against Eibar
Of course, the main reason for the lack of interest was down to caution regarding Coutinho's fitness. His last game was on 29 December 2020, against Eibar at Camp Nou. In that match he suffered a serious injury affecting the meniscus in his left knee - one which required surgery and a long, slow rehabilitation, during which he travelled to Brazil for a second opinion, returned and underwent another operation. An injury which had been estimated to keep him sidelined for four months ended up keeping him out for almost nine months.
Fortunately for Coutinho, Koeman has faith in him - as he showed at the start of last season before the player injured his knee. The coach has not changed his opinion, and has assured Laporta that he can get the Brazilian back in form and that he can bring a lot of things to the team. After being given the medical all-clear on 7 August and after almost four weeks of full training, Coutinho is ready to play - 259 days after he last stepped out onto a football pitch.
Koeman had intended to hand him some minutes against Sevilla, but the Brazilian will have to wait a few more days after the game was rescheduled for a later date. His return will be against none other than Bayern in Barcelona's opening Champions League group game on 14 September. It will be a huge test for a player who has been vilified, derided and watched his own market value sink to less than a fifth of what Barça paid for him. This final chance is entirely in his hands, he could either end up as a hero or an impostor.