National Football League second week breakdown
The end of the week promises some spectacular quarterback and team clashes, among them the most prominent one between Kansas City and Baltimore.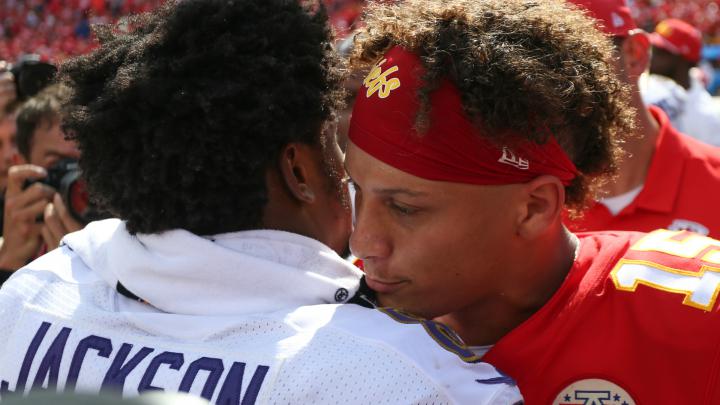 Patrick Mahomes just confirmed his exceptional talent in the Week 1 of the ongoing NFL season, throwing 337 yards for three touchdowns, securing a comeback triumph for his Chiefs against the surprisingly good Cleveland Browns.
Mahomes will have all of the attention on him again in Week 2 when Kansas City will see the match-up against the Baltimore Ravens and fellow quarterback Lamar Jackson.
Kansas City Chiefs @ Baltimore Ravens
The Chiefs will have few concerns about going on the road, bragging a 5-1 record against the Ravens in Baltimore all-time. They were also more successful in their past four meetings.
This dominance is displayed in Mahomes' record against Jackson, winning all three head-to-heads and averaging 378.7 passing yards per game to his opponent's 170.3.
Of course, Jackson is a greater threat across the ground than through the air, leading the Ravens in rushing yards against the Las Vegas Raiders last week for the 21st game of his career (including the postseason). In that time, no other QB has led his team in rushing in more than 12 games.
But even if Jackson can guide the Ravens into a lead, that brings no guarantee of victory. They gave up a 14-point lead for the first time in 99 games against the Raiders, while the Chiefs recovered from 12 points down at home to the Browns and actually have a 10-8 record after trailing by double digits since the start of 2018.
Dallas Cowboys @ Los Angeles Chargers
Another clash between two top QBs on Sunday sees Dak Prescott take the Cowboys to the Chargers having last week continued his impressive run even in defeat to the Tampa Bay Buccaneers.
Due to injury, Prescott has only actually played six games since the start of last year, but he has passed for at least 400 yards in four of them – no other player has more than two such games in that span.
However, Dallas have lost a league-high three games while posting 450-plus total net yards since the beginning of 2020.
The Chargers have their own prolific passer, too, in Justin Herbert, who threw for 337 yards in a win against the Washington Football Team in Week 1, meaning he now has 4,673 passing yards through 16 career games – a tally only topped by Mahomes' 5,100 in his first 16 games.
Buffalo Bills @ Miami Dolphins
Josh Allen is another elite passer who would hope to be in MVP contention at the end of the year, but he was less impressive in the Bills' opening defeat to the Pittsburgh Steelers, completing only 30 of 51 passes.
While that was a career high for pass attempts, NFL teams are 4-20 when having a QB throw 50 or more since the start of last season.
Allen at least has fond memories of facing Miami. In the first of the sides' two meetings last year, he threw for career bests in yards (415) and TD passes (four), while the second clash saw the Bills score 56 points – a tally they have only ever topped once, also against the Dolphins in 1966.
Buffalo have five straight wins against Miami, although the Dolphins are in form with 10 wins in 13 games after 10 victories in their prior 33.
Elsewhere...
New Los Angeles Rams QB Matthew Stafford will fancy his chances against the Indianapolis Colts. His passer rating of 156.1 in Week 1 led the league, but Russell Wilson, against the Colts, was second with 152.3. Stafford threw three TD passes, including two of more than 50 yards – a feat only previously achieved once by a player in their first game with the team in the Super Bowl era (John Stofa for the Cincinnati Bengals in 1968).
Jameis Winston took a slightly less spectacular route to his five TD passes last time out, with 148 passing yards the fewest from a QB to throw five for five scores.
Meanwhile, first overall pick Trevor Lawrence threw for 332 yards, the most by a player on his debut since Cam Newton's 422 yards in 2011, but he also had three interceptions – something he never did in his 40 games at Clemson.
Each of the first-round rookie QBs will be aiming to build on feats of some manner, with 21-year-old Trey Lance the youngest player in the Super Bowl era to throw a touchdown on his first NFL pass.
Mac Jones, who this week faces Zach Wilson, threw for 281 yards – the most by a New England Patriots rookie on debut.