REAL MADRID
Kroos back in Real Madrid as German midfielder opens up about injury struggles
Toni Kroos has returned to the Real Madrid squad for the Champions League clash with Sheriff on Tuesday. He has not featured for Los Blancos since 9 May.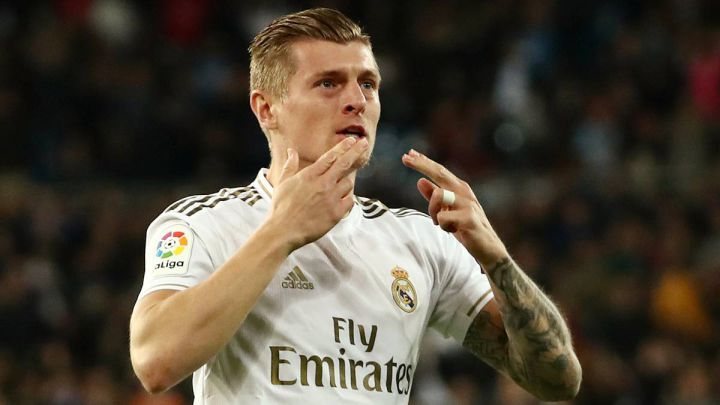 Toni Kroos is the big surprise in Real Madrid's squad to face the Sheriff in the Champions League on Tuesday.
The German midfielder, who has yet to play for new coach Carlo Ancelotti, returns to the squad after a lengthy spell on the sidelines due to a pubic bone injury. If the 31-year-old midfielder plays on Tuesday night, it will be his first game since Euro 2020 with Germany. His last game for Madrid was on 9 May in the 2-2 draw against Sevilla at the Estadio Alfredo Di Stéfano.
Having revealed that he had been playing with discomfort for six months, Kroos made the decision himself to take time out until he was fully recovered, with the German keeping his followers informed of his progress on social media throughout his recovery period.
Kroos opens up about injury struggles
News of his return to the Madrid squad comes as Goal published an interview recently conducted with the German international, in which he discussed dealing with his injury over the past eight weeks.
The following is an excerpt from the first installment of the interview....
How are you feeling?
I am happy because today I was able to do my third training session with the team without pain after six or seven months with pain, so it is a very good feeling. I have not played in three months, the last game was on June 29, at the European Championship, so I have to gain a little rhythm. But the most important thing is that it doesn't bother me much.
Will you play against Sheriff?
I feel ready and I think I will be in the squad. From there we will see what is best and how we can work it.
How has been the process to get here?
I've been stopped for almost eight weeks, but all the time during the last five or six months I knew that I would reach the point where I would have to stop because it has been a long time. I started to experience discomfort in March or so and I knew there was something with the pubic bone. From there I knew that if I continued playing I would reach the point of not being able to anymore, but it was very difficult to stop because I had to play the quarterfinals and the semifinals of the Champions League, then the European Championship .
It was very difficult for me to stop because of this. Then I told myself that I was going on vacation, to see if in those three weeks it would improve with rest and all that. Later, when I returned to training in Madrid, I tried and saw that I had not improved a bit and that I had to stop (…) It has not been easy for the head. The difference with this from other injuries that I've had is that I needed more patience because I have suffered a lot in these five or six months and I only wanted one thing: not to feel pain. If I had to stop for many weeks, I would stop. The most important thing was not to have the same pain again.
How did you experience it mentally?
I'm a footballer and I want to play. It's always hard for me to be injured. On the other hand, you try to see the positive things. In this case, having fewer trips, spending more time with my family ... but I'm a footballer and if I didn't like it I would retire, I don't have to play for something. I'm badly injured, you just have to ask our physios, I'm not happy and I always give everything to get back as quickly as possible.