Packers RB Jones will play with father's ashes in pocket of jersey
Green Bay Packers running back Aaron Jones' father passed away last spring. Since then Jones has played with his fathers ashes on him during games.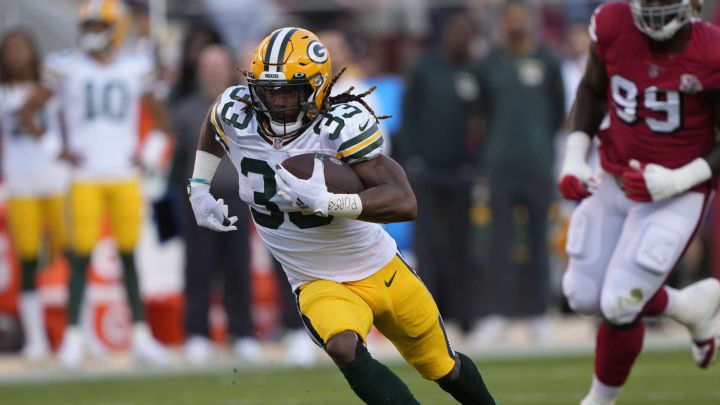 Green Bay Packers running back Aaron Jones has been playing this season with a heavy heart after the passing of his father in April. The NFL has granted him permission to play with a pocket in his jersey that will allow him to have his fathers ashes on him during games.
Jones to keep tribute to father in his jersey

Jones had been wearing a necklace with a medallion that held his fathers ashes inside in the opening weeks of the regular season, but the Packers rusher lost his necklace in Green Bay's Week 2 win over the Detroit Lions. That was the same game that Jones scored a total of four touchdowns in route to a blow out victory during Monday night football.

Packers athletic trainer Bryan Engel found the medallion containing ashes of the Alvin Jones Sr. in the endzone on Lambeau Field. Jones had the his fathers ashes with him during Green Bays win over San Francisco on Sunday, but opted not to wear the medallion after it fell off the week before.
We lost one of the most selfless, caring, strong, faithful individuals in Mr Alvin Jones Sr. Nothing was more important than God, family and giving back. Please keep the Jones family in your prayers. pic.twitter.com/3BmFguBvyS

— A&A All The Way Foundation (@AAAllTheWayFdn) April 7, 2021
Gordon "Red" Batty, who has been the equipment manager for Green Bay for decades, used a bit of ingenuity to ensure that Jones could have his fathers ashes on him during games, without the risk of losing them during the heat of battle.
Jones Sr. was at everyone of sons games before passing
"He put a pocket right on the left side," Jones said Friday, pointing just above his heart. "So I can just drop it in there and not have to worry about it falling out. So I can play with it."
Jones and his father were known around the league for their close relationship. Jones Sr. was an Army veteran, and hadn't missed any of game of Aaron's in nine years before passing away this spring.
"I think it's something I'll continue to do, just keep my dad with me everywhere I go," Jones said. "I wear it mostly at all time. Gotta get a new chain so I haven't been wearing it except for on Sundays, but I think it's definitely something I'll continue to do."
Alvin Jones Sr. died of complication due to COVID at the age of 56.