Spain 1-2 France: summary: score, goals and highlights, UEFA Nations League final
Spain vs France: live updates
Well you have to hand it to this young Spanish team, they dominated possession against the world champions and their efforts paid off with the 66th minute goal. But in the end Benzema and Mbappé came through for Les Bleus. La Roja will be disappointed but plenty of positives to take from that. The future looks bright for this Spain team, who gave their all until the end. Well, that brings an end of our live coverage. Thanks for joining us.
Game over! France are the Nations League champions
Spain have thrown eveything at it in search of an equalizer but it wasn't meant to be. The ref blows his whistle and France hang on to win 2-1. The World Champions are now also UEFA Nations League champions.
One last cross comes in from Spain. Keeper Unai Simon is still up there and he jumps high to make contact but the ball runs out for a goal kick.
Spain have a corner. Unai Simon has come up for it. The cross comes in and the ball falls to Pino! He shoots and Lloris makes a huge save.
France change: Veretout comes on for Griezmann.
Five minutes of added time for Spain to find an equalizer.
Oyarzabal!! The Spanish striker hits a clean first time volley from distance, forcing a big save from Hugo Lloris.
Dubois charges towards the Spanish box and his taken down on route by Laporte, who picks up a yellow card for his efforts. France have a free kick from about 22 yards. Pogba tees up Griezmann, who shoots and drives the ball high and wide.
GOAL FRANCE!
Mbappé gets in behind the Spain defence and finds himself one on one with Unai Simon. The PSG striker slots the ball passed the Spanish keeper from the left edge of the six yard area. 2-1! Spain appealing for an offside but after a VAR check, the goal stands.
Change for France as Pavard makes way for Dubois.
Nice play from Spain sub Pino, who does well to find Koke inside the box. Spain have a corner after Koke's short cross is blocked. Again Spain do nothing with the corner.
Big applause for Barcelona youngster Gavi as he makes way for Koke.
Rodri shoots from distance, the ball takes a deflection and goes out for a corner for Spain. La Roja can do nothing with the corner.
Benzema releases Mbappé down the right. Mbappé takes the ball inside the Spain box and shoots but the shot is blocked.
GOAL FRANCE! IMMEDIATE RESPONSE FROM BENZEMA!
Spain's lead lasts less than two minutes as Benzema places a stunning curling strike into the far corner from the edge of the box. A genuine screamer for the Real Madrid man. 1-1!
GOAL SPAIN!
Oyarzabal is picked out with a long ball, he rounds Kounde and slots the ball passed Unai Simon and into the far corner. 1-0 Spain!
Theo Hernandez hits the crossbar! First time shot from Theo hits the underside of the crossbar and somehow doesn't cross the line.
First change for Spain as Pino comes on for Sarabia.
Gavi is almost in for Spain but he takes a tumble in the box following a tackle from Tchouameri. Appeals for a penalty waved away by the referee, who deemed Tchouameri's challenge a legal one. And, indeed, the replay shows he won the ball fairly.
First real chance for Spain! A defensive mix-up from France allows Sarabia to break on the left. Spain have a 3 on 2 as Sarabia plays a ball across the box towards Ferran Torres in acres of space approaching the far post. But he's put it too far ahead of his team mate. Wasted!
Paul Pogba goes straight into the book for late challenge on Busquets. The Frenchman coming down hard with his boot on the top of Busquets' foot.
Second half starts
France get the second half underway at the San Siro.
Spain first to make their way back onto the field for the second half.
"Spain outplaying France with an average squad, Meanwhile koeman is still giving excuses in his conferences," says @Dera_fcb on Twitter.
First half ends
The ref calls time on the first half. It's been a lively contest but with a lack of real chances either end -- aside from one real chance for Karim Benzema in the sixth minute, who was unable to take advantage of a one-on-one situation against Unai Simon after a wonderful through ball from Pogba. Spain have had 64% of possession but done very little with it.
Two minutes of added time to be played.
Raphael Varane has been forced off with a leg injury and is replaced by Upamecano. It looks like a knock to the lower leg but he walks off without any major issue.
Gavi looks for Ferran Torres in the box with a low cross from the right, which forces Varane to put the ball out for a corner. Sarabia takes the corner but the ball goes straight to the gloves of Hugo Lloris.
Tchouameni trips up Ferran Torres from behind and Spain now have a free-kick just inside France's third. Alonso goes directly for the near post but the ball goes wide. Not a bad effort from that distance but a wasted opportunity for Spain.
France break on the counter through Griezmann, who passes to Benzema, who then pushes the ball wide to Mbappé. The PSG forward tries to round Marcos Alonso but to no avail as the Spanish defender stands strong and wins the ball back for La Roja, drawing a big roar from the red contingent in the stands.
Spain have had 65% of possession so far but are yet to test Hugo Lloris in the France goal.
Griezmann plays the one-two back to Benzema at the left edge of the box. The Real Madrid striker shoots first time but the shot is blocked at the source.
Rodri with a very late challenge on Tchouameni and he's lucky not to go in the book. France have a free kick not far from Spain's third. Pogba tries to pick out Benzema with the free kick delivery but Spain snuff out the danger and are back on the attack.
Spain put the ball out of play as Mbappé is lying on the floor after a clash with Eric García. The French striker eventually gets back on his feet.
Spain enjoying a period of possession but they are struggling to find a way around the France defense. A cross eventually comes in from Gavi, but Varane is on hand to cut it out.
Huge applause for Eric Garcia after he gets the better of Mbappé, who made an attempt to round the Spanish defender. But Garcia matches him for pace to win the ball and play the back pass. The youngster will have his work cutout tonight against Mbappé, Benzema and Griezmann.
What a chance for Benzema! Pogba cuts open the Spain defense, threading the ball through for Benzema, who finds himself one on one with Unai Simon. Benzema rounds the keeper on the outside but he goes too far and attempts to square a pass to Mbappé instead of shooting from a tight angle. But the pass is cut out and Spain survive the early scare.
Gavi goes in hard on Pogba with an early showing of aggression and gives away a free kick. The Frenchman felt that one. France take the free-kick just inside Spain's half.
Game starts
Spain get the game underway at the San Siro!
The teams are on the field and standing for the anthems. Plenty of boos and jeers from the crowd as the French national anthem played.
From Les Bleus to La Roja
"It will be a very special meeting for me but, as I have always said, I am very focused. I am 100% or even 300% with Spain."
A huge game tonight for Franch-born Aymeric Laporte, who played for France as a youth before switching allegiance to Spain.
Griezmann set for 100th France appearence
Antonine Griezmann will make his 100th international appearance in today's final. In his 99 games for France to date, the 30-year-old striker has scored 41 goals and given 28 assists. If he scores tonight he will surpass Michel Platini (41 goals also) to become France's outright third-highest goalscorer of all time behind Thierry Henry and Olivier Giroud.
France's struggles against Spain
Les Bleus have only defeated Spain once in their last seven attempts across all competitions -- a 1-0 friendly win in 2014.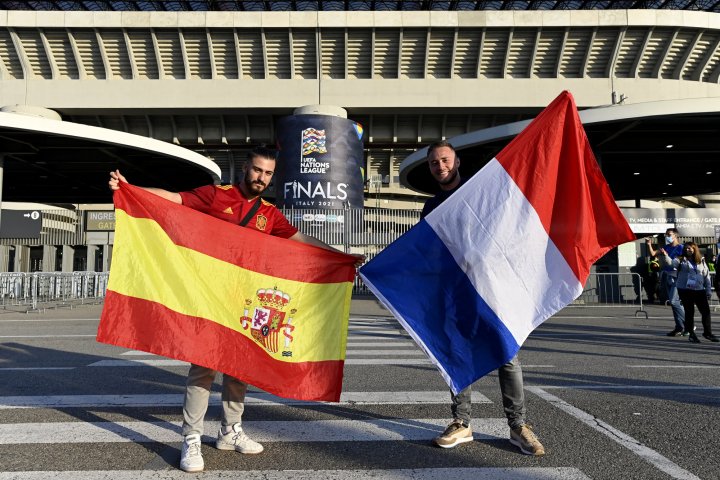 Spain and France fans pose with their national flags outside the San Siro stadium before the match. Photo: Reuters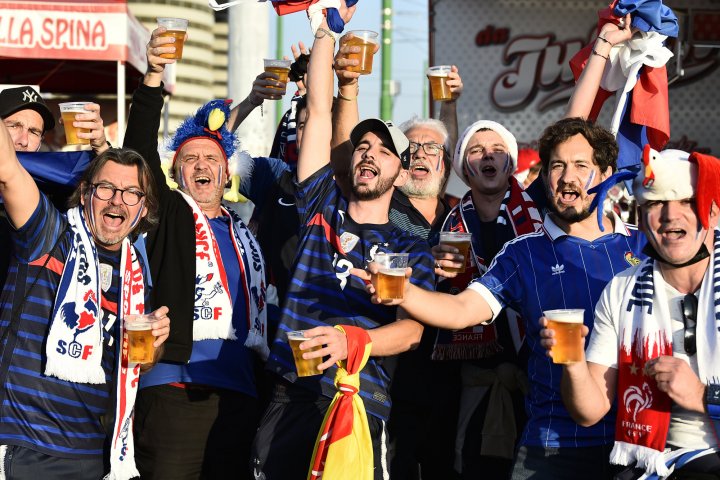 Fans gather in Milan for the final
France fans pose outside the stadium before the match, naturally enjoying a beer or deux to settle the nerves. Photo: Reuters
France team sheet is in
Starting XI: Lloris, Kimpembe, Varane, Kounde, Pogba, Tchouameni, Theo Hernandez, Pavard, Griezmann, Mbappé, Benzema
Spain starting XI confirmed
Spain starting XI: Unai Simon, Azpilicueta, Eric García, Laporte, Marcos Alonso, Gavi, Busquets, Rodri, Ferran Torres, Oyarzabal, Sarabia.
Spain vs France: Head to Head
Spain come out on top in the head-to-head, having won 16 meetings between the sides. France have won on 12 occasions, with seven games finishing as a draw.
This Sunday's final marks the first meeting between France and Spain since a friendly game four years ago. Spain won that last outing 2-0 in March 2017 thanks to goals from David Silva and Gerard Deulofeu.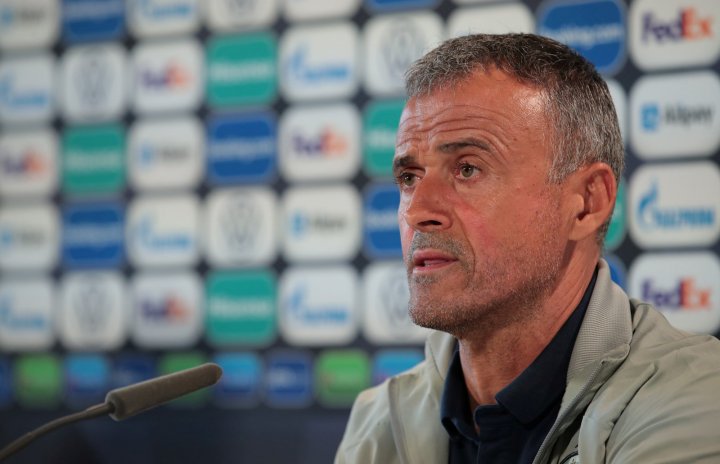 Luis Enrique: France are world's best on 'individual level'
Luis Enrique has no doubts about the quality of his Spain team but accepts their Nations League final opponents France have the best collection of individuals in international football.
The Spain head coach told reporters: "I am convinced that we are going to have a great game and that we are going to put France in difficulty.
"I don't know if it will be enough to win, but for us it is a very great encouragement.
"In the semi-finals we were the underdogs of the four teams and we turned that feeling around. Now we will try to do the same against the best team in the world – at an individual level, without a doubt.
"We are going to defend as we always do, by taking risks and playing face-to-face, trying to make sure that the only ball on the field is Spain's."
Photo: Reuters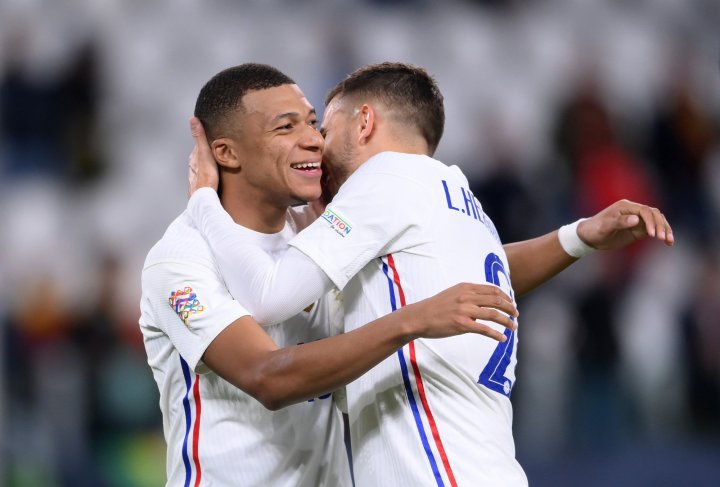 France, Spain: How they got here
Spain oversaw current European champions Italy 2-1 on Wednesday thanks to two goals from Manchester City's 21-year-old striker Ferran Torres, in a game that saw Gli Azzurri veteran defender Leonardo Bonnucci sent off after 42 minutes.
On Thursday night, France managed a stunning comeback against Belgium, who were 2-0 up at the start of the second half. Following two goals in quick succession from Karim Benzema (62') and Kylian Mbappé (69') after the hour mark, Theo Hernandez stepped to score a dramatic 90-minute winner for Les Bleus, who finished the game as 3-2 victors.
Photo: Laurence Griffiths/Getty Images
Hello and welcome...
... to our live coverage of the UEFA Nations League final between Spain and France at the San Siro stadium in Milan Italy. Two titans of European football go head to head, with Spain hoping to overcome the world champions to lift their first international title since Euro 2012. But to do so, they will have to stop the rampant attacking trio, Kylian Mbappé, Karim Benzema and Antoine Griezmann.