Bills keeping calm after victory over Chiefs: It's not like we won the Super Bowl
The Buffalo Bills were commanding in their AFC title game rematch, but Josh Allen insisted there was no reason to get carried away.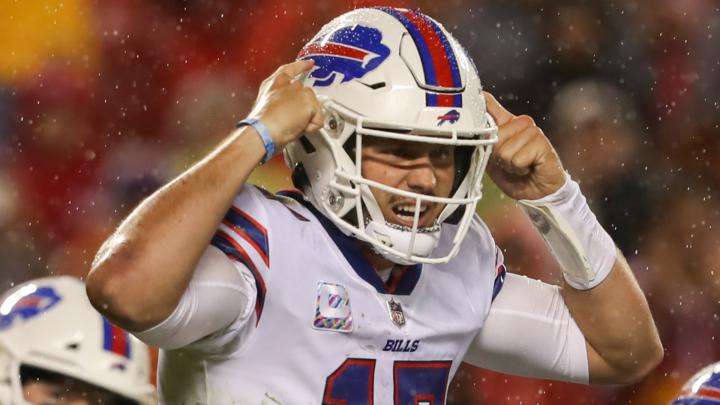 Josh Allen and Emmanuel Sanders called for some calm after the Buffalo Bills saw off a careless Kansas City Chiefs on Sunday.
Following a long delay caused by lightning, the Bills avenged their AFC title match defeat last season with a 38-20 victory in Kansas City
Though the Chiefs controlled much of the ball, running 25 more plays than the Bills, their four turnovers were the difference as they dropped to 2-3 this season.
Mahomes passes intercepted
Buffalo (4-1) intercepted Patrick Mahomes passes on back-to-back possessions in the third quarter, with Micah Hyde taking the first of those 26 yards for a touchdown after plucking a tipped ball out of the air.
It was just the second pick-six of Mahomes' career after Week 11 of the 2018 season.
While Mahomes completed just 33 of 43 passes for 272 yards, Bills quarterback Allen was 15 of 26 passing for 315 yards, throwing for two touchdowns and running for another score.
Over their last 4 games, the @BuffaloBills have scored 156 points while allowing just 41.

The last NFL team to score that many points while allowing so few over a 4-game span in a single season was the Browns in 1954 (160/30).

— Stats By STATS (@StatsBySTATS) October 11, 2021
It proved a famous match for Allen. The 25-year-old became the first player in NFL history to throw for more than 300 yards and three or more touchdown passes, rush for 50 or more yards and a touchdown, and average 20 or more yards per completion in a single game.
Allen not getting carried away
It was also a win to savour for the Bills after they were swept aside 38-24 in the AFC Championship game last season by the Chiefs on their way to their Super Bowl triumph, but Allen was not prepared to get carried away.
"I think this is going to be made a bigger deal than it is. We're in Week 5," he said. "Four wins doesn't get you to the playoffs.
"We ended up with a win. That's our goal each and every week, to come out and be resilient through lightning delays. I'm proud of how our team handled the situation."
Sanders: "I'm enjoying it out there"
Sanders, who ran in a 35-yard score from Allen's pass to give the Bills a 14-10 lead in the second quarter, said: "We're going to enjoy it on the plane back.
"You can tell I'm enjoying it out there; I lost my voice screaming. But at the same time, it's not like we won the Super Bowl. It's Week 5. We have to get back to work."
Similarly, Mahomes saw no reason for the Chiefs to panic.
"We know we have what it takes to be great," he said. "We have a lot of great players that have been really good in other places.
"We know we have what it takes. It's a matter of coming together now and finding a way to do that."