NFL
Steelers WR Smith-Schuster out for season after shoulder injury
Pittsburgh Steelers wide receiver JuJu Smith-Schuster injured his shoulder in Sunday's win over the Denver Broncos, and may miss the rest of the season.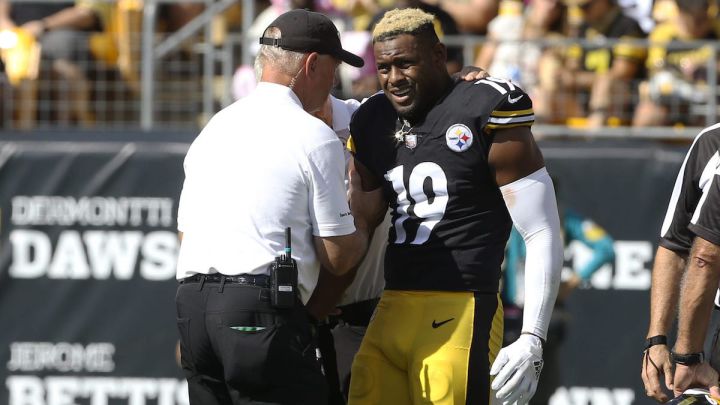 The Pittsburgh Steelers may no longer have the talents of wide receiver JuJu Smith-Schuster for the rest of the NFL season after he suffered a shoulder injury during their 27-19 win over the Denver Broncos.
Smith-Schuster dislocated his shoulder after being taken down hard by Broncos safety Kareem Jackson in the second quarter, and was helped off the field after getting hurt. He was visibly in a lot of pain as members of the Steelers medical team came to his assistance.
Diagnosis for Smith-Schuster: Surgery
He was initially considered questionable to return to the game, but was later officially ruled out. The receiver was then taken to the hospital, where he was diagnosed as needing surgery which he will reportedly undergo later this week. Recovery from the operation will sideline him for about four months.
The 24-year-old wide receiver ran twice for six yards on Sunday, before getting injured on his second carry.
Unremarkable record for 2021 cut short
Smith-Schuster will finish the season after playing only four-plus games, wrapping up the year with 15 receptions on 27 targets for 129 yards and no touchdowns.
He was on a one-year, $8-million contract which he signed to return to Pittsburgh in the offseason after testing free agency.
Other NFL stories:
Pittsburgh is likely to rely on Diontae Johnson and Chase Claypool to receive the majority of targets in the absence of Smith-Schuster. Both caught touchdowns in Sunday's victory.
The Steelers have had a receiver lineup that has been prone to getting hurt since the start of the season. Only one of them, Ray-Ray McCloud, has avoided missing time on the field due to an injury.